Review: Snapline at Mao Livehosue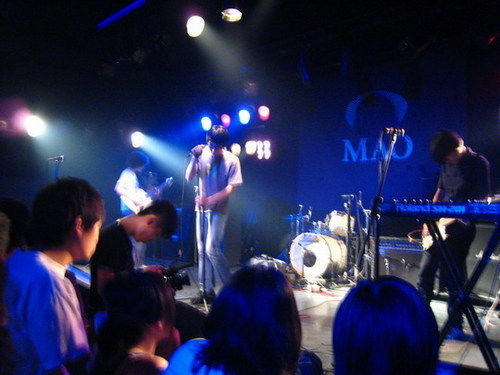 Snapline, Linga, Lucky Monkey, PB 33
RMB 40-50.
9pm. MAO Livehouse (6402 5080)
The Stone Boat and D-22 are the latest high profile causalities of the pre-Olympic tightening of rules related to public, and especially outdoor, performances (although we've just heard news from the Haidian club, that if all goes to plan, they'll be turning the speakers back on next weekend). Fortunately, music fans affected by the recent downturn in the number of live offerings in Beijing can still take solace in Mao Livehouse. Last Saturday it was packed for the expansive bill of The K, Snapline, PB33, Linga, and The Scoff.
Openers The K have been gaining momentum recently, though their take on ska doesn't offer much besides a danceable beat. Liberal use of organ adds a touch of originality and catchiness to their sound, but sits uneasily with their music. Similar to The K, pop punk band PB33 have a ways to go before they own stage, seeing as most of the audience saw fit to head to the bar during their set.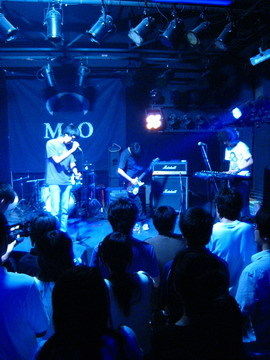 In fact, it was Snapline, incongruously playing second, who gave the performance of the night. Drum-machine driven and poised between catchy synthpop and icy punk, Snapline skip posturing and head straight for intensity. Introverted bassist Levis and guitarist Li Qing purposefully avoided any contact with the audience, tracing precise lines on their instruments instead, while frontman Chen Xi twisted and sang to their music, a smile always on the edge of his lips. Since releasing their debut album Party is Over, Pornostar last year, Snapline have continued to write new material, as evidenced to electrifying effect towards the end of their set, when Levis switched over to synthesizer to emit pulsating tones, over which Li Qing spread thick, distorted arcs and Chen Xi used as a backdrop for spoken story telling.
After that excellent performance, the remaining bands had a hard task ahead of them, but actually compared well. The unfortunately named Linga's surf tinged rock was catchy and technically sound, but let down by gruff shouted vocals. Perhaps dropping their obsession with male power would allow the band's strengths to be emphasized. Though the closing act, The Scoff, began their life playing twitchy rock not far from Linga, they have since progressed into a more dark psychedelic sound produced by the rhythm section forming a driving shuffle to back wandering guitar solos and frontman Leo's creepy intonations.
Through an eclectic bill, Mao Livehouse managed to remind the audience of the best and worst of the Beijing music scene. For every band recreating the music of Western groups ad infinitum, there's another group taking old sounds to new places, or creating a new style almost from scratch. Hopefully bands like The Scoff and Snapline won't be too hard to catch in coming months.
Upcoming Shows:
Snapline will be taking a bit of a break over the Olympics (apparently lead singer Chen Xi will be busy serving as an Olympic volunteer at the Chaoyang Park Beach Volleyball stadium), although there are plans for an acoustic show on Aug 23,but details are still sketchy. The Linga will be playing at D-22 on Jul 26 (hopefully) and at Mao on Jul 27. For those who want to take a look at Snapline performing live, take a look at the video below that was recorded in May last year at D-22.
Links and Sources
Mao Livehouse
D-22
Snapline's MySpace page
Youtube: Snapline performing in 2007
Rock in China Wiki: Snapline
Rock in China Wiki: Party is over, Pornstar
http://wiki.rockinchina.com/index.php?title=Party_is_over%2C_pornostar_(Snapline)
Comments