Solana's Tsingtao Beer Palace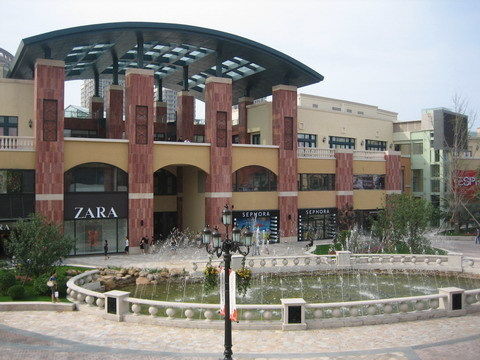 About two weeks ago, one of the interns who's working with our Immersion Guides team went and took a look around the recently opened Solana Mall or as they prefer to call it, the Solana Lifestyle Shopping Center. Located across the road and just to the south of the odd mixture of restaurants that, along with White Rabbit, make up the Lucky Street strip, the mall is nestled between the scented waters of the Liangma River and the vast expanse of Chaoyang Park. He reported back that, despite the attempts too create a Venetian Plaza feel, the mall was "more Malibu than Middle Kingdom" and it reminded him of the suburbian strip malls that dot the LA landscape. Similar comments can be found in this article and over at this thread on the Beijinger forum.
The place is indeed huge, and although not all the stores are open yet, can easily provide a whole afternoon's worth of distraction. In terms of what has already opened, Solana is home to Beijing's third Zara store, Sephora and Esprit; new branches of some of Beijing's most popular restaurants including Maxim's (opened last Sunday), Banana Leaf, Feiteng Yuxiang, 1001 Nights; as well as some new arrivals such as Todai and Latin Grill. Last weekend, Solana wrapped up a series of regular weekend activities (you can take a look at the program here), and also unveiled their new bar strip, although the reportedly "international" club Crobar is still yet to reveal itself. In terms of other diversions, the indoor ice-skating rink has already opened its doors and the cinema is set to open by the end of the month.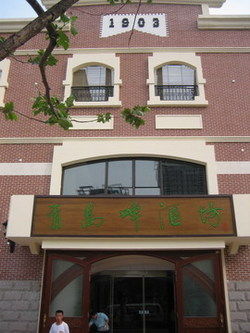 However, the main highlight for us is the Tsingtao Beer Palace, a microbrewery-cum-restaurant set over three stories and decked out in good solid wood furnishings. Two large vats of beer dominate the main hall and tables fitted for teppanyaki style dining are tended by waitresses dressed in strange uniforms. We were impressed with the classy snack of peanuts with wasabi and vinegar dip, which were provided gratis. Be warned, though, the food is pricey and the drinks are none too cheap either – blonde beer ranges RMB 38-98 across three sizes of pour, with dark beer a few RMB more expensive at each size.
Tsingtao Beer Palace
DS-19, Solana, 6 Chaoyang Gongyuan Xilu (east side of Lucky Street/Haoyun Jie), Chaoyang District (5905 6018/19) www.tsingtao.com.cn
青岛啤酒访,朝阳区朝阳公园西路6号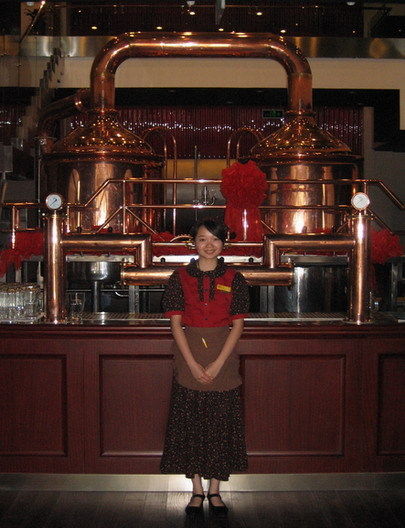 Links and Sources
Solana Lifestyle Shopping Center (5905 6565)
The Beijnger Forum: Solana Just Awesome
Yahoo: LL Bean (and more) comes to Beijing
Comments