Beijing's Octopus: The Things You Can Do with an Yikatong
The Beijing Municipal Administration and Communications Card or Yikatong is in need of a nice catchy English name. Beijingologist David Feng's Beijing Super Pass is a good first attempt, but it doesn't quite have the same ring to it as Hong Kong's Octopus or London's Oyster. Despite the lack of a nifty moniker, the handy little card has proved popular with Beijngers and visitors to the city since it became possible to ride on most of Beijing's public transport in 2006 by simply swiping the card. Yikatong became even more popular when in January 2007 card users were given discounts on the city's public buses (it now costs a minimum of 4 mao to ride if you swipe but 1 kuai if you're paying cash) and when paper tickets were done away with on all of the capital's subway lines. Prior to the Olympics, despite the occasional controversy, close to 20,000,000 cards had been sold.
The functions of the yikatong have continued to expand and the card can now be used to make a telephone call from a public telephone (now at discount rates), buy groceries at major supermarkets and corner stores, function as an annual pass to various parks, work out at select gyms and sports centers, buy a ticket at some cinemas and from August this year, take a ride in any of Beijing's 80,000 odd taxis.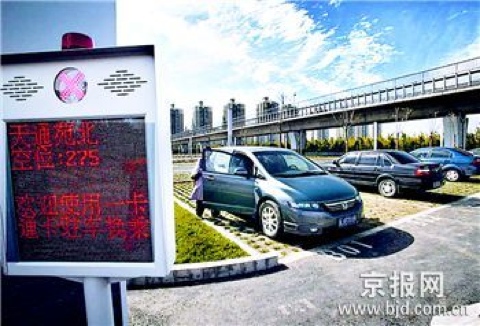 Looking forward to the future, according to a report over at Sohu, a system that allows drivers to pay their parking fees with the yikatong will be introduced at a select carparks around Beijing in early December. Earlier reports suugested that the system will be able to automatically detect if drivers have traveled by subway on the same day and give them a discount if they have. By early next year, drivers should be able to pay all parking fares and expressway tolls within the 8 urban districts of Beijing by swiping their yikatong.
The Yikatong company have also indicated that it might soon be possible to swipe the card at various fast-food outlets around town, meaning residents will be able to charge that KFC youtiao to their card. The government is also now working on allowing residents to pay their water and electricity bills by using the card.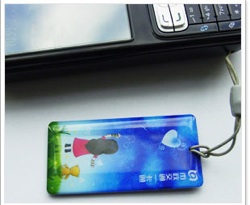 Finally, plans to somehow combine the card with cell phones that we wrote about last year, seem to be a step closer. The technology is different from what we imagined, early reports indicated that the card would work with the SIM card installed in the phone, but as these images from The Third Beijing International Finance Expo show, the mini-card seems to be attached to the phone by a string. There are plenty of these "first-generation" mini-cards available on taobao for around RMB 80. However, Yikatong are still working on even smaller versions that can be inserted into or attached to mobile phones.
Links and Sources
Official Yikatong Site (Chinese)
Wikipedia: Beijing Municipal Administration and Communications Card
Sohu: Beijing to test a system to pay parking fares with yikatong
rfidworld.com: 北京:市政交通一卡通升级 可打公用电话
Xinhua: Parking image
rfidworld.com: mini yikatong card (image)
The Beijinger: Beijing's taxi drivers get new threads for the Olympics
The Beijinger: Plugged In – An Update on New Technology Trends in Beijing
Comments