New Year with the Queers
Having racked up an impressive resume in the last 20 years releasing a flurry of albums, co-headlining with the likes of NOFX, Screeching Weasel and Green Day since the late 80s, and even being honored with a personal invitation from Marky Ramone to tour Europe and Asia in 2007 as part of his band, punk rock cult legends, the Queers, are finally kicking off their first tour in China on New Year's Eve at the MAO Livehouse. The Beijinger talked to frontman, Joe Queer, about his experience in Beijing, his views on the local punk rock scene, what Ursula Finally Has Tits means to him, and how he plans to ring in the new year at the Mao Livehouse.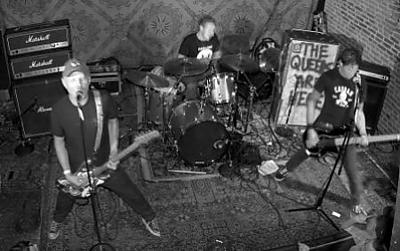 the Beijinger: You have already been to Beijing before with Marky Ramone in summer 2007. What do you think of Beijing?
Joe: We had a great time with Marky playing over here. It was our first visit to China, so it was really exciting to be here. The festival-goers seemed really excited to see all the bands, and it seemed that rock and roll and punk rock are in their infancy in China, which was really exciting!
tbj: Aside from playing shows, what did you do here in Beijing during your last tour?
Joe: (Dangerous) Dave and I hung out with The New York Dolls and watched a lot of TV. We also went to Tiananmen Square for about 30 minutes just so that we could say we were there, and then went straight back to the hotel and had dinner. Pretty unexciting, I know, but we were burned out from all the traveling.
tbj: What would you like to get out of your experience in Beijing this time then?
Joe: Well, we are just looking forward to meeting the kids over here and seeing the country. We'll get out and about more this time though. We'll get some good food, and a few trinkets and gifts for friends and family, and hopefully get to come back again and again.
tbj: When you were here last time, did you have the opportunity to listen to local punk rock bands? What do you think of the scene? Is there a Queers song you would want to play to all of them?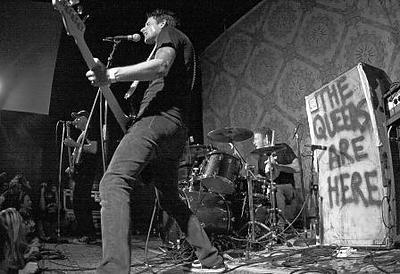 Joe: We actually didn't meet many punk rockers because it wasn't our show and the festival was so big that we weren't able to get around as much as we had wanted to. This time we are just looking forward to meeting kids in China, and we'll meet as many punks as we can.
tbj: Which are your personal favourite Queers songs of all time?
Joe: Kicked Out of the Webelos and Ursula Finally Has Tits. I just love playing them and thematically they're what we are all about.
tbj: What are some of your craziest stories from your tours?
Joe: Mostly stuff I can't tell you right now. It's not proper to share them unless you know the people… haha.
tbj: What is in store for The Queers in the future? Will there be more tours in China?
Joe: I think just by being here on New Year's Eve is special enough! We'll just do our regular set and play as long as we can. It will really be special for The Queers to play in Beijing on New Year's Eve. We can't believe we're finally playing in China! See you soon!
the Queers will kick off their China tour at Mao on New Year's Eve. See the event details here.
Comments