Turandot Turn-off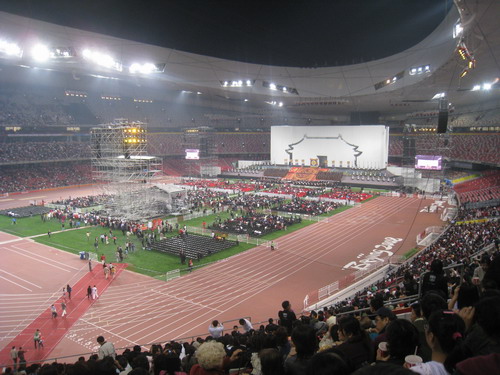 Staging Giacomo Puccini's operatic classic Turandot at the National Stadium seemed like a good idea on paper, especially with Zhang Yimou directing and renowned tenor Dai Yuqiang in a lead role. Tickets ran up to RMB 8,800 for the best seats, which, as you'd expect, offered a pretty great view. For those sitting above field level, however – which is to say, the vast majority of those in attendance on Tuesday and Wednesday – paying any price was probably too much.
From section L2, gate 251, row 19 – ticket face value RMB 580 – I kept thinking whoever came up with the idea of putting an opera in an outdoor stadium needs have their head examined. As the kid next to me pointed out, the people down there "looked like ants." For us groundlings (so to speak), two projection screens were placed on either side of the stage, presumably so we could squint at moving pictures instead of squinting at live performers. Anyone short of perfect vision would have found it impossible to read the Chinese closed captioning (there was no English). And I wasn't even in the upper deck.
The artistic direction was also underwhelming – and that's being charitable. Zhang was the man who, for the Olympic opening and closing ceremonies, gave us synchronized drumming, oversized cycling and a colony of acrobats crawling on a gigantic sea anemone beneath levitating fire-banners (how else could you describe this?). There was no such inventiveness this time around. There were no pyrotechnics or bursts of creative flair.
Some elements of a typical Zhang production were there, such as an enormous cast of more than 1,000, but the extras did little more than make cute formations. Choreographer Chen Weiya, who teamed with Zhang for the Olympics, deserves his share of criticism. The stage's centerpiece was a 1,000-square-meter palace-shaped backdrop, onto which were projected banal images like stampeding horses, falling leaves and a gong struck by Calàf at the end of Act I to signal his intentions for Princess Turandot (incidentally the animation was off-synch with the actor). Not exactly inspiring stuff.
One might argue that Zhang was simply resisting the temptation to grandstand and potentially cheapen Puccini's classic with modern-day flourishes. Fair enough, but given the opera was being presented in a one-third empty 91,000-seat stadium where a clay-colored polyurethane track was in plain view, I think it was fairly clear the form had already been brought down a notch. Opera is generally high culture, but not when audience members are shivering in gusts of wind. And even the greatest public relations officer would be hard pressed to put a positive spin on people steadily streaming out the exits during the middle of a production's final act – which is, inexplicably, what happened Tuesday.
Zhang fell victim to lofty expectations. In 1998, he directed perhaps China's most memorable rendition of Turandot at the Forbidden City. That year, the opera had only recently been un-banned, as it supposedly portrayed China in a negative light (the story is set in imperial Peking). Tickets sold for as much as $1,800, and there was hardly an empty seat over the eight-day performance.
Something tells me this year's show won't obtain the same historic significance. I'm not taking anything away from the actors – Dai (Calàf) and Italian soprano Raffaella Angeletti (Turandot) were exemplary, and the other performers seemed fine (though truth be told, sometimes I couldn't make out who was doing what). And there were some cool moments, such as when the king's halberd-wielding soldiers advanced on stage.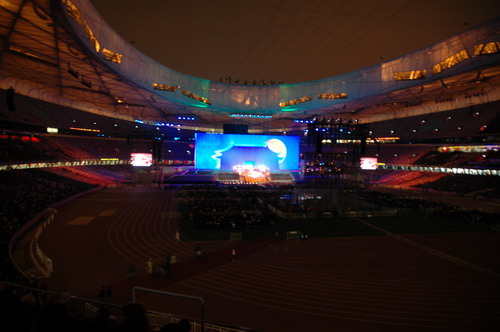 Overall, however, ambition may have gotten in the way of practicality, or as a cynic might say, organizers made a calculated decision to take full advantage of Zhang's star and Turandot's economic potential at the expense of artistry.
Either way, the truth is this could have easily been choreographed at a smaller venue, indoors perhaps – I see the National Center for the Performing Arts raising its hand – spread out over four nights instead of two to accommodate the demand, and actually been spectacular.
Tuesday at the Bird's Nest, as smatterings of polite (read lackluster) applause dissipated into the nippy air, it became apparent that most people came because they were lured by Zhang, Dai and the stadium. Puccini's heartrending and uplifting account of cruelty and love set in an exotic kingdom came in fourth, and that's a shame.
Unsurprisingly, China Daily had a rather different take on the performance. You can check out their review here. You can also read the rather banal blog of tenor Warren Wah-lun Mok (Mo Hua Lun), who performed on the Wednesday night, here.
Comments