Midori Goto Steals Everyone's Breath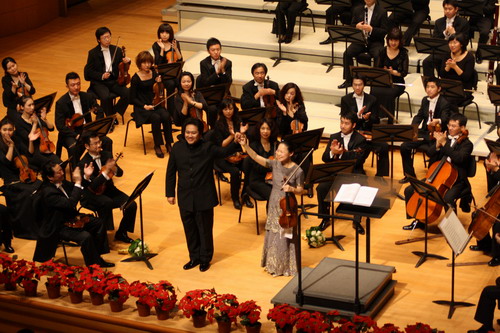 From the opening chord of Jean Sibelius' symphonic poem, "Finlandia" – a bold, brassy, suscitating growl – to the end of intermission, when the musicians retook their seats, the audience inside the Beijing Concert Hall on Friday waited 75 minutes before Midori Goto, the woman they had come to see, appeared onstage wearing a gray dress and familiar smile.
Instantly the packed theater snapped to attention, and in the microsecond before applause filled the chamber it was possible to discern the momentary, distinctive hush that falls over any venue receiving the entrance of brilliance.
Philanthropist, United Nations Messenger of Peace and world-class musician, Midori whirled through Sibelius's Violin Concerto in D minor, Op. 47, and transformed an otherwise middling evening of music into one to remember.
The Midori of our time is constantly following a difficult act – the Midori of 25 years ago. To understand exactly how good she was and the effect her music had, consider what legendary violinist Pinchas Zukerman had to say about the first time he heard her play, at the 1981 Aspen Music Festival:
"She hardly spoke any English at the time, she had just been here for a few months, and she started playing the Bartók second violin concerto. Now, the Bartók second violin concerto is one of the most difficult things to play, period. And it was extraordinary… I just started crying. Because I had never seen anything quite like it… she is something very, very special that comes really once in 50 or 75 years."
Approaching her 38th birthday, Midori is no longer the precocious child who performed with the New York Philharmonic at age 11, in front of President Ronald Reagan at 12, made her first recording (of Bach and Vivaldi) at 14 and delivered a 100-minute recital at Carnegie Hall four days before her 19th birthday. There is a difference between watching a child, however professional, navigate the minefield of a terribly difficult composition and a mature musician do the same; more is expected of the latter, and yet less seems at stake. The failures of adults are so much less keenly felt.
But make no mistake: even if Midori has ceded some of her spotlight to younger musicians, she has not lost the ability to keep audiences rapt when the lights are on her. On Friday, she expertly navigated Sibelius's roiling arpeggios, glissandi and multiple octave double stops on her way to a flawless rendition – though the integrity of her performance was never really in doubt. After all, this is a musician who, as a pre-teen, told a television interviewer, "For me… music is something that I really need to live, just as we need food and water, we need to eat, we need to sleep… I also need my violin. I can't live without it. I [wouldn't] be me."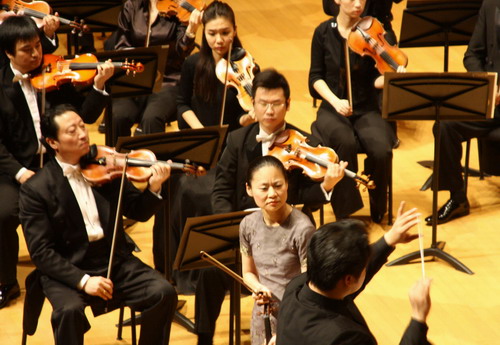 The only question, really, was whether her accompaniment, under the direction of Lin Daye, would be up to snuff. On Tuesday, Zukerman played at the Forbidden City Concert Hall with the China Philharmonic Orchestra and didn't give an encore, a gesture that was interpreted by some as an expression of discontent. "Zukerman seemed frustrated to be playing with them," said Hsing-Hui Hsu, a music major who was in attendance. "It was no fault of the audience and its enthusiasm."
With Midori, the orchestra performed admirably, though they really didn't have to do much – the star commanded the room with her incomparable energy. The late-18th/early-19th-century violinist Nicolo Paganini, considered by many to be the greatest of all time, played with such force that he was thought to have made a pact with the Devil (no small charge at the time; his body was denied a proper burial after his death). I am not brazen enough to make any comparisons, but Midori, with her petite frame, generates such incredible physical power that at times it seems she too is possessed, or at least grapples not with a violin – an exceptionally fine 1734 Guarnerius del Gesu "ex-Hubermann" violin worth around $4.5 million – but with a beast fighting its master.
Her efforts did not go unnoticed, and at the end of her performance the crowd would not stop clapping. She took a bow and exited, then came back and bowed again. She departed, only to be dragged back once more. And then again.
Then she reappeared a fourth time, violin in hand. "I'm going to play Kreisler, Recitativo and Scherzo," she said, her only words of the night. The final note was a pizzicato that allowed the auditorium, before once more filling with applause, a brief, resonant silence – the sort of void created after a soloist has stolen everyone's breath. She bowed, left and re-entered the stage three more times before the lights finally came on, allowing her to take her leave with the conductor and his orchestra.
Midori's performance was part of the 12th Beijing International Music Festival, which began Oct. 10 with Giuseppe Verdi's opera Macbeth and will conclude on Oct. 30 with a closing gala. Still to come are names like violinist Sarah Chang and pianist Gary Graffman, who now have tough act to follow.
For a detailed festival program, see here. Tickets are available here.
Comments