Some Hippo Foot with that Kangaroo Tail, Sir?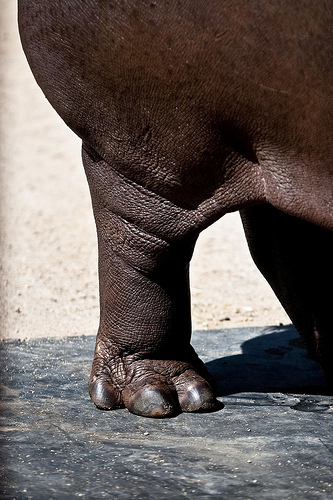 Another bit of unappetizing news from comes our way from The Legal Mirror (Fazhi Wanbao) via The Global Times in the form of this article in yesterday's edition describing a "legally approved" restaurant attached to the Beijing Zoo that serves the meat of 20 different kinds of exotic animals for prices ranging from RMB 100-1,000 a dish (see below for a rough translation of the menu). "Steamed, braised or roasted ... crocodile, kangaroo tail, antelope and hippopotamus foot" are all on the menu, in addition to the ever-unseemly "starter of shark's fin soup," according to the article.
The news has struck a nerve with animal lovers online despite claims from the restaurant management and Wang Zengnian, vice president of the Beijing Wildlife Conservation Association(!), that serving the meat was "perfectly fine" because the exotic animals are "bred on farms."
Spurious logic aside, the controversy underscores the persistent and ever-growing perception that many zoos in China have appalling records (proxy needed) of animal abuse, including the recent news of tiger deaths due to alleged mistreatment at the Shenyang Zoo, and perhaps more interestingly (and encouragingly) a persistent and increasing tide of domestic outrage over cases of animal abuse.
The menu
RMB 100: Deer tendon, antelope soup, ants, scorpions, peacocks etc.
RMB 150: Crocodile, ostrich etc.
RMB 200:Camel paw, venison etc.
RMB 300: kangaroo tail, yak, peacocks and alligator.
RMB 400: Hippo's foot, crocodile tail.
RMB 500: crocodile meat and claw, snake, ostrich foot.
RMB 600: Kangaroo eggs etc.

RMB 880: Shark's fin soup, peacock, alligator.
Comments