Fun Days Out at Happy Valley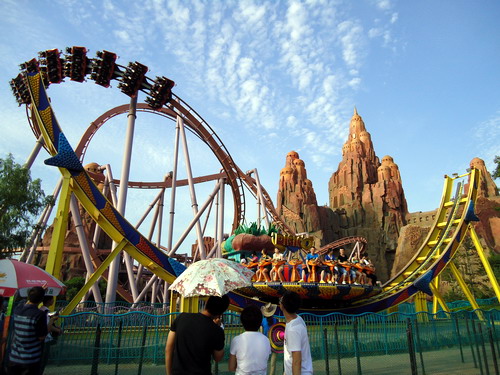 If your idea of a day out is more than just sun, water, and sand to dig your toes in, then Happy Valley Theme Park, located in southeast Beijing, 15 minutes south of Sihui Subway Station by taxi, might be right up your alley. With its 40 rides, including 10 extreme rides and an IMAX Theater, the park makes for a great option with hours of entertainment for friends and family alike.
We arrived on Friday at 2.30 pm, which gave us enough time to see most of the park. While it was busy, the crowds weren't a problem. But be sure to arrive earlier in the day to take advantage of the bigger thrills. Waits for the more popular rides such as The Odyssey and Apollo Wheel can last up to a couple of hours, not to mention they also close earlier than the rest of the park. (4.30pm and 7pm respectively)
If those soul-shaking rides make you a little queasy, the park also offers "tasters" or smaller versions of most of its bigger monsters to wary or younger visitors, while still giving enough of a kick to get the heart pumping. Queues are also much shorter for those rides which might be appealing for some riders, especially during the hot summer season.
Food options are somewhat limited, and although there is a themed restaurant in each of the park's six areas, the food available is still fairly standard fare. As vegetarians, we took our own packed lunch with us, bought a couple cans of beer (RMB 10 each) at one of the many kiosks and made use of the tables and parasols located around the park. The staff didn't seem too happy about it, but they never bothered us.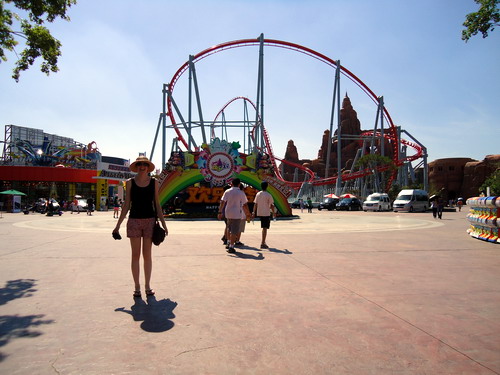 Along with the rides and general scenic appeal of the park, there are various performances throughout the day – mostly foreigners performing a variety of diving acts/dancing/clowning around, to the joyous applause of the Chinese crowds. Nothing groundbreaking, but they do make for a good pit stop after walking around in the hot Beijing sun.
All in all, Happy Valley makes for a fun and not overly expensive day out. Highly recommended for those beautiful summer days.
RMB 25 taxi fare, from Sihui Subway Station.
Adult fare : RMB 160 per person.
Half-priced tickets are for children of 1.2 m to 1.4 m, and the elderly aged between 65 and 69.
Tickets are free to children below 1.2 meters and the elderly aged 70 or above
Happy Valley. Daily 8.30am-10pm. Wuji Beilu, Dongsihuan Lu, Chaoyang District (6738 9898 ext 0, 6205 0088) 朝阳区东四环路小武基北路
Comments