Competition: Solve the traffic nightmare!!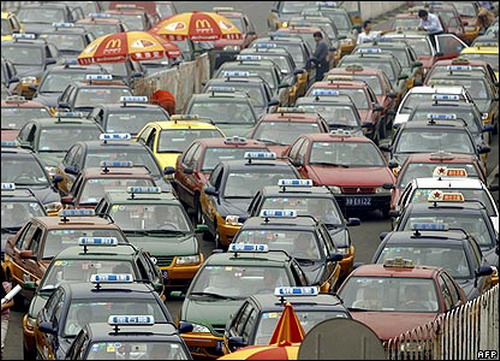 Do you have the solution to the traffic nightmare? The Beijinger is running a competition inviting all to vent their frustration and solutions to the congestion.
Long-time Beijing expat Jeremiah Jenne in his Jottings from the Granite Studio blogged his frustration over Beijing's notorious peak hour traffic. There is everything from the sardine subways, to bus drivers refusing to drive, to taxis with drivers so inept at navigation you need to commandeer the vehicle. In his blog the weary traveler has proposed a 'three-part plan' to somehow alleviate the traffic woes on Beijing streets:
Rush hour premium pricing on taxi's where an extra 5 kuai is added for all travels in and out of the 3rd ring rd.
Removing the hukou restriction for Beijing taxi drivers, suggesting that even most Beijing born taxi drivers barely know the location of their own home or elbow.
Raise the standard of taxi driver's examinations. Forget whether they can speak English, just make sure they're able to read directions in Chinese.
Obviously this person favors the taxi over the other forms of transport. Is it your choice transport (The subway, bus, taxi, moped or the trusty bicycle)? What would your solutions be?
With this in mind the Beijinger is running a competition inviting all readers to become online transportation planning authorities. We want you to vent your traffic frustrations and share your most interesting solutions to the peak hour nightmare. We don't care how crazy or dysfunctional the ideas are, because lets face it, we live in a fairly dysfunctional city.
The person with the most interesting story and solutions will receive a bottle of Chilean Cabernet Savignon, complementary of the The Beijinger staff. Its jammy complexities and gridlocked palate (as reviewed by connoisseurs) will be the perfect drop when you eventually arrive home from work.
All responses can be made in the comments section at the bottom of this post.
Good luck and happy venting everyone!
Comments