The beijingkids School Choice Fair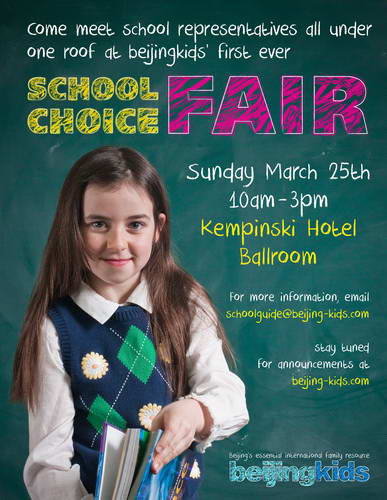 beijingkids are proud to announce the first-ever beijingkids School Choice Fair based on the February release of the beijingkids 2012-2013 School Choice Guide.
This will be an opportunity for parents to "interview" schools in one place, at one time, as well for parents with kids currently in the schools to share their experiences. Here's the low-down:
Time: Sunday, March 25 from 10am to 3pm.
Location: the Kempinski Hotel Ballroom, 50 Liangma Qiao Lu, Chaoyang District.
Over two dozen full-time international schools are confirmed, including:
21st Century
3E
BCIS
Beanstalk
Beijing No. 55
BIBA
BISS
BWYA
CIS
Daystar
Etonkids
Harrow
House of Knowledge
Huijia
IAB
Ivy Academy
Ivy Bilingual
Muffy's
Rego
Side by Side
Springboard
Sunny Kids
The Montessori School of Beijing
YCIS
And more!
If you want to know more about the international schools in Beijing; this is the perfect event to go to. For more information, contact schoolguide@beijing-kids.com.
Comments