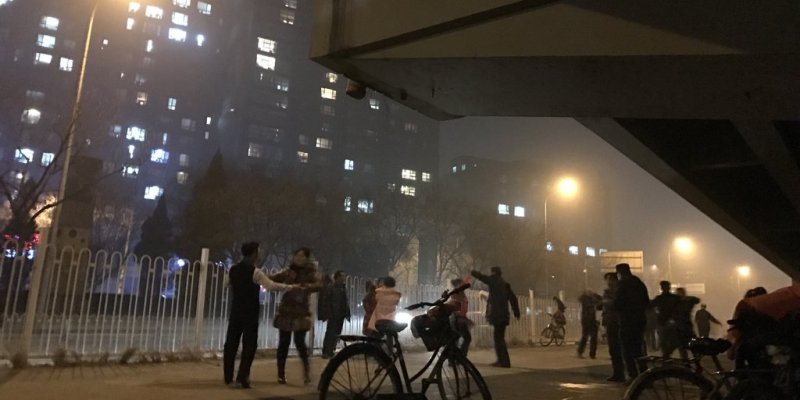 Severe Smog Won't Stop Beijing Residents from Square Dancing
A brand new year brings more of the same for Beijing as yet another red alert for severe air pollution was issued this past week. But whereas some residents of the beseiged capital are dealing with the crisis by hunkering down behind hermetically sealed windows, others are embracing the outdoor elements to engage in China's most popular hybrid of art and calisthenics – square dancing.
Even though the local Air Quality Index measured beyond its threshold of 500, Beijing residents were nonetheless seen dancing outside in hazardous smog conditions under Mingguang Bridge on Tuesday evening.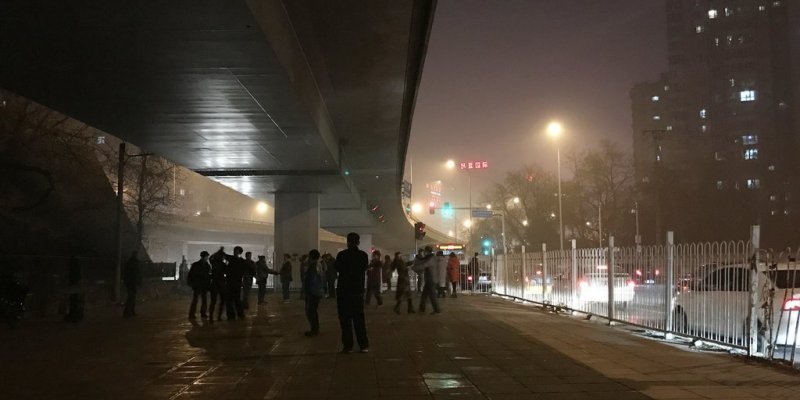 With the air pollution clearly visible to the naked eye, the photos show only a few dancers had taken the precaution of wearing a mask. While this suggests that some dancers don't realize the risk of being outside without proper protection, Beijing residents can't say they haven't been warned of the latest air pollution crisis to hit the capital.
As with all the ones before it, this red alert had been publicized in local news and was even sent to Beijing cell phone users as a SMS text message. Furthermore, the health risk posed by the smog is made clear by experts who warn the public against taking part in any physical exertion, whether outside or inside.
But, Beijing dancers are ignoring the warnings and heading out into the smog. It's the same as they have done in the past. 
Here are some Beijing dancers at an elementary school in Kangyingjia park during a red alert last month: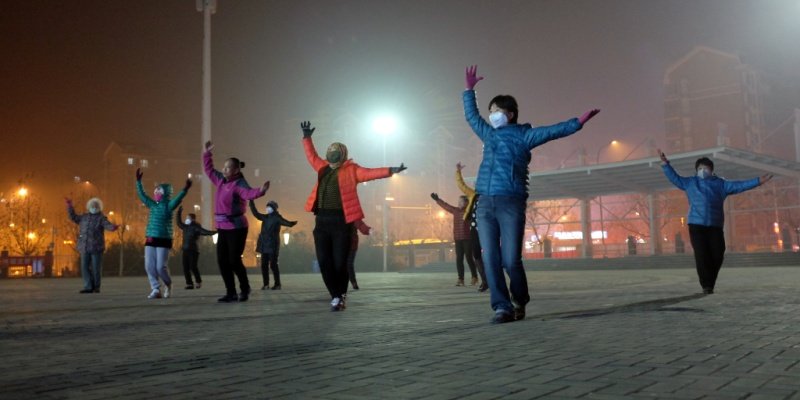 And then there's this spooky photo, also of Beijing square dancers during a 2015 red alert: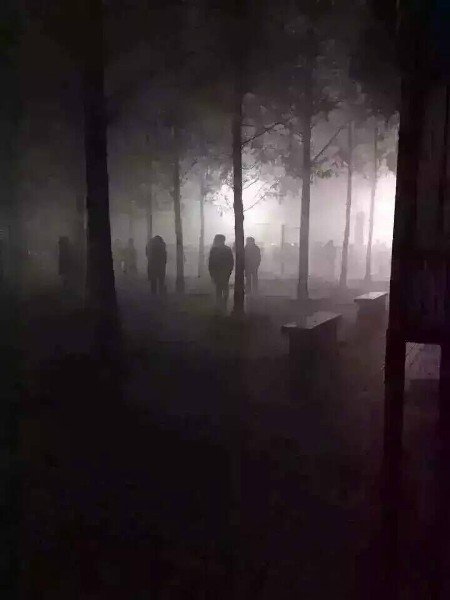 Even though AQI levels have peaked over 500 several times before, the first red alert for air pollution in Beijing was only issued at the end of 2015. China finally began to publish air quality measurements years after the US Embassy started doing so back in 2008 on its Twitter account.
RELATED: We Actually Live in 'Blade Runner 2049' (Which Has Got Nothing on Beijing 2017)
In his seminal hit Footloose, Kevin Bacon quoted the Bible when he told the town council there is a specific time for each specific act, whether it be to pray or to dance. In the case of dancing outside in Beijing during a red alert, there's no reason you can't do both simultaneously.
More stories by this author here.
Photos: Toutiao, CNR Sports, Youth.cn, 714.hk
Comments