Passable Noodles and Instagrammable Ramen Burgers at Bear's Kungfu Noodles
I'm not saying I would do anything for a great Instagram shot but I'm definitely not not saying that. So when I heard that a restaurant in Beijing was serving a ramen burger, a short-lived trend that took over the foodie internet in the rest of the world back in, oh I don't know, 2013 or something, I knew I had to go snap it and (begrudgingly) eat it.
The restaurant in question is Bear's Kungfu Noodles (熊样儿功夫面 in Chinese), a yellow fronted venue opposite the east gate of Workers' Stadium that I had walked past a number of times but not bothered to investigate. Bear's garnered quite a lot of buzz when it opened for being (at least partially) owned by famous TV presenter Du Haitao. What does a bear have to do with kungfu or noodles or Du Haitao? Your guess is as good as mine. 
Bear's Kungfu Noodles' main offering is Japanese-style ramen noodles. I chose the hot and sour ramen (劲爽酸辣辣面, RMB 35), topped with bamboo shoots, roast pork, and kimchi, while my dining companion went for the signature ramen (霸道原味拉面, RMB 45), a larger portion topped with the same bamboo shoots and roast pork, and a whole soft-boiled egg. The signature ramen is the winner here, the pork bone broth perhaps less flavorful than other options around town but still tasty, and certainly offering very good value for the price. The noodles had a nice bite to them.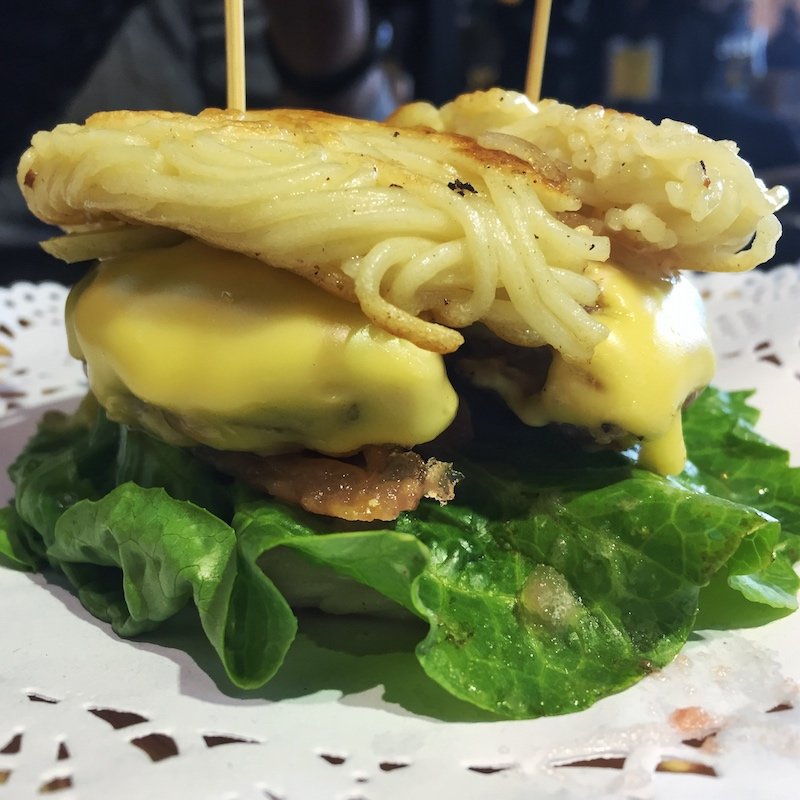 But we were there for the ramen burger. Available with beef (RMB 25) or spicy chicken (RMB 22), we opted for the beef burger. And honestly ... it wasn't awful. We both said that the overall flavor of the burger (topped with a melted cheese slice, pickles, lettuce, and tomato) had a sort of "classic backyard barbecue" flavor, although the noodle "burger" could maybe have done with being a bit crisper. For full Instagram potential, ask them not to cut the burger in half before serving.
Would I go back? Probably not. I am an incorrigible grump and thus hate all chintzy animal-themed decor and gimmicky food concepts, however, if you find yourself in Gongti looking for a cheap and quick bowl of noodles, you could do worse. 
More stories by this author here.
Instagram: @gongbaobeijing
Twitter: @gongbaobeijing
Weibo: @宫保北京
Photos: Robynne Tindall
Comments