Japanese Pulp Thrillers Top List of Peking University's Most Popular Books
A statistical analysis by Peking University Library shows that when its student body isn't reading course-assigned books about economics and politics, they are showing a preference for Japan's top thriller and mystery writer, Keigo Higashino.
According to a 21-page report, Higashino's thriller Mysterious Night is the library's third-most borrowed book for 2016. Additionally, Higashino is also credited as having written the two most reserved books in Peking University Library, The Miracle in the Grocery Store as well as Journey Under the Midnight Sun.
In fact, the report describes Higashino Peking University Library's second-most popular author, second only to the venerable Lu Xun.
Higashino is a prolific author whose well-received works have been compared to popular page-turners by Stieg Larsson and Dan Brown, so it's wonder that he's well received by Beijing's finest minds. And yet, the report shows that library-goers and Peking University don't have a preference for Chinese authors and books.
Much of the report's top ten lists are dominated by books written outside of China, making the mention of a Chinese author a rare sight.
Liu Cixun's Hugo and Nebula-winning 2008 sci-fi novel The Three-Body Problem is one of the few fictionals Chinese works to make it onto the report as did Celeste Ng's Everything I Never Told You, both appearing on the list of most reserved books at numbers 7 and 10, respectively.
Meanwhile, Tang Dynasty poet Bai Juyi's long-form poem Changhenge is the only Chinese non-textbook to crack the library's list of most borrowed books at #10.
For a country that is as proud of its culture as China, you'd think the most commonly-assigned course textbook would be about Chinese history. However, that honor goes to Democracy in America, a seminal work that is required reading for political or social sciences majors at American universities. 
And although books about Marxism and economics make up the majority of reading for Peking University students, there are some exceptions. Sandwiched between Introductory Econometrics and Microeconomic Theory is the Peking Library's third-most borrowed foreign language book, a German translation of the Bible titled Die Bibel Einheitsübersetzung.
Other trends at the library are more obvious. Borrowing of paper books has sharply declined, while electronic versions have skyrocketed. And if you're having trouble meeting girls, you'll find them at Peking University Library where female book borrowers outnumber males by 11 percent.
Want to read like a Peking University Student? Here's a rundown of the top 10 most borrowed books at Peking University last year:
Psychology and Life – A popular introductory textbook.

Soulstealers: The Chinese Sorcery Scare of 1768 – An account of mass hysteria during 18th century China, and how ruling Emperor Hungli used a brutal campaign of torture to exert supremacy over his subjects.

Mysterious Night – Keigo Higashino's 2004 thriller about a couple who fall in love while on the lam in Tokyo.

Economic and Philosophic Manuscripts of 1844 – Early writings by Karl Marx about the alienation of the worker that were only published after the rise of Communism.

The Origin of the Family, Private Property, and the State: in the Light of the Researches of Lewis H. Morgan – Friedrich Engels' writings on family economics that were partly based upon Marx's writings after his death.

The Clash of Civilizations and the Remaking of World Order – Samuel Huntington argues that the best way to safeguard peace is to establish a new world order based upon cultural and religious identities, which Huntington describes as the greatest source of post-Cold War friction.
Curiously, Huntington labels Japan as not part of China's Confucian empire, but as the world's only country that has its own unique civilization.

Animal Farm – A parable by George Orwell. In it, Boxer the horse says "Jiayou!" numerous times. 

Suicide: A Study in Sociology – A ground-breaking 1897 study by Emile Durkheim that has since been criticized for using broad statistics to make specific conclusions about individuals.

Theory of Development for the People – The only Chinese textbook on this list uses Marxism to explain economic trends in China's fast-developming society.

Changhenge – A long-form narrative poem written by Tang Dynasty poet Bai Juyi almost 1,200 years ago.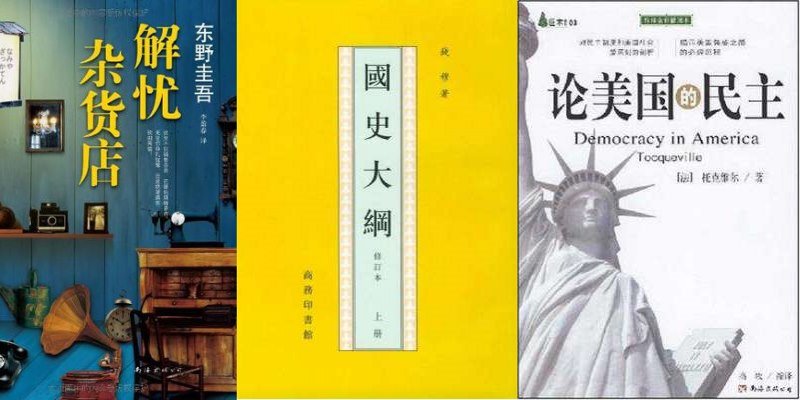 More stories from this author here.
Images: JD, JD, yjbys, tieba, Sougou, Sina Blog, langlang, Amazon, Douban
Comments