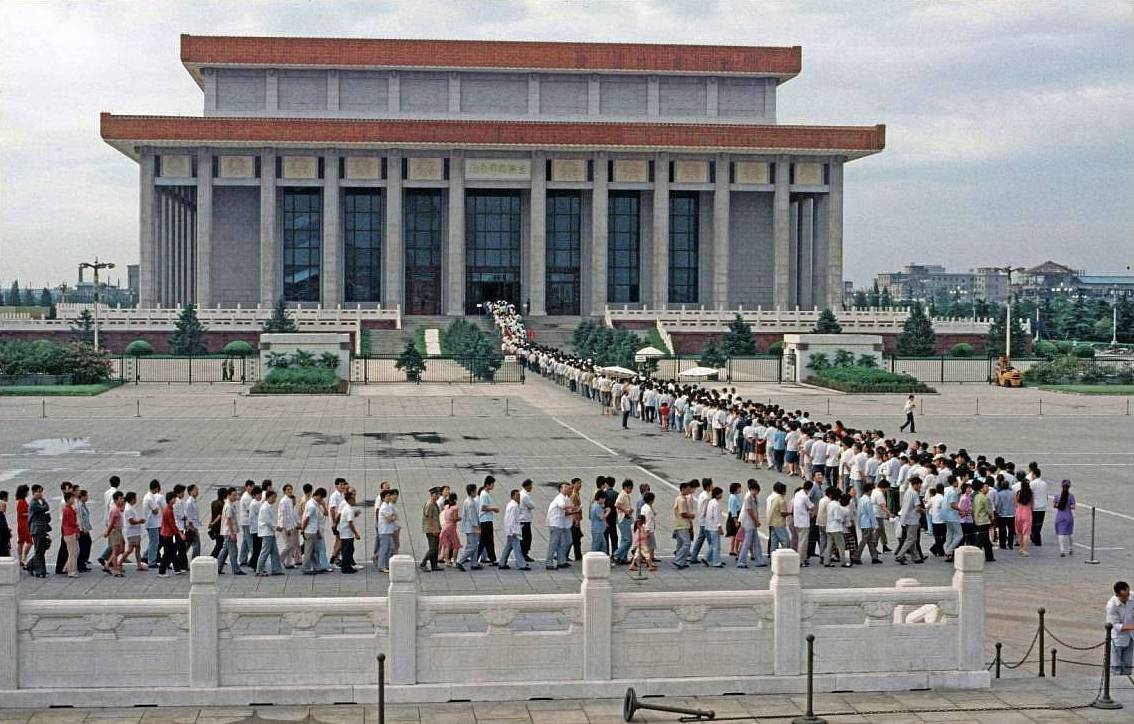 Maosoleum to Close for Repairs, Will Reopen in September
If you're looking to visit the pickled remains of China's former Chairman, best get to Tiananmen Square before Wednesday. The Maosoleum, officially known as the Chairman Mao Memorial Hall, will be closed for extended repairs and renovations beginning March 1, according to The Global Times. 
The Memorial Hall is usually closed several weeks in March for this purpose, but once a decade the Hall – and presumably its famous occupant – come due for a more extensive overhaul and reconditioning. The last time was in 2007. This year, the Memorial Hall will be closed to the public for approximately six months, re-opening just in time for the annual surge of visitors to Mao's tomb on September 9, the anniversary of the Chairman's death in 1976.
My experiences visiting the hall have been mixed and my initial visit reminded me of the first time I saw the Mona Lisa in Paris. I waited in a long line seemingly for hours, and when I finally was shoved in front of what I came there to see, I was underwhelmed and kept wondering if it was the real thing. In both instances, I was ultimately hustled along by surly caretakers before I could develop any appreciation for what I was seeing.
When people or students ask me if it's worth the trip, I usually tell them that unless they are themselves unreconstructed Maoists and/or working on a bucket list of pickled world leaders (Currently the list stands at five: Mao, Lenin, Uncle Ho, and the two Kim's) then their time could probably be better spent elsewhere. 
Part of the reason is that Mao's body has seen better days. Apparently, the Chairman wished to be cremated, and the debate over whether or not to follow his last wishes cost the embalming team precious time. He's definitely not as well-preserved as the leaders in Pyongyang or Ho Chi Minh, whose body gets regular treatments in Moscow to keep it looking fresh. 
But hey, who am I to judge? Over 200 million people have made the trip throughout the years, and thousands of people pay their respects on any given day, even more on the significant anniversaries including September 9 and December 26, the date of the Mao Zedong's birth in 1893.
The Memorial Hall was completed on May 24, 1977 to house the embalmed body of Mao. The Hall also contains exhibits, some of which are only open to groups, honoring other famous leaders and revolutionary figures in China's modern history.
If you're planning to go, the Memorial Hall is open from 8am-noon every day except Monday with extended hours on September 9 and December 26. Admission is free, but you will have to make provisions for any bags or belongings (there is a left luggage office to deposit your things). Lines can be long, with wait times varying between 30 minutes and a couple of hours depending on the season. The Memorial Hall requires that guests be dressed appropriately and to behave respectfully, which includes a strict no photo policy. 
Jeremiah Jenne is a writer, educator, and historian based in Beijing since 2002. He leads historical walks and education programs for the company Beijing by Foot.
Photo: hpgrumpe.de
Comments