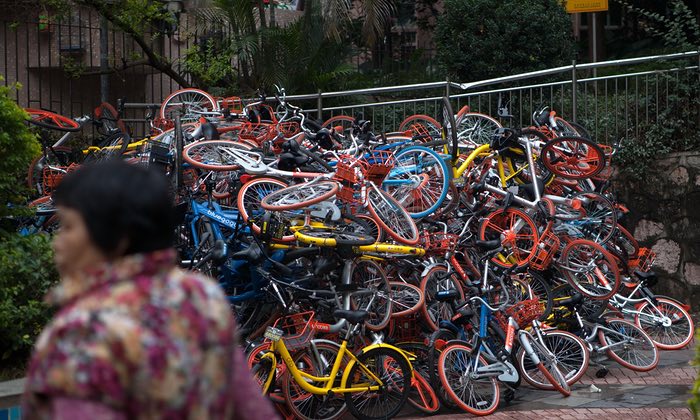 Will the Authorities Slow the Out-of-Control Roll of the Bike Sharing Revolution?
I knew the bike sharing economy had gotten out of hand when I woke up this morning to find stacks of competing yellow and orange rent-a-bikes blocking the door to my bedroom. I swiped a few QR codes and pedaled them down to the kitchen. There, I found a neat row of blue bikes lined up in front of the refrigerator, so I swiped yet another QR code, duct taped my dog to the seat and wheeled her outside for the morning constitutional. Just another day in the scan-and-go digital commonweal.
Bike sharing has been one of the best things to happen to Beijing in a long time, but like any disruptive new business model, it has its problems. My concern is that the Beijing municipal and district governments will kill bicycle sharing before these issues can be resolved.
Companies continue to cram their own colorful brands of pedal-powered convenience onto Beijing's corners, and early entrants Ofo and Mobike have ambitious plans to expand overseas, but it's hard not to feel like the wave is about to crash. The transportation municipal administration of Xicheng District recently introduced a new regulation that has banned shared bikes from parking on ten of the district's roads. In a New York Times piece published on Sunday, disgruntled commuter Huang Linwei complained, "More than once I've found it difficult to park my car because the bikes are parked all over the place!"
There has long existed a hierarchy on China's roads. Many drivers seem to be under the impression that possession of an internal combustion engine gives them license to barrel down bike lanes, plow through intersections, and park in any space accessible on four wheels. Bicyclists, e-scooters, and pedestrians employ asymmetrical forms of passive-aggressive resistance which can range from principled stands of defiance to hysterical attempts to make money by throwing their body at moving (and occasionally stationary) cars.
The shared bike craze has escalated existing tensions. When the crackdown comes – and it will – it will be done in the name of "public safety," but the real reason is that the rise in the number of bicyclists has allowed the non-motorized to retake spaces – such as bike lanes and sidewalks – long claimed by cars. The motorists represent a particular class in this city, and they have little patience for ceding their precious sidewalk parking spaces or bike lane acceleration zones to the pre-combustion classes.
The bike sharing schemes are not without their problems. Many users are beginner or dilettante bikers who often blithely ignore traffic lights and laws. Being able to park the bikes wherever is one of the biggest selling points for these companies, but you don't have to look too hard to see the privilege being abused as bikes are dumped along the banks of canals, in front of doorways, or even in the middle of the street. The fierce competition between the companies has meant heaps of bikes outside of subway stations, shopping centers and other high-traffic pedestrian zones.
READ: Now That Bike-Sharing is Wicked Convenient, Beijing Steps in to Make it Less So
But these are bugs to be fixed. The concern is that the municipal government tends to fix problems with a sledgehammer, not a scalpel (see: "Dining: Streetside," "Services: Rideshare"). Hopefully, bike sharing will not be the next victim. The idea of Beijingers – both born here and born abroad – going back to bicycles would be a boon to a city long choked by cars and exhaust.
Jeremiah Jenne is a writer, educator, and historian based in Beijing since 2002. He is also the founder of Beijing by Foot, which offers historical walks, tours, and workshops in Beijing. You can find him on Twitter @granitestudio.
Photo: The Guardian
Comments