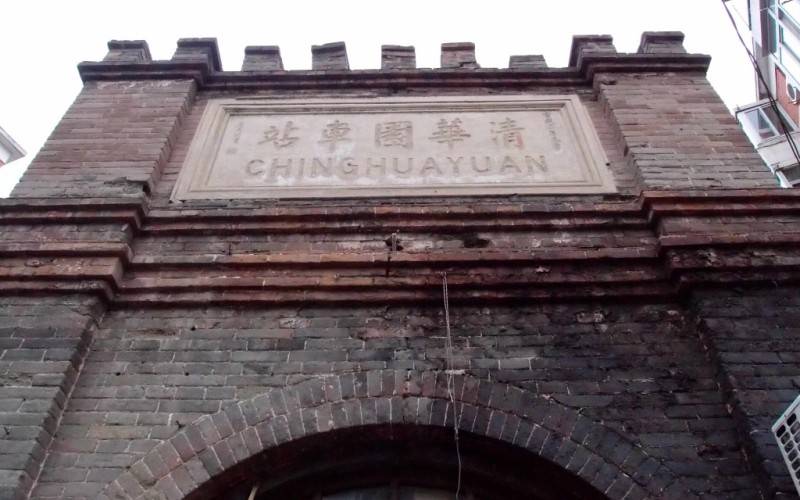 Beijing to Tear Down Qing Dynasty Railroad Station in Downtown Wudaokou
The sad state of Beijing's historical buildings continue to deteriorate with the news that a new apartment block will be developed on the site of a former Qing Dynasty railroad station that is older than its famous neighbor, Tsinghua University.
Demolition and relocation procedures have already begun in the vicinity around Qinghuayuan Railway Station (清华园火车站), a building built in 1910 as part of the first railway system engineered, built and operated completely by the Chinese.
Still bearing a placard that reads "Chinghuayuan" in romanized Chinese, the dilapidated station was certified as a municipal cultural relic in 2012. However, being placed on the lowest tier of protection for historical buildings may not be enough to save it. The People's Daily reports the Beijing Railroad Company, which owns the property, is presently negotiating with local authorities over its fate.
READ: Over 75 Percent of Historic Residences in Beijing Fail Preservation Standards
For however much time it has left, Qinghuayuan Station remains a testament to China's early success towards modernization in a dynastic era commonly associated with corruption and ineptitude.
Tucked away in a back alley just south of Tsinghua University and to the west of the Wudaokou expat enclave, Qinghuayuan Station is an example of turn of the century architecture that features a decorative crenelated parapet wall along its roof. But much more than that, the station represents the high achievement of the "Father of China's Railroad," Zhan Tianyou (shown below).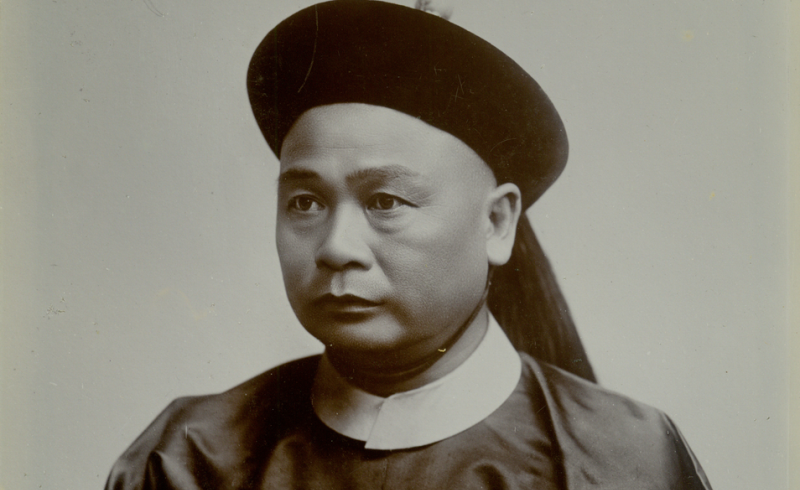 As part of a group of young students sent by the government to study abroad, Zhan graduated from Yale University in 1883 with a major in civil engineering. However, Zhan's talents were squandered upon his return to China where he toiled as an interpreter for China's underwhelming Imperial navy. Only after years of working under foreign engineers was Zhan finally appointed by the Dowager Empress Cixi to serve as chief engineer of the 200-kilometer-long Imperial Peking-Kalgan Railway (Beijing to present-day Zhangjiakou).
With the terrain north of Beijing steep and rocky, many people at the time voiced their doubt that a backwards power like China could design and build its own railway, calling it an "inevitable failure." But not only did Zhan prove them wrong by finishing under budget and ahead of schedule, Zhan also pioneered several engineering techniques like using a switchback (a zigzag pattern) to overcome the sharp gradient at Qinglongqiao as well as inserting a vertical shaft to double the number of teams digging the tunnel at Badaling.
Praise for the railway came from abroad as well as from within. A 1910 article in the Scientific American called the railway "a great triumph for the Chinese," thereby graning Zhan "the undisputed title of China's leading engineer."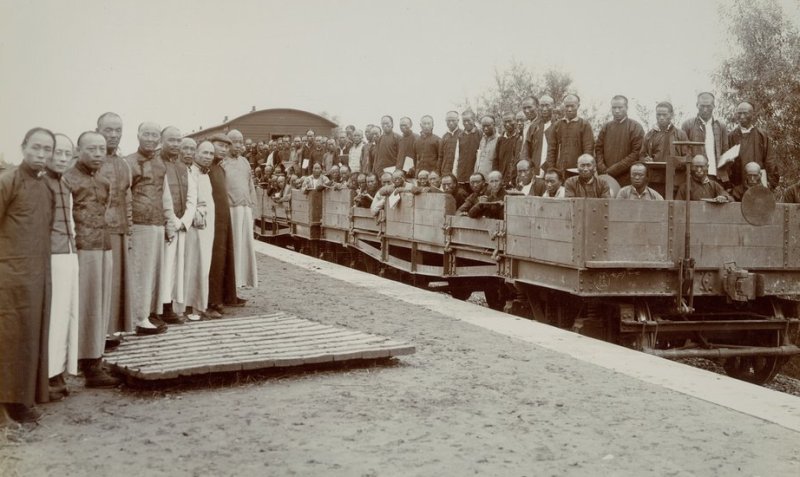 Unfortunately, even though Zhan has been immortalized for his achievements with a statue and a museum, the remnants of his legacy have all but disappeared.
Qinghuayuan Station was relocated in the 1950s to make way for the expansion of Tsinghua University with the new station located 0.8 kilometers to the southeast. From then on, the old Qinghuayuan Station served as a warehouse, its importance clearly forgotten. The north end of the station suffered damage in World War II, and was finally demolished in the 1980s, leaving just three-fifths of it still standing. Since then, residents have been allowed to live in the former station and have altered it according to their needs, like adding a stovepipe to the side of the building.
It's a sad fate for the railway station famed as having welcomed Mao Zedong to his first visit to Beijing. But, we're lucky to still know so much about Qinghuayuan Station due to a number of Chinese bloggers who have been keeping tabs on the forgotten cultural relic.
Here's how Qinghuayuan Station looked in 2015: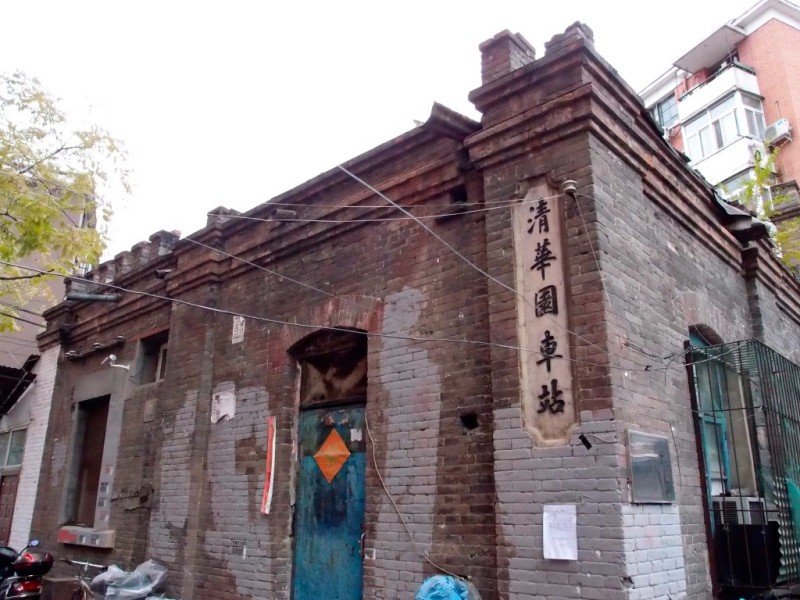 Here it is from 2013:
Here's a look at the station's missing half as seen in a photograph from 2012: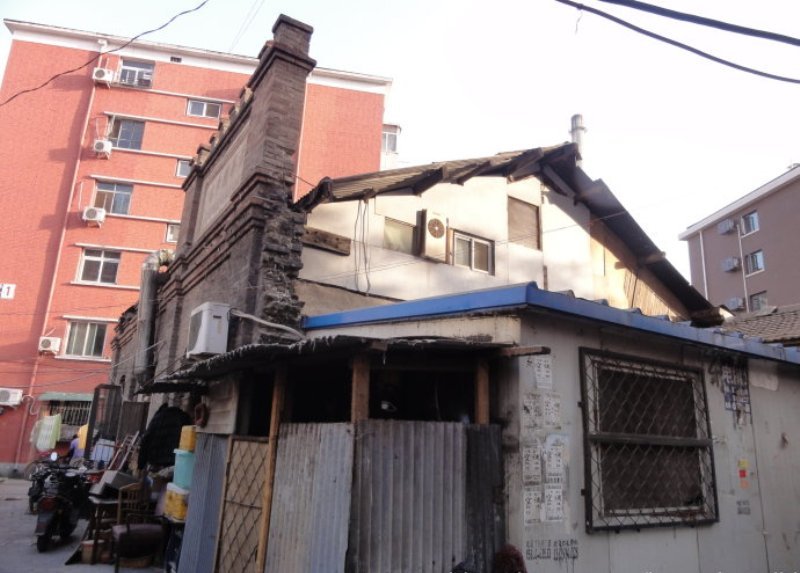 Here's how the residents have modified the building to suit their needs. The photo on the left is from 2012, and the one on the right is from 2015: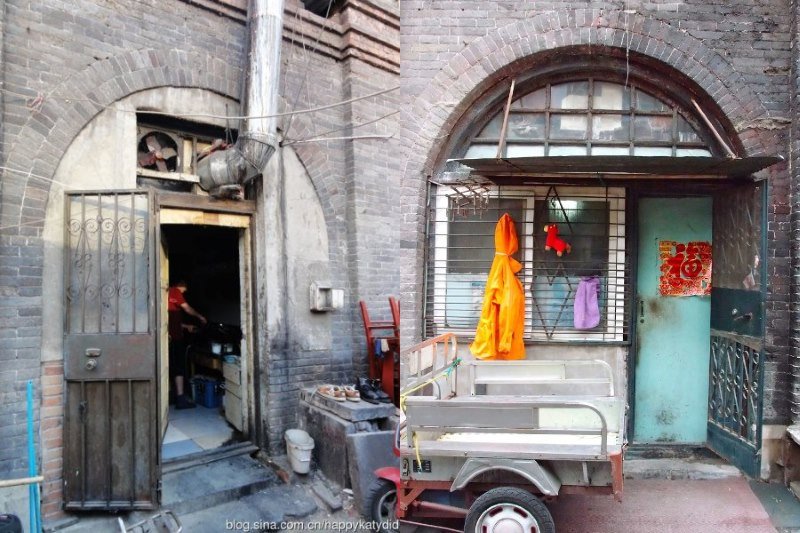 And here are some close-ups views of Qinghuayuan at the present. The vertically-written sign on the building's side is said to be done in the style of Zhan's handwriting: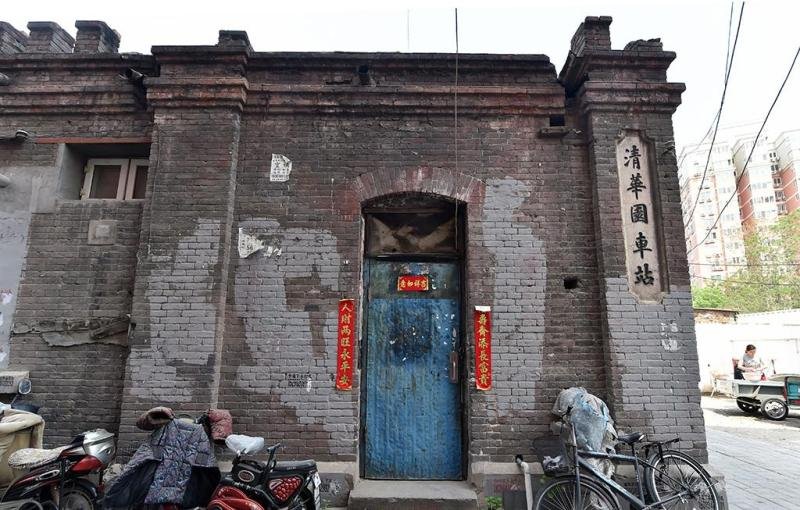 Despite it's protected status (as seen in a plaque from a photo taken in 2012), buildings in the immediate vicinity of Qinghuayuan Station have already been slated for demolition: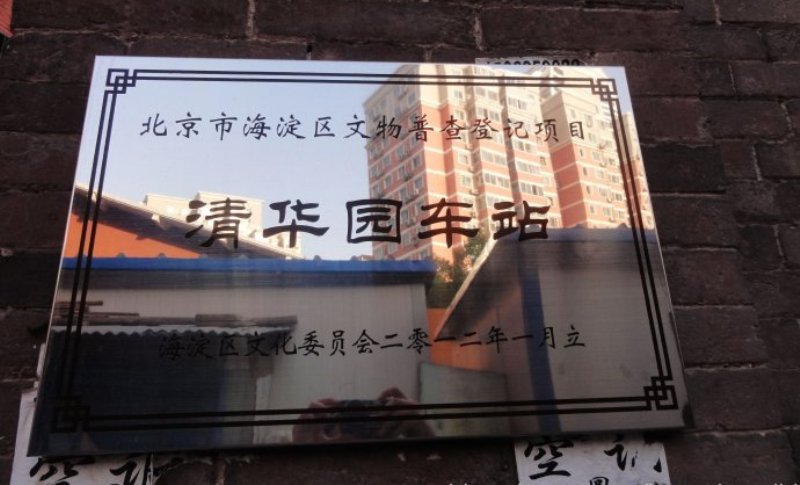 Beijing has not been kind to its own historical buildings over the years, having torn down the city wall shortly after the nation was founded and just recently allowing its famous Ming tombs to be looted. By comparison, a station built at the other end of the Peking-Kalgan Railway remains standing in Zhangjiakou where local authorities have applied for it to become a world heritage site.
Before Qinghuayuan Station disappears forever, Beijing residents can take a last look for themselves.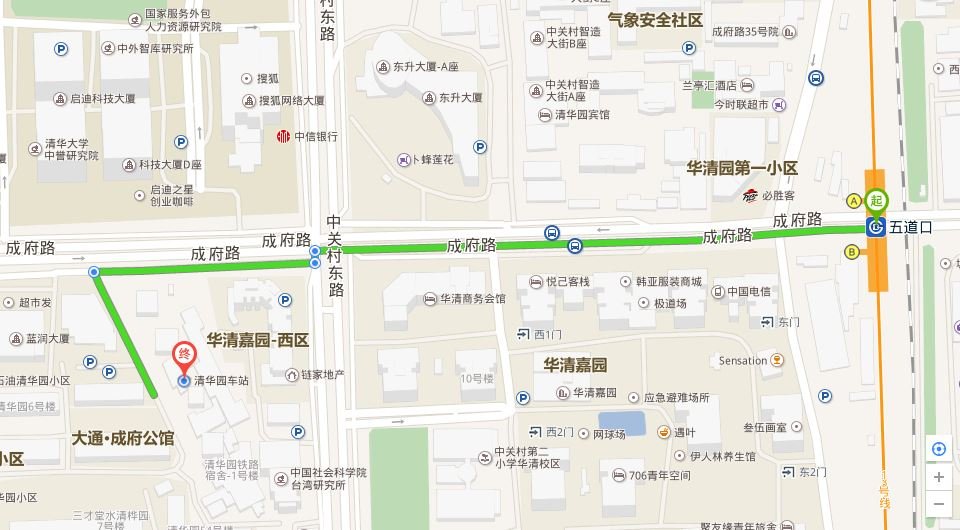 To walk there from Wudaokou Station on Line 13 of the Beijing Metro (as shown in the above map to the right), walk west along Chengfu Road past KFC on your right (north side) and then McDonalds on your left (south side). Cross Zhongguancun East Road (which leads to Tsinghua University to the north) and follow the road on the south side until you reach the first alley on your right. The alley is located after a giant sign on your left-hand side that reads 国安地方产开发有限公司 guó'ān dìfāng chǎn kāifā yǒuxiàn gōngsī, and leads off in a southeast direction. After walking down the alley for a minute and before reaching the bend in the road, you should see it on your left-hand side,
According to Baidu Maps, Qinghuayuan Station is located here (photo below facing northeast):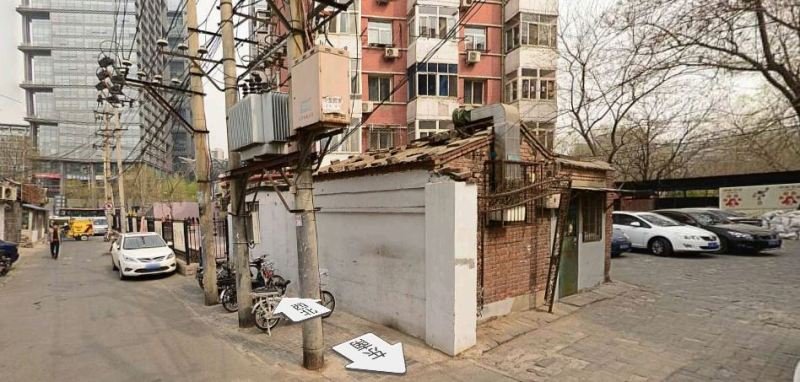 If looking at run-down old buildings isn't your thing, we can still appreciate Zhan's achievements through a remarkable set of historical photographs of the Peking-Kalgan Railway. Although no photo of Qinghuayuan Station appears to exists anymore, here's another station on the same line that it would have looked like: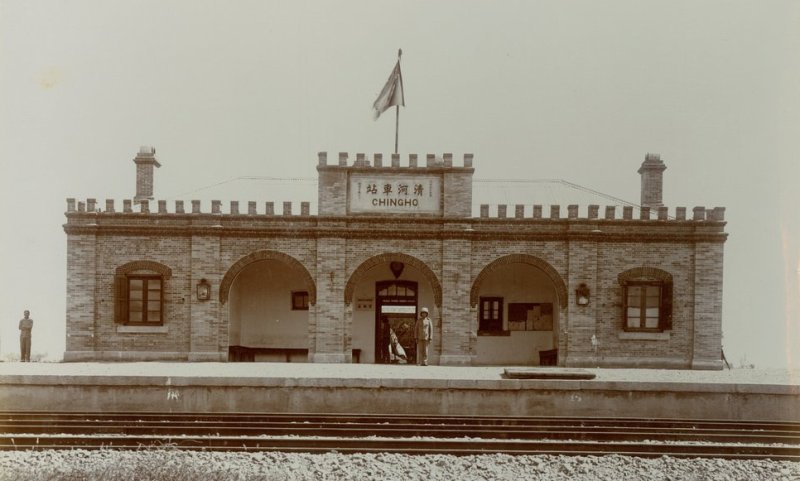 Thanks to Zhan, no one can ever say that Chinese engineering and innovation can't compete with the rest of the world. Unfortunately, with Qinghuayuan Station set to be demolished, there will be nothing left of Zhan's legacy in Beijing.
More stories from this author here.
Twitter: @Sinopath
Images: Baidu Maps, People's Daily, Ignition, iFeng (1), Sina Blog (1, 2, 3), Tieba, Lvmama
Comments