Noise Pollution: Birdstriking, Punk Rock Tribes Fest, Owen Pallett, Cristián Huepe
Alright no time to waste – a bit of esoteric experimentalism from Xinjiang's finest, lush string compositions via Iceland and America, reggae and dancehall parties galore, and punk rockers from China and beyond converging on Gulou – what more could you ask for during the heyday of spring fever?! Go forth you music loving freaks of nature and step into the unknown with your weekend gig roundup courtesy of Live Beijing Music (WeChat ID: livebeijingmusic).

Friday, April 21
Birdstriking, Future Orients, Last Goodbye at School Bar 
Converse bags a hell of a indie rock lineup to kick off the weekend – with Maybe Mars esteemed noise rockers Birdstriking, so close to their much anticipated sophomore releases, joining fellow labelmates Future Orients, who caused quite a stir with their melodic dance punk debut last year, and up and coming shoegazers Last Goodbye, who are shaping up to be one of this year's breakout successes. Did I mention it's free as all hell? Get after it. Free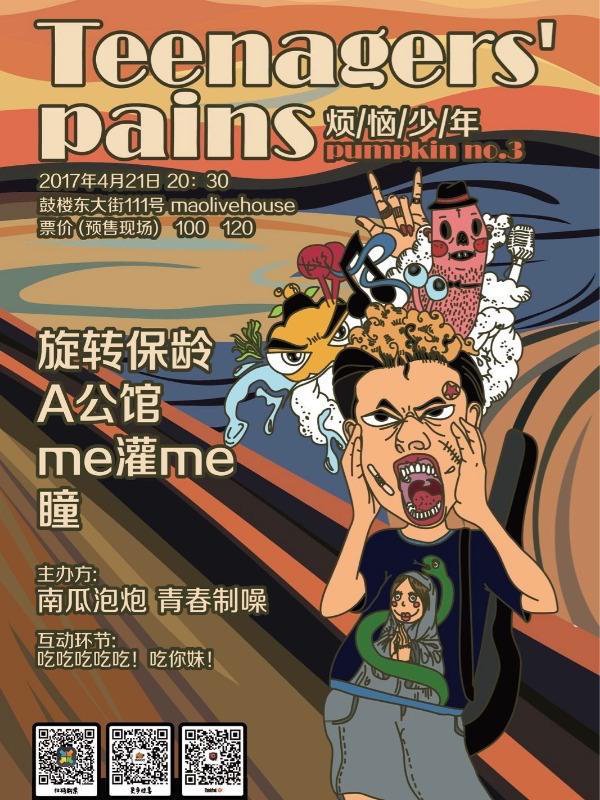 Residence A, Rolling Bowling, Me Guan Me, Tong at Mao Livehouse 
Some of the scene's most consistent show stoppers hit up Mao Livehouse including indie rock jaggernauts Residence A, rockabilliy lords Rolling Bowling. They're joined by melodic indie scrappers Me Guan Me and all girl power pop group Tong. RMB 120 
Amiina (Iceland) at Yugong Yishan
Revered Icelandic string quartet, known for their spellbinding work with Sigur Rós, swing through Beijing courtesy of New Noise. Besides performing their most popular songs from their highly acclaimed records, the band will be performing an original live score to the 1913 film "Fantômas". Expect lush, dense compositions that'll have your ears soaring in bliss. RMB 200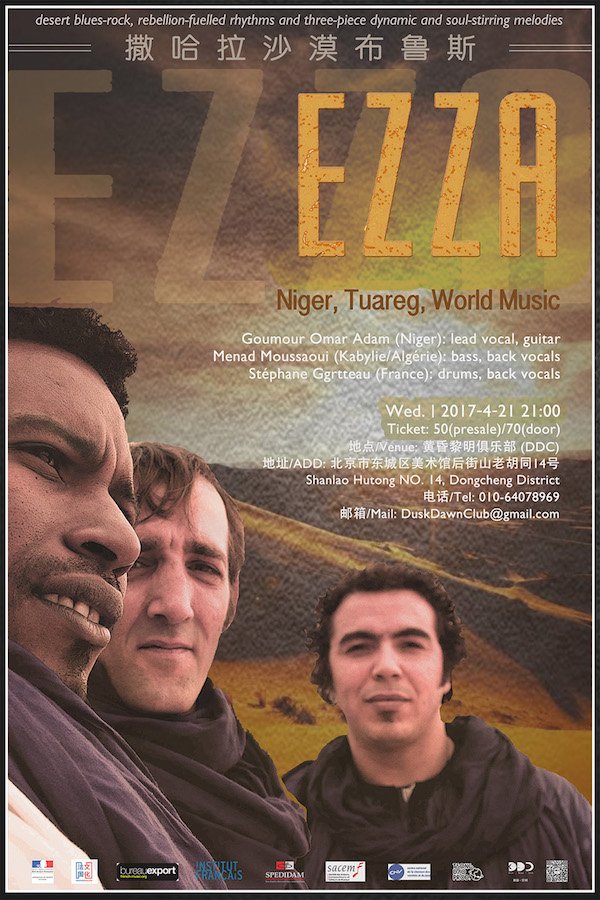 EZZA (Niger) at DDC 
Bask in 'the African pulse, the rhythmic trances, and relentless groove' of Tuareg music as desert rock blues trio EZZA bring their contemporary take on Saharan music. Led by vocalist and guitarist Omar Adam Goumar and joined by bassist Menad Moussaoui from Algeria and drummer Stéphane Gratteau from France, the band swings by DDC tonight. RMB 70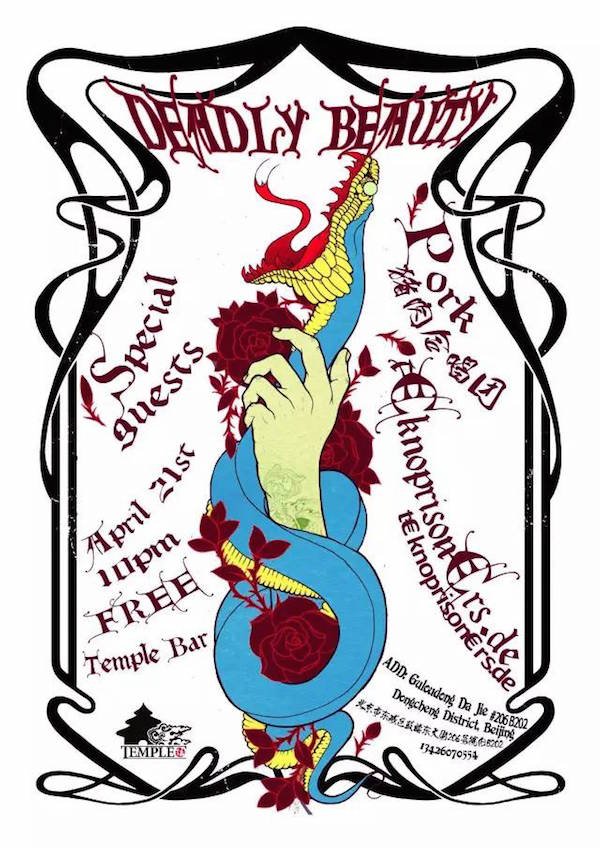 Pork, t€knoprison€rs.de, special guests at Temple
Grunge rock out with one of Beijing's finest, Pork, as they join left-field batshit crazy rockers t€knoprison€rs.de for a bit of the ol' ultraviolent. Plus, the always-reliable special guests of Temple's past. A treat indeed. Free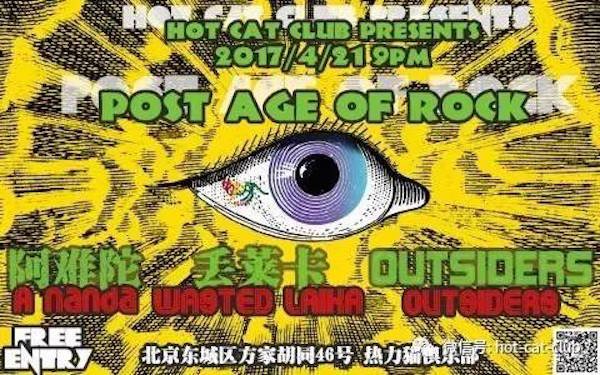 Ananda, Wasted Laika, Outsiders at Hot Cat Club 
It's the 'post age of rock' at Hot Cat tonight on Fangjia Hutong as post rock outfit Ananda join post punks Wasted Laika, and sadly not so post but punk all the way rockers Outsiders – lots of new names here. Color me intrigued. Free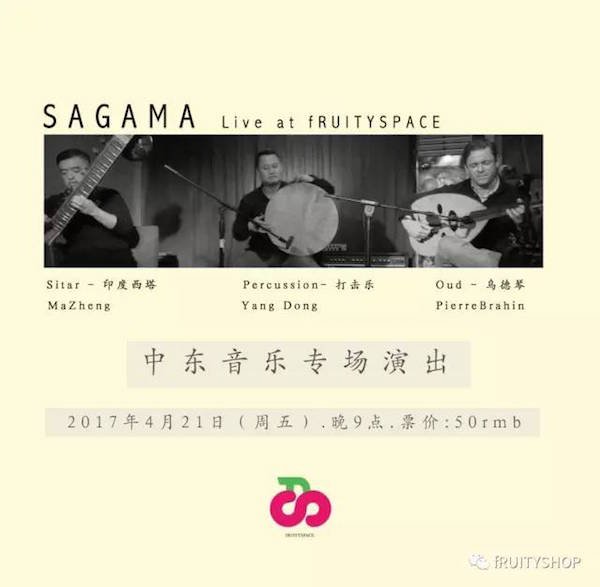 Sagama at Fruityspace
Finding roots in Indian, Middle East and worldwide musical influences with a joyful dash of modern harmonies, Sagama's music happily marries different musical traditions as the band melts modern compositions into Indian ambiances, delivering their own interpretation of traditional Arabic Maqam and Indian Raga, constantly reinventing the soundscapes painted by the Indian Sitar, the Middle Eastern Percussions and Oud. RMB 50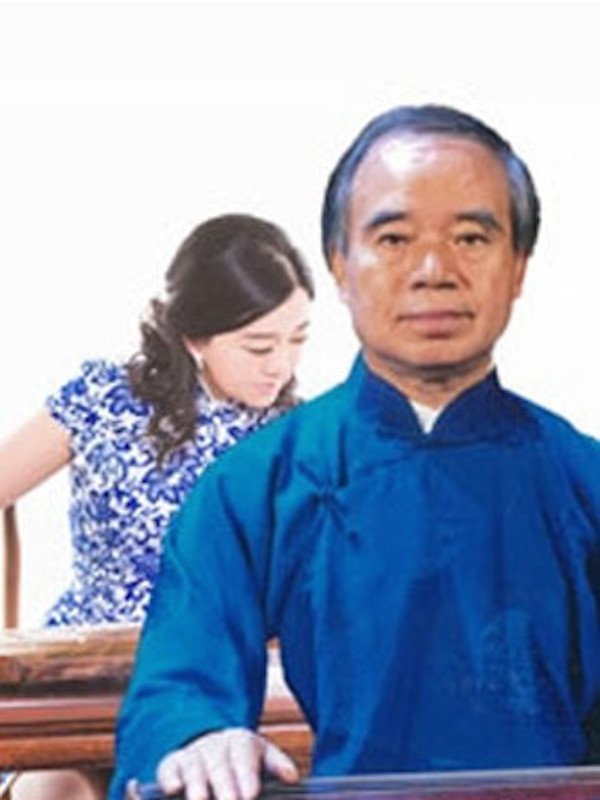 Li Xiangting and Daughter at Forbidden City Concert Hall 
Get down with some guqin, the famous seven-stringed traditional Chinese instrument, at the Forbidden City Concert Hall as the guqin master Li Xiangting joins his daughter Li Pengpeng for some beautiful music making. RMB 100 - 580 (7.30pm start)
Sbazzo & Bad Blood, itsogoo, Crazy Chef, ABD, Big Dog, Nasty Ray, A-Mac, Young Clan at Modernsky Lab 
Bring it back to the golden age of hip hop in China – the always fine 2002 – as Modernsky Lab celebrates in style with a concert featuring an array of rapper and MCs including Sbazzo & Bad Blood, Crazy Chef, ABD, Big Dog, Nasty Ray, A-Mac, and Young Clan, backed up by DJs Whybeatz, Chenfei and 4Tael. RMB 150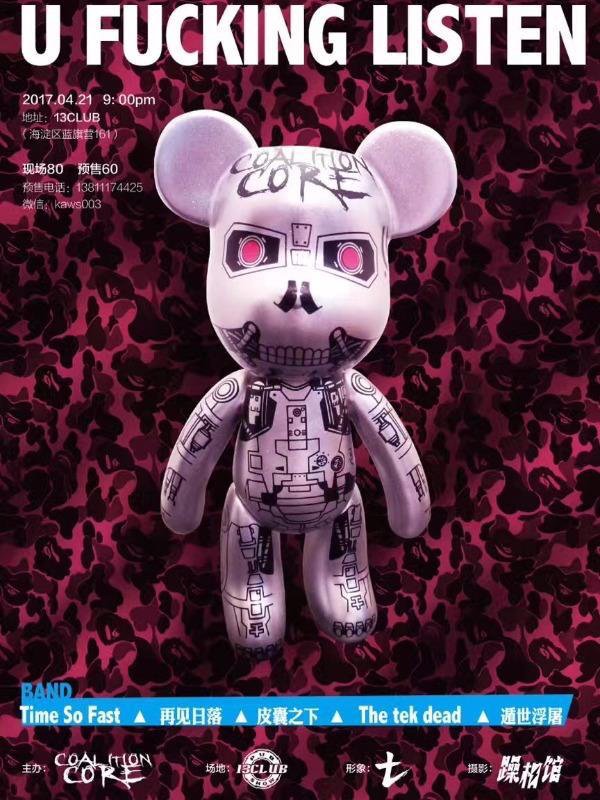 The Tek Dead, Time So Fast, Goodbye Sunset, The Skin I Live In, Recluse Buddha at 13 Club 
Cut your teeth and let the darkness sweep in with this lot of heavy hitters including screamo outfit Goodbye Sunset, post core ruffians Time So Fast, and more at the Wudaokou music hub – 13 Club. RMB 60 
The Randy Abel Stable Nick Parsons, Jordan Darling, Kamau at 69 Café 
Everyone's favorite bluegrass country outfit The Randy Abel Stable look to stir up a storm at the cozy 69 Café alongside some of the venue's regulars including Nick Parons, Jordan Darling, and more. RMB 66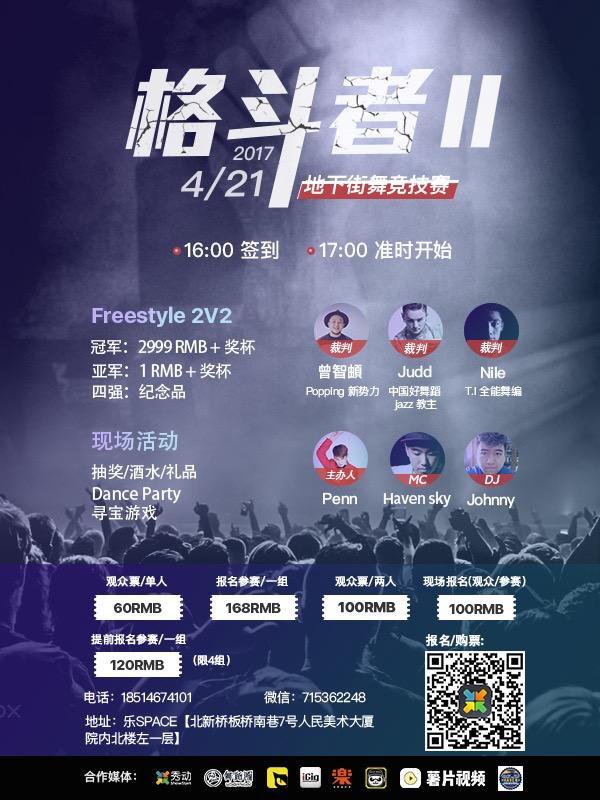 Freestyle Contest feat. Nile, POP Shrek, Judd, MC Haven, DJ Johnny ay Yue Space 
Bring you're a-game and head to Yue Space to participate in the freestyle contest. Or simply enjoy the spectacle and just maybe catch a rising star make their debut. RMB 60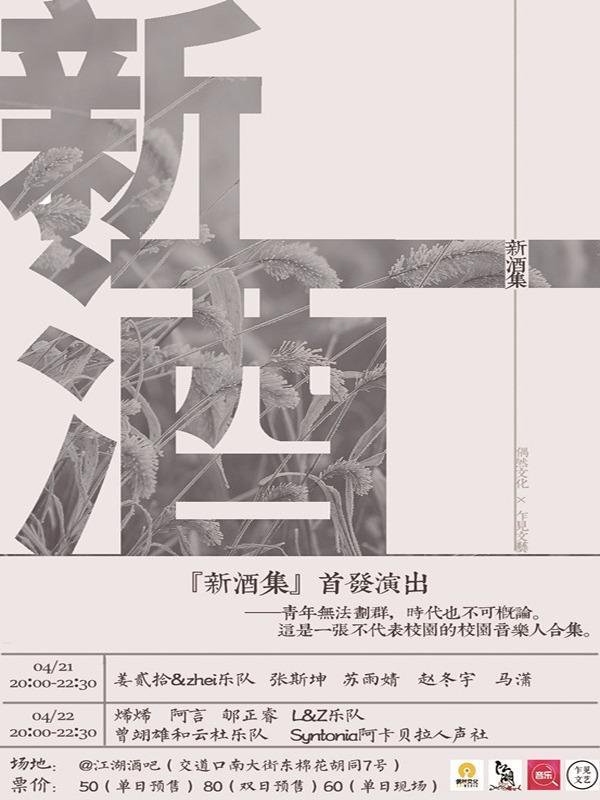 Ma Xiao, Zhang Sikun, Su Yu Jing, Zhei Band, Zhao Dongyu at Jianghu Bar 
A collection of singer-songwriters celebrate the release of indie folk compilation New Wine Set featuring the scene's hottest folk pop artists and bands including Ma Xiao, Zhao Dongyu, and more. RMB 60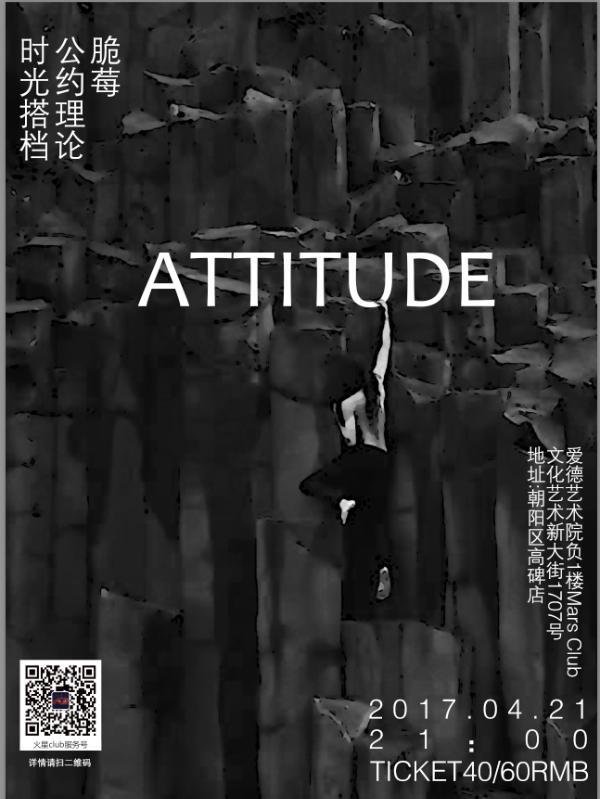 Brickleberry, Time Partner, Convention Theory at Mars Club
Not sure where the attitude, particularly when you have bands with names like Convention Theory and Time Partner, but you can certainly expect some indie pop numbers tonight at the Gaobeidian joint. RMB 60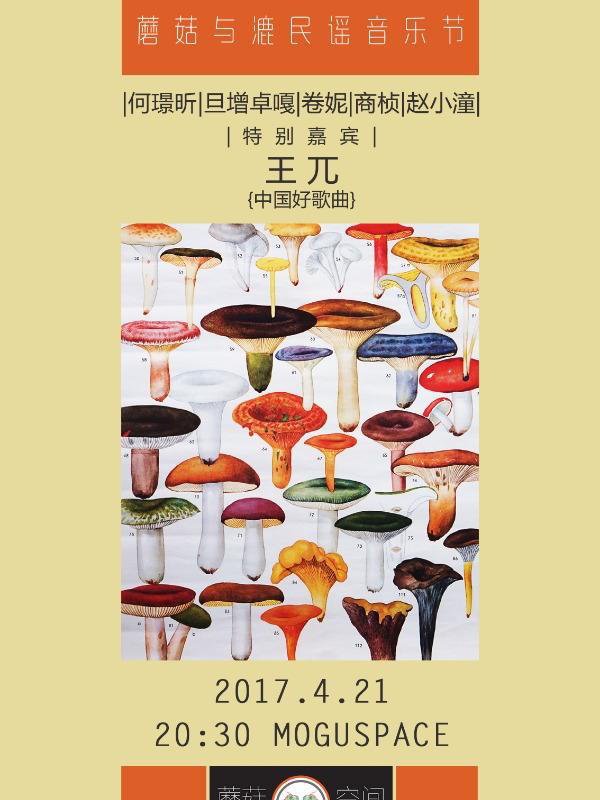 Wang Wu, He Jingxin, Zhao Xiaotong, Danzeng Zhuo Ga at Mogu Space
Rising singer-songwriters including northeastern Chinese singer-songwriters, Wang Wu, whose loose hair and vibrant voice made him one of the finalists on one of the country's top rated American Idol clones, converge on Mogu Space. RMB 69 
Joe Woo Trio at The Living Room (pictured top)
The Joe Woo Trio gets swanky over at CHAO's new music space - The Living Room. Featuring French vocalist Rani Geroult, Italy's Simone Schirru on guitar, and Dan Callaghan, from Ireland, on bass, the group's sweet vocals float on a cloud of classic jazz trio standards. Free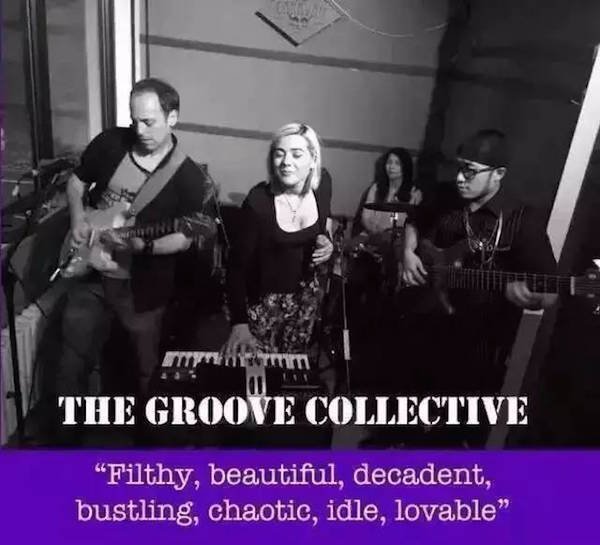 The Groove Collective at Modernista 
Hailing from all corners of the globe, the members of The Groove Collective look to 'channel the city's chaotic fortune', mixing their distinctive sounds into a 'melting pot of disparate rhythms and fun-loving uproar.' Free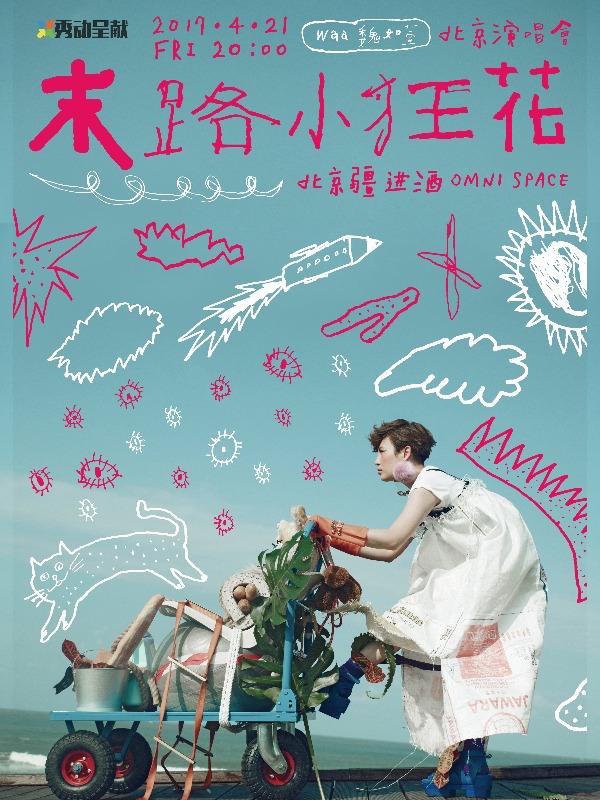 Waa Wei at Omni Space 
Taiwanese Mandarin pop singer Waa Wei serenades her screaming fanbase over by the Temple of Heaven. RMB 280 
 
Saturday, April 22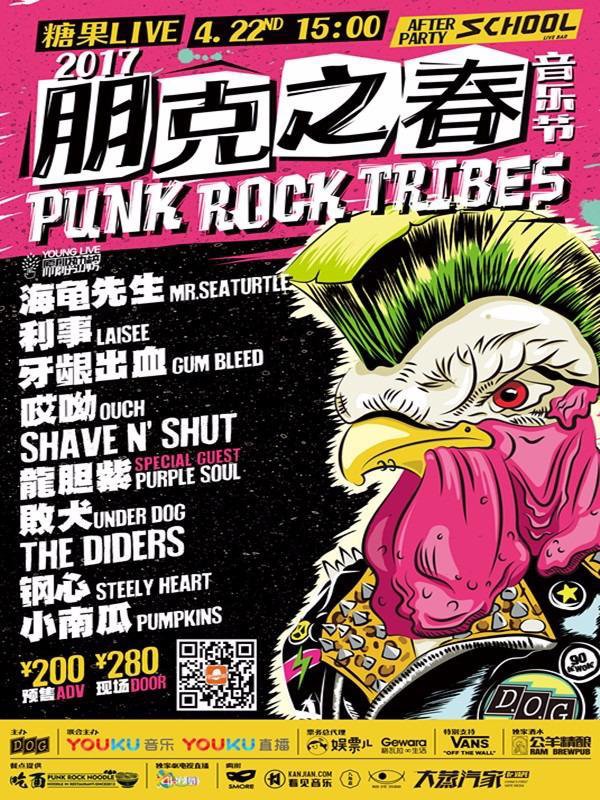 Punk Rock Tribes Festival w/ Sea Turtle, Pumpkins, Gum Bleed, Purple Soul, Steely Heart, Underdog, Shave N' Shut, Ouch, The Diders (feat. Wang Jian). Laisee at Tango 
D.O.G present their third annual spring time 'Punk Rock Tribes' festival with an extensive, jam-packed lineup at Tango. Bringing together punks from different scenes, cities across China, and countries in the future, the festive has a diverse catalogue of bands and sounds – from the hardcore leanings of LaiSee, the skinhead punk ethos of Shave n' Shut, the Sublime-esque ska rock of Chengdu's Sea Turle, and even a rare appearance from underground Beijing hip-hop heroes Purple Soul, there's something for everyone this afternoon and evening. Full schedule. RMB 200/280 (3pm start)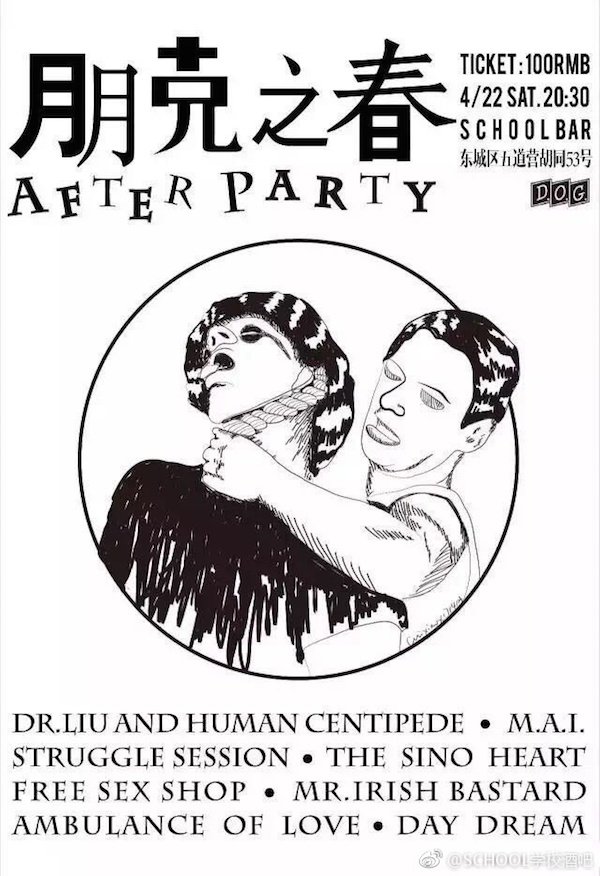 Punk Rock Tribes After Party w/ Mr. Irish Bastard, Human Centipede, Struggle Session, The Sino Hearts, Mai, Ambulance of Love, Day Dream, Free Sex Shop at School
While Tango remains ground zero for the Punk Rock Tribes Festival, School is where it's at for the after party. And what an after party – one that's once again chock full of punks of all ilk. Whether it's the German-based Celtic punks Mr. Irish Bastards, the hardcore tomfoolery of Human Centipede, the female-driven punk outfit Free Sex Shop, or the scrappy self-deprecating hooliganism of Day Dream, this is a party that's gonna last into the early hours of the morning. Bring your game face. RMB 100 (FREE w/ 'Punk Rock Tribes' tix)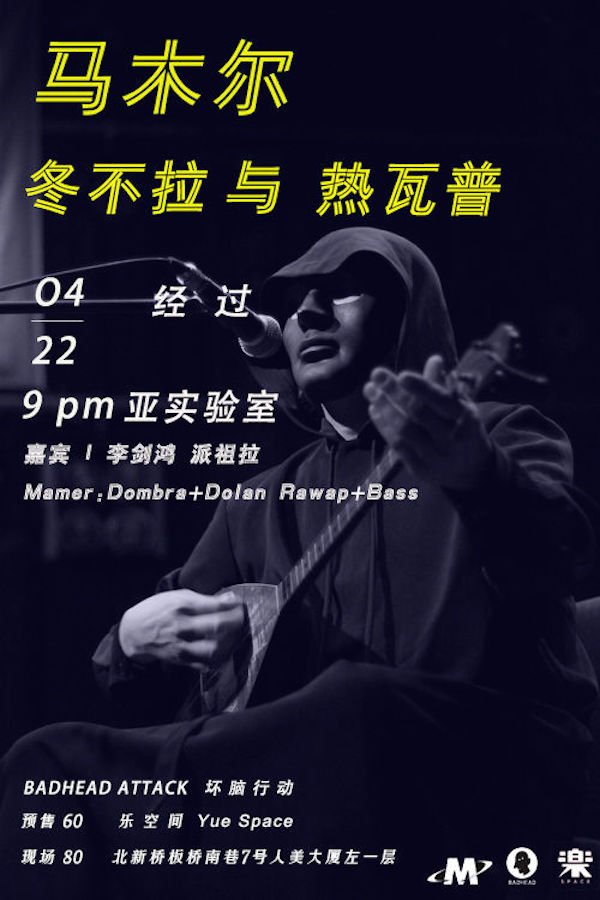 Mamer, Li Jianhong, Paizulla Polat at Yue Space 
Kazakh avant-garde veteran Mamer brings his latest showcase, highlighting the intricate and unique sounds of traditional Chinese instruments the dombra and dolan rawap, to Yue Space as apart of Modern Sky's offshoot label Bad Head's new series. Mamer will be joined by guest Li Jianhing and Paizulla Polat, who'll surely be bring their exploratory sounds to Yue Space as well. RMB 80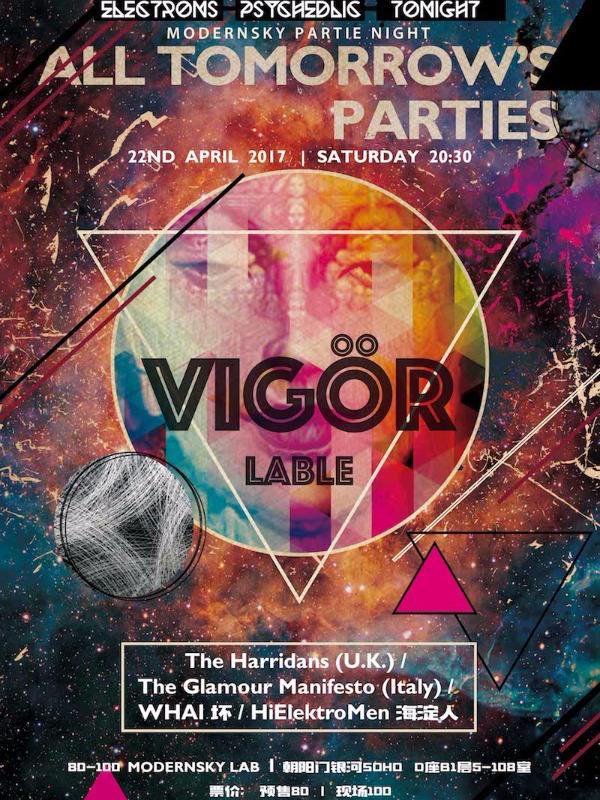 The Harridans, The Glamour Manifesto, WHAI, HiElectromen at Modernsky Lab 
Label Vigor brings a rollicking electrified good time to ModernSky Lab with a red hot lineup that features the Italian-infused industrial electro rock of The Glamour Manifesto, British psychedelic rockers The Harridans, who have a whole slew of new tunes to unleash upon the world, retro electronic dance act HiElectromen, and veteran trance rock wonders WHAI. It's gonna get loud. RMB 100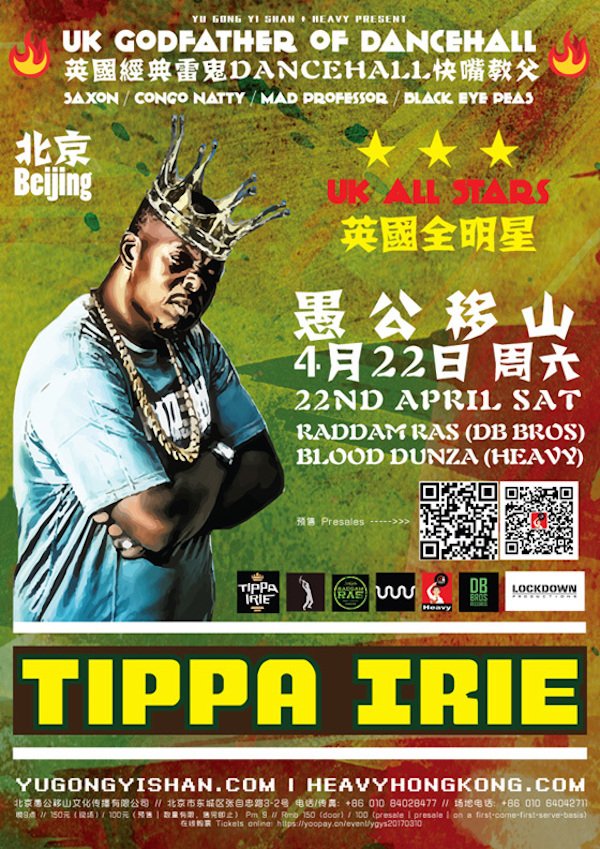 Tippa Irie (UK) w/ Raddam Ras, Blood Dunza at Yugong Yishan 
Grammy-nominated reggae artist Tippa Irie will be stopping off at Yugong Yishan on Saturday night with his hard-hitting dancehall chart-toppers. From collaborating with the likes of The Bug and The Black-Eyed Peas, to releasing acclaimed work on his own you can expect reggae, hip-hop and dub music that'll keep the dance floor hot and muggy. RMB 150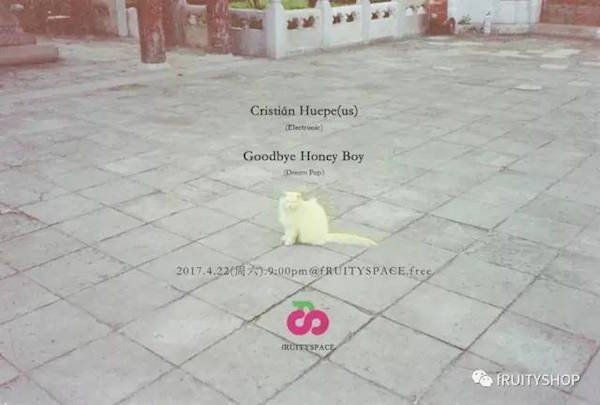 Cristián Huepe (USA), Goodbye Honey Boy at Fruityspace
A mover on the Chicago electronic scene over the past 10 years, the Chile-born electronic producer Cristián Huepe combines 'house, tech, minimal, electronica, experimental, and diverse musical influences with live instruments and urban elements.' He's joined by 'fresh on the scene' dream pop trio Goodbye Honey Boy for their debut show. Free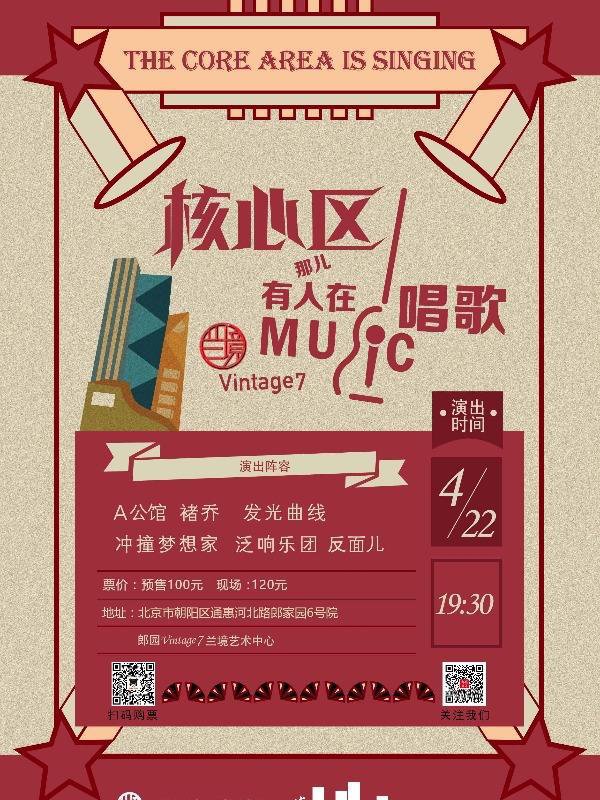 Glow Curve, Residence A, Collision Dreamer, FM.E, Chu Qiao at Vintage7
Just east of the BTV building in Guomao in the Lan Jing Art Center, lies this new venue – Vintage7 – and they're looking to get the good word out with a kick-off party featuring some of the scene's hottest commodities including Glow Curve, Residence A, and more. RMB 120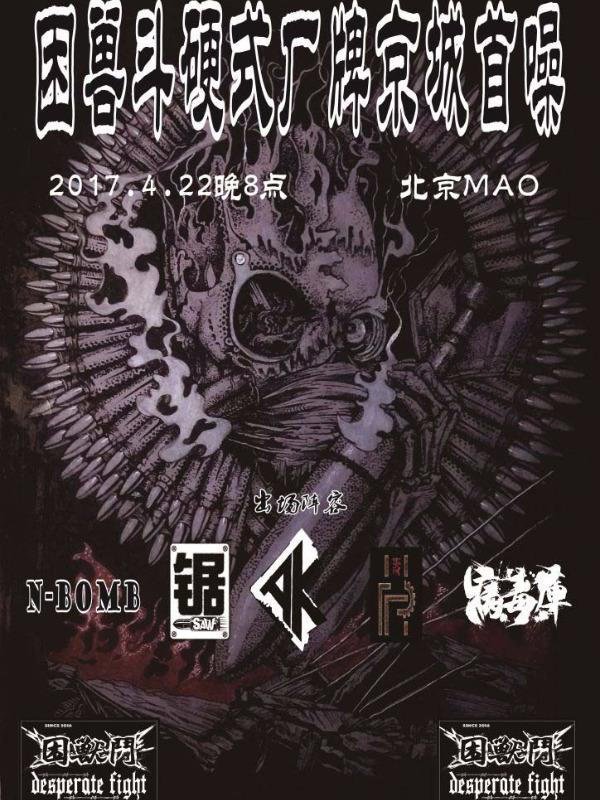 AK47, S.A.W, Virus Base, N-Bomb, Painted Skin at Mao Livehouse
Things get heavy at Mao Livehouse as veteran industrial metal band AK47 join an explosive lineup that features S.A.W, Virus Base and more shredders looking to leave their mark. RMB 160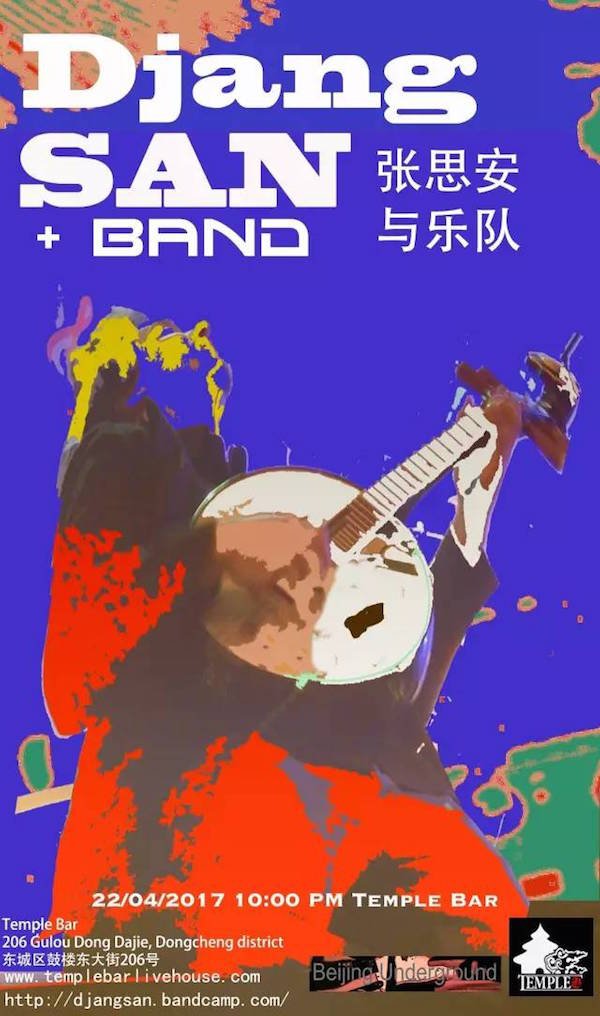 Djang San at Temple 
East-meets-West fusionist and veteran show stopper Djang San – a jack of trades include 'zhongruan player, philosopher, poet, composer, guitar hero, DJ, one man orchestra, and explorer of new sounds' bring their hypnotic buck wild tunes to the one and only Temple. Free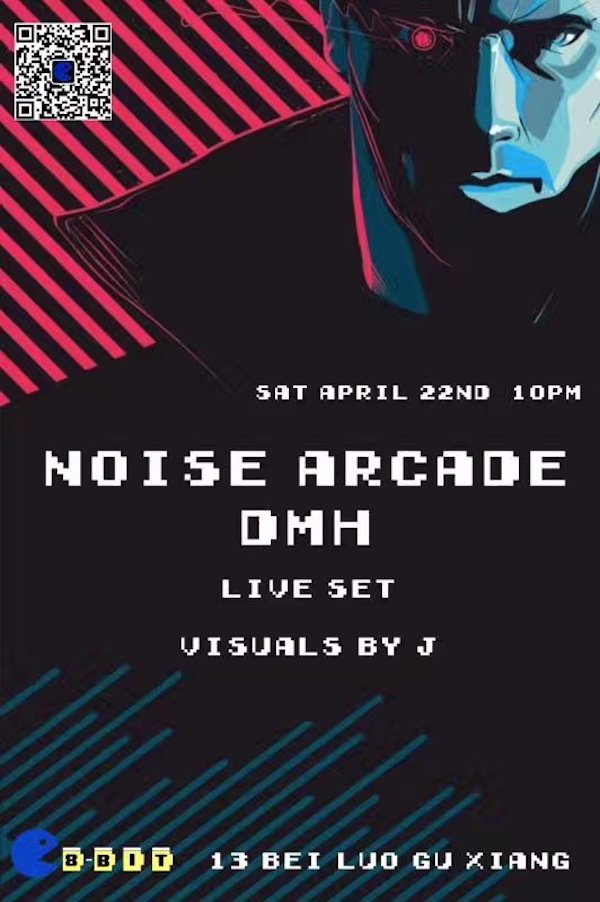 Noise Arcade, DMH at 8-Bit 
Electronic wizardry of the highest order at 8-Bit as drone-happy ambient soundscaper Noise Arcade and former Low Bow and Cloud Choir musician DMH provide you with your own personal Mario Kart soundtrack. Free 
Lucky Roots, Ludo V, Dizzy Di, Cao73, Rawhx, Johnson and Brothers, DJ Wild Wata at Granary Bar
It's a reggae, ska, dub, you name it party – a nine-hour outdoor rager with 6 DJs and MCs from six different labels and a roots reggae band – all the newly opened Granary Bar located by Shuangqiao Station on the Batong Line. It's been a while since I've been a fine outdoor party (RIP Dos Kolegas) so count me in. Free
Blind Rabbit, RapaciouzC, Penicillin, Trice, The Fuse, Golden Rum, Ele-Wood at Omni Space
Punk, britpop, hip hop and more as Omni Space hosts an afternoon showcase with an array of bands old and new. RMB 100 (3pm start)
Gabrielle at Omni Space
Indie folk artist continues her transformation into an artist to look out for as she kick offs her nation wide tour. RMB 100  
4Rock at DDC
Hefei punk outfit 4Rock, rejuvenated after their 2016 debut, bring the raw sounds of Anhui to DDC as apart of their national tour. RMB 80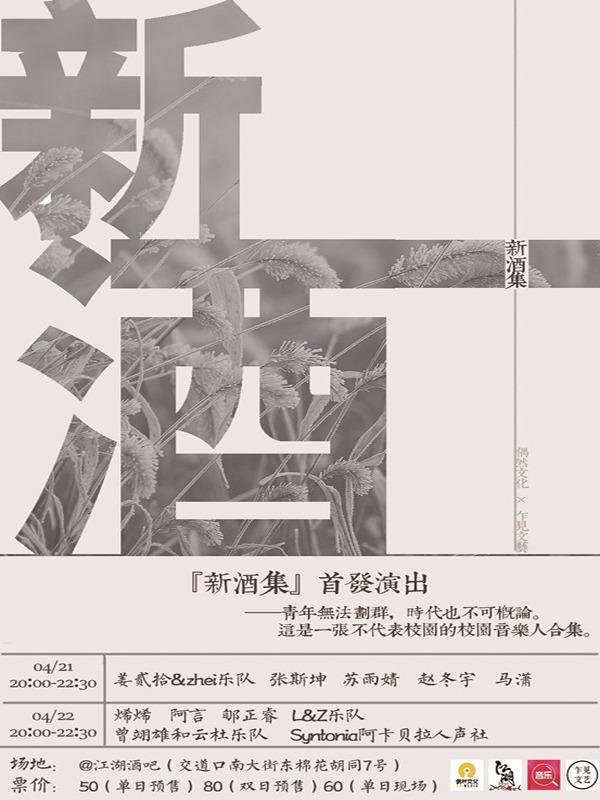 XiXi, Ayan, L-and-Z, Yun Du, Syntonia, Huan Zhengrui at Jianghu Bar
A collection of singer-songwriters celebrate the release of indie folk compilation New Wine Set featuring the scene's hottest folk pop artists and bands including XiXi, Yun Du, and more. 60 RMB 
Diagon Alley, Ramblin' Roze, Ma, The Speed of Light at Mars Club
Britpop ballads, 70s rock anthems, hardcore screamo and more over at Gaobeidian's Mars Club. RMB 60

Anna Kouri Trio, Jumped Up Monk Quartet at The Living Room 
Grecian jazz vocalist Anna Kouri appears at the Living Room at Chao with her band for an early evening set. They're followed by the Jumped Up Monk quartet, a talented ensemble of international musicians, playing original compositions and jazz standards. Free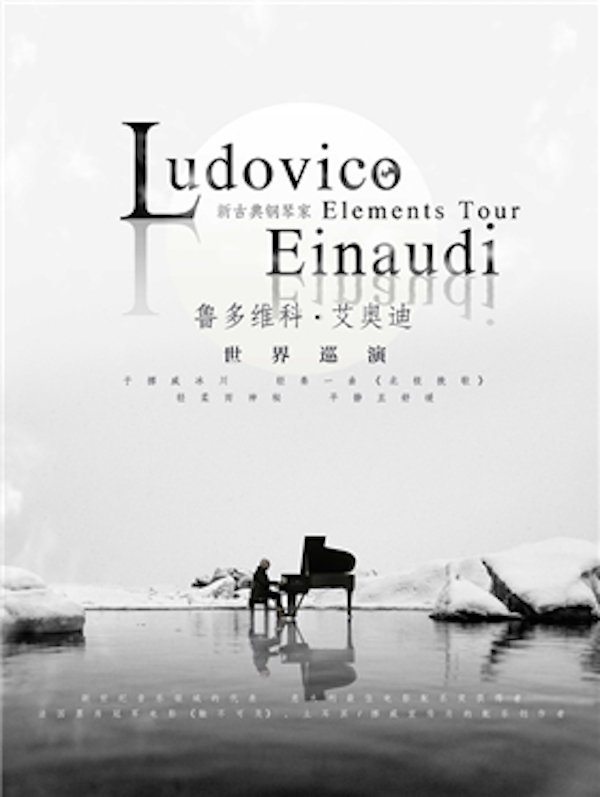 Ludovico Einauldi (Italy) at Tianqiao Theater 
Classical pianist Ludovico Einauldi was born to an aristocratic Italian family full of musicians. The artist, who is also a composer, has scored many films and recorded albums that have sold millions of copies around the world. He appears in Beijing as part of his world tour, playing his own compositions. RMB 180 - 880 
Nick Parsons, Wu Gui at Mogu Space 
Indie musicians from around the world welcome spring at 69 Café including singer-songwriter Nick Parsons and folk singer Wu Gui. RMB 60 
The Spice Cabinet at Modernista
The Spice Cabinet are return to Modernista for another night of 'pop turned jazz, jazz turned bad, hyper horned hit charted jazz or whatever you would like them to do for you', always, that's right, with a bit of spice.' Free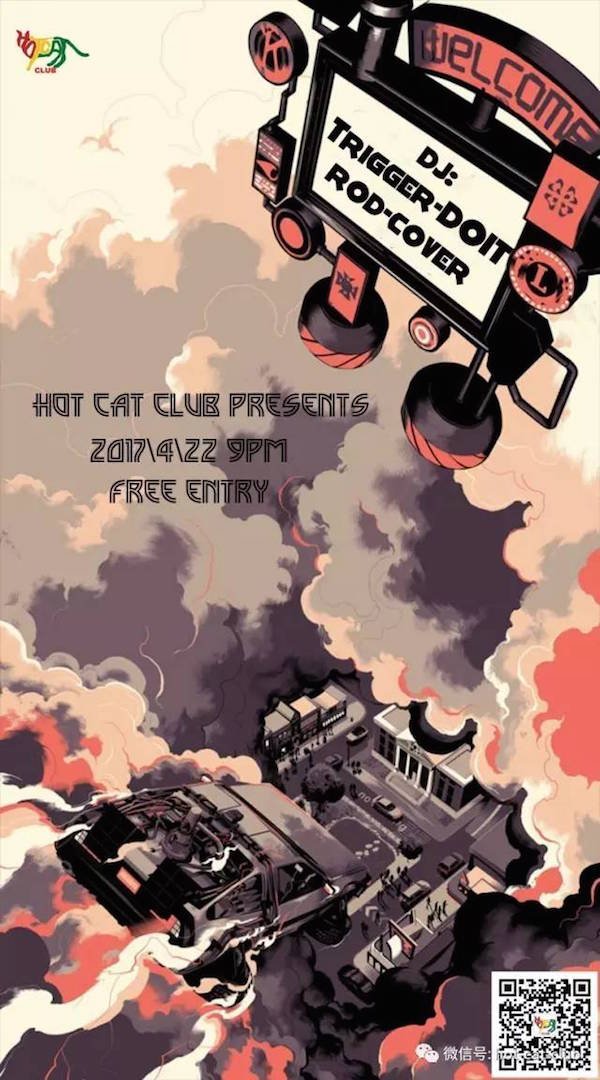 ROD, DJ Trigger-DOIT at Hot Cat Club
Pop night as cover band Rod (I think – the poster is quite confusing on closer inspection ain't it) and DJ Trigger-DOIT (see what I mean) get loose and goosey at Hot Cat Club. Free

Sunday, April 23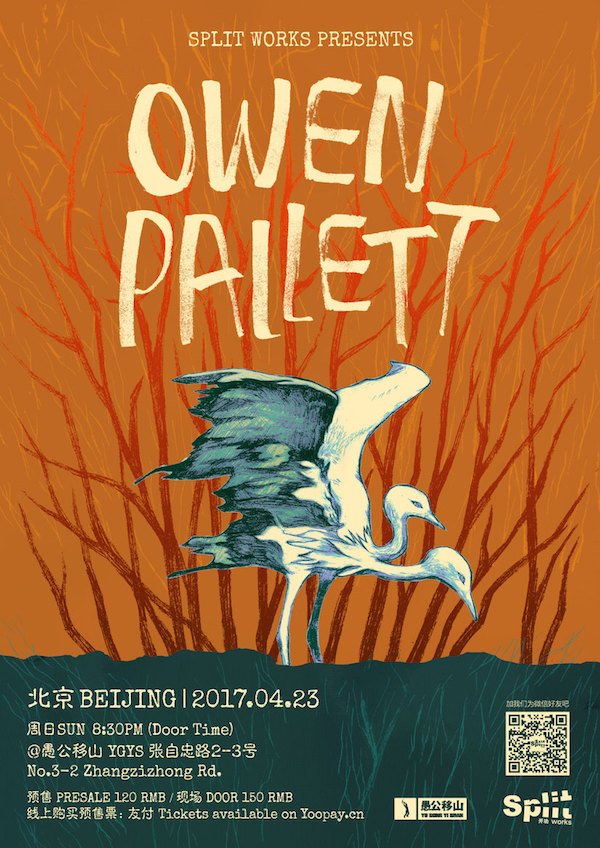 Owen Pallett (Canada) at Yugong Yishan 
Renowned violinist and composer whose marvelous work with Arcade Fire, The National, Franz Ferdinand, and filmmaker Spike Jonze (for the Academy Award nominated film Her) is just a rain drop of the solo artist's extravagant 'avant-garde orchestral pop' brings his intricate and layered compositions to Yugong Yishan courtesy of promoters Split Works. Described as moody, majestic, and cosmic, this should be the perfect Sunday evening hangover cure. RMB 150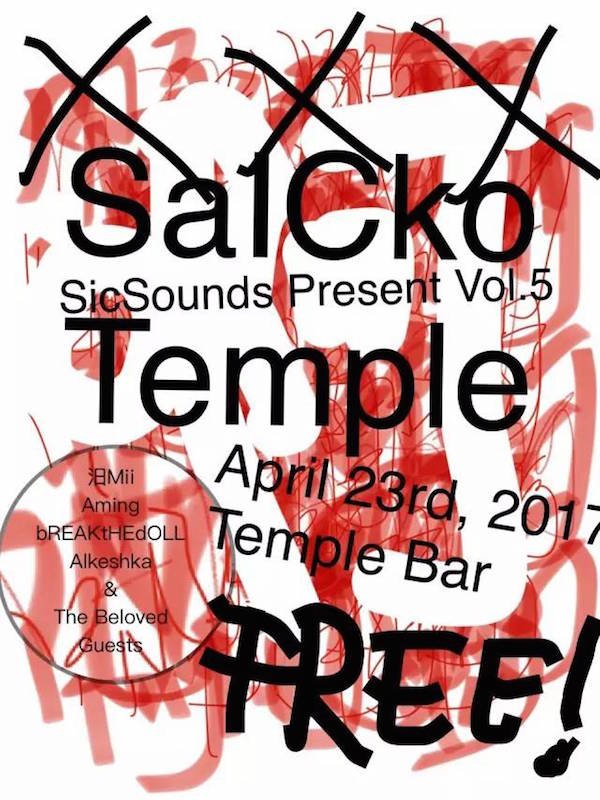 Mii, Aming, The Doom Girls, bREAKtHEdOLL at Temple
The end is nigh! One of my favorite people on the scene – the madman and musical wizard Dee, whose unpredictably visceral imaginative and musical exploration has been apart of the experimental scene for countless years, bids Beijing farewell. And he's going out in style with an apocalyptic showcase featuring the rarely scene super psychedelic avant-garde jam group Mii, experimental guitarist Aming, as well as a performance from 'The Doom Girls' (I can only imagine what that could be). Plus DJ sets from Dee himself as bREAKtHEdOLL and visual imagery courtesy of Alkeshk. You'll be missed, Dee! 

A Tribute to Patti Smith at Yue Space
This Sunday pay tribute to the one and only Patti Smith with an all day event at Yue Space that'll feature a vintage market, poetry reading, movie screenings, special drinks and later in the evenings bands like Tong, ZhangXi, and more paying their respects with performances. RMB 60 (3pm start)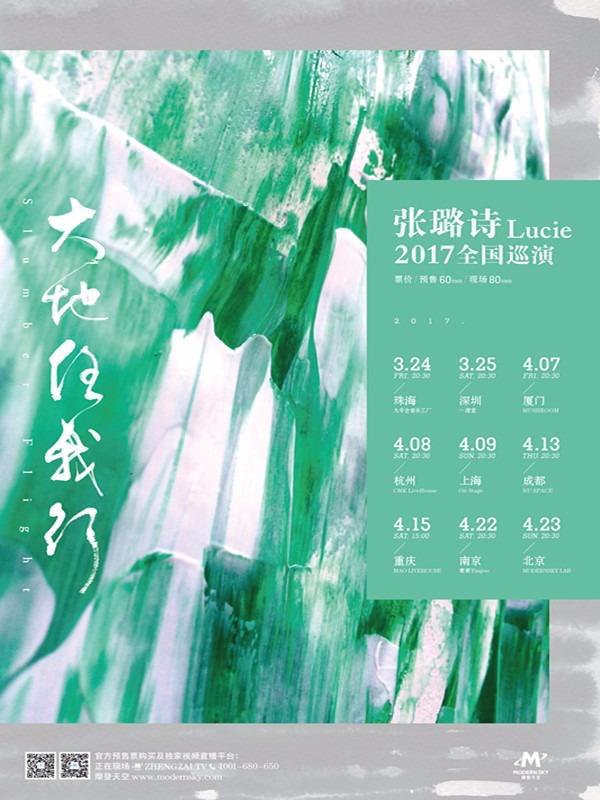 Lucie at Modernsky Lab
The artist, poet, and singer-songwriter Lucie appears at ModernSky Lab as part of her national tour. The artist mixes folk with trip-hop, defying genre boundaries to create her own brand of 'dark folk.' The new tour will feature previously unheard music, with a new bigger band and classical pianist, reminiscent of the Norwegian group Kings of Convenience. RMB 80 
The Blue Danube Reloaded at La Plantation
Get your dose of classical and jazz fusion as Bruce Gremo on flute, Yu Miao on guzheng, and Burnett Thompson on piano give contemporary reinterpretations of famous works. RMB 150 
Panda Eyes, Pluto, Special Task, Shanyi at DDC 
Rock out with MF United and a slew of rock bands – or not. Maybe there's a MF United game playing during the event. Or all the band members are repping. RMB 60 
Joe Slowly Man at School
Chart-topping hip hop artist Joe Slowly Man (徐真真) descends upon School Bar for an intimate evening of hip-hop jams with special guests. RMB 120 
Phew! Still hungry for more? For events, videos, and photos from Beijing's thriving music scene, head over to Live Beijing Music or check out all of our live music listings here.
Images: Return The Truth, Live Beijing Music, courtesy of the organizers
Comments