Ghostly Rockers Guiguisuisui Form New Group Nekroma, Release EP at DDC on June 9
Who'd have thought your worst nightmare could sound so good?
Yes, with their freaky face paint and foreboding instrumentation, Guiguisuisui (GGSS) have well earned their reputation as Beijing's pre-eminent pair of "zombie noise" musicians (according uniteasia.org, which also described their music as "dark rock electro punk opera").
Now, the demonic duo, consisting of Su Nan and her husband Dann Gaymer, have widened their hellish circle, working with new musicians to send shivers up our spines and leaving our toes tapping. They will soon release a new collaborative EP with now defunct Beijing math rock troupe Nakoma, eponymously titled Nekroma. Su and Gaymer will debut the new EP's songs at a DDC release party on June 9. Below Gaymer tells us about what to expect.
Tell us about the new EP.
This EP is called Nekroma because it's a collaboration between Nakoma, who aren't a band any more, and the darker side of GGSS, the characters of King Necro and Pumpkin Queen, played by myself and my wife, Su Nan.
Originally it was supposed to be a five-piece but Nakoma's guitar player, Tim Zhang, had to leave the project to focus on his business venture. Then Nakoma's drummer, Linda Westman, left China at the end of 2016, right after we recorded. So currently we only have one Nakoma member, Nico Mazzei, with Kris Ruiz on drums. So Nekroma is neither GGSS nor Nakoma.
The EP is meant to be listened to as a whole record, with drones in between the songs that include "Hemlock," "The Tower," "Ritual Algorithm," and "Carnival Urge." It's dark and brooding, but too odd to be heavy metal. It was recorded in Beijing and London and it's being mixed and mastered by Li Shenjie of Ran Music.
You recently posted a photo (see above) to tease your WeChat followers about the new EP. How are your infusing your nostalgic love of Gameboy gaming into your new music?
I never used to be very good with keyboards or drum machines, so the Gameboy was an interface I was familiar with from my childhood. That, combined with hundreds of hours of listening to old Sega and Nintendo game soundtracks, which was basically 8-bit techno! Our last EP (Wu Xing) was all 8-bit drums with a lot of guitars and electronic effects laid on top.
For this EP, after we arranged to collaborate with Nakoma, I set myself the challenge to write four songs on an instrument called Diddly Board. I then made the drums on one of my Gameboy using Nanoloop, shouted some lyrics over the top, sent them to Nakoma and we began the process of turning those sketches into real songs with drums and bass. Some of the Gameboy is still in there with loops and synth lines. The original 'grey brick' DMG has a really warm sound to it that makes me reluctant to put it down altogether.
GGSS has long been known for its dark, brooding aesthetic. Have you found any new masks, costumes or other freaky paraphernalia to scare the living day lights out of your audiences at upcoming gigs?
We're constantly refining and reworking our music, visuals, and costumes with the ultimate goal of making our show a totally immersive spectacle. More like going to the theater than a music performance. On the other hand, we do like to travel with our music and that makes it difficult to carry things that are too big or heavy.
So for this release show it's the same characters we've been using before, King Necro and Pumpkin Queen, with some layers added and a lot more attention paid to movement, posture, audience interaction. We've been studying this a lot, going to theater and dance performances. When we perform as GGSS there's actually three sets of characters with different color schemes. We're not always black and white, but we find going from very dark to very colorful creates a powerful impression. It's all about balance. For Nekroma, we're always in the black and white but there's some differences within that. Sometimes it's funny, sometimes it's sad, sometimes it's angry, sometimes it's calm. Oh, and live painting! We've been doing a lot more of that, and it will be part of the upcoming sets.
Have you discovered any new music recently that has influenced your writing or playing on the new EP?
I've been interested in dark ambient and drone music recently, textured soundscapes that we're using in between songs on the EP and the live performance. One record that really inspired that was a British band, Coil's CoilANS. They use a Russian ANS synthesizer developed in the 1930s on it. It is a really interesting instrument where you draw the sounds you want to make, and then feed it into that machine.
David Lynch's sound design for Eraserhead has been another strong influence. In terms of Nekroma, I think I went in wanting to make a record that sounded like Electric Wizard. But it ended up sounding more like the avant-garde metal band Fantomas, which was a group I'd never heard of but Nico and Linda introduced me to, so I guess that was a retroactive influence.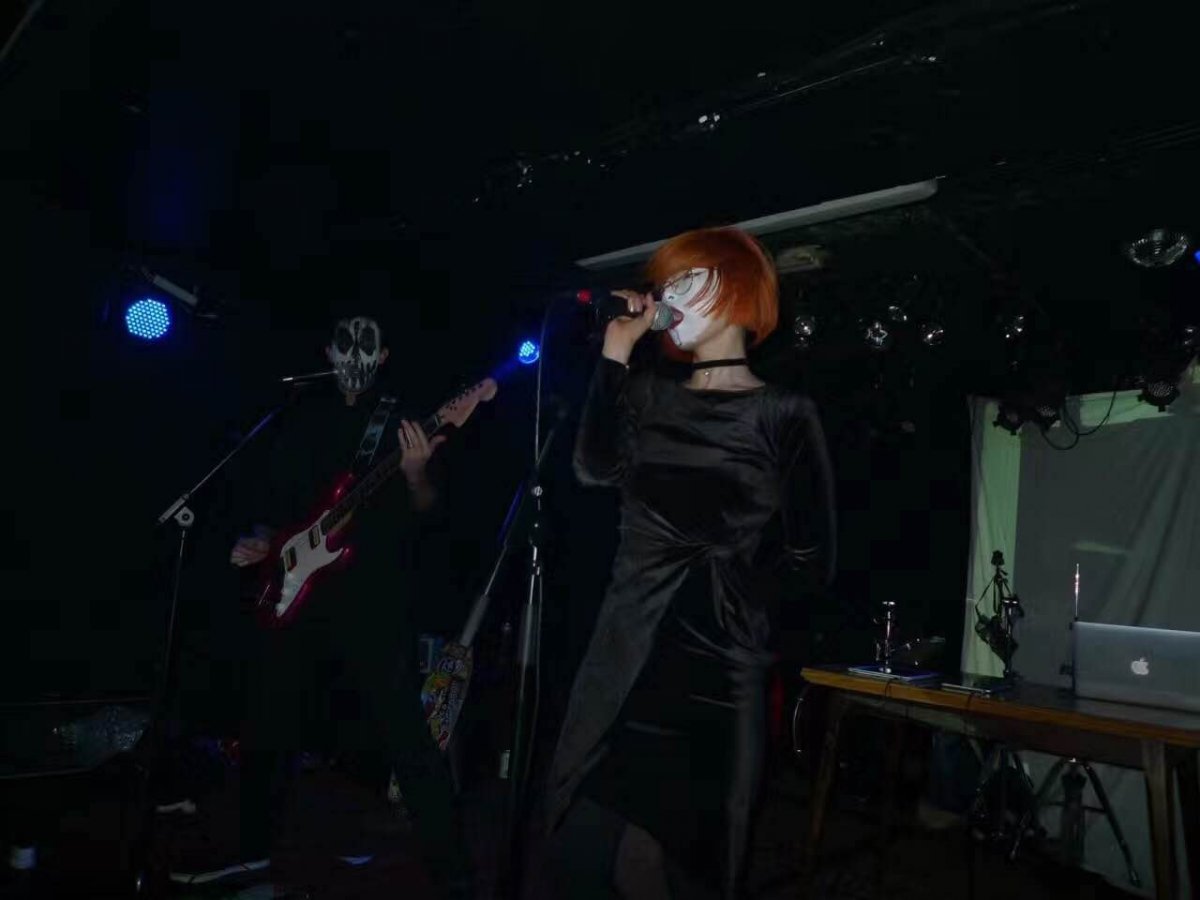 Tell us about a memorable gig you've played recently and what made it so special
My wife and I started the year with a month-long GGSS tour of Europe, and that was a really great experience. We really concentrated on making our show more of a seamless performance, never breaking character and really paying attention to our movements.
We had a few experiences watching other people's performances that inspired this, like Francis Fahrenheit in London, STROKE in Brussels. Also, we were able to play some really unique venues, including a 16-seat theater in Bochum and a railway car in Frankfurt, both in Germany, and our friend Hans' living room in Goor, the Netherlands. We discovered that immersion and intimacy really brings the performance to a new level. That's what we're going for with the release show at DDC.
Nekroma will perform Nekroma at DDC on June 9. Tickets are RMB 50 and include a free copy of the new EP.
More stories by this author here.
Email: kylemullin@thebeijinger.com
Twitter: @MulKyle
Photos: Facebook (Fig Liege), uniteasia.org, WeChat (Guiguisuisui)
Comments