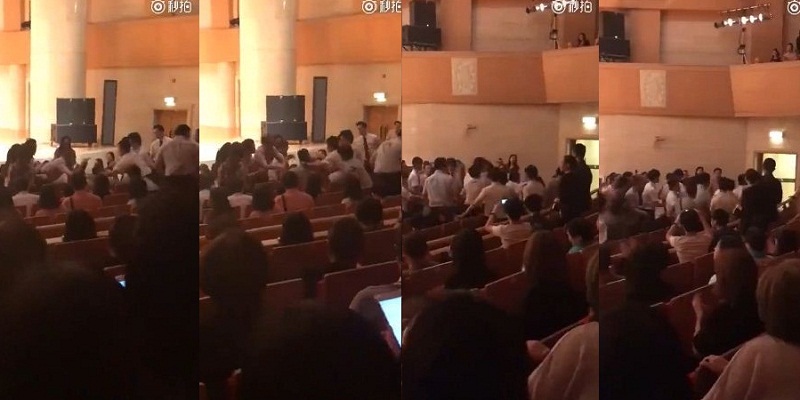 Audience Erupts in Applause as Phone User Forcibly Ejected From Beijing Concert
Nothing is more aggravating: you're trying to enjoy a live performance when someone in front of you starts using their phone. But, as common as this is, Beijing audiences won't put up with this poor behavior anymore – especially not after they forcibly ejected someone for doing just that.
The audience at the Forbidden City Concert Hall spontaneously erupted into applause two Fridays ago when ushers dragged away a man who had disrupted a Chinese classical music performance with his rude antics.
A male concert patron unexpectedly stood up in the second half of the show and began walking back and forth from his seat as he used his phone to take photos, said the Beijing Youth Report. Not only that, the man also talked loudly during the show and argued with other audience members despite repeated warnings from ushers.
Miss Yang, who was at the concert hall, said the ushers used extraordinary measures to try to get the man to stop.
"When he stood up to take the photo, a worker at the concert hall used a laser pointer to get him to stop," said Yang. "But he was indifferent to their suggestions and kept taking photos, and even took a few selfies." 
After he had left his seat, the man became disorientated and couldn't find his seat. Unaware of his surroundings, the man reportedly held up his ticket asked other concert-goers in a loud voice: "Where is row three, seat 11?"
"At this point, the man began loudly arguing with nearby audience members who were trying to quiet him," said Yang. "Because they couldn't take it anymore, the audience cooperated to expel him from the concert hall."
Wang Jianxin, a professor at the Tianjin Music Academy which organized the concert, confirmed that the performance stopped for three minutes as the man refused to leave the auditorium until he was dragged away, as can be seen in a video of the incident.
Wang called the disruption "an affront to national dignity."
The concert resumed once the man was ejected. Guqin player Yao Gongbai said he would continue to perform "A Song of Guangling" from where it had been interrupted. 
READ: Beijing, I Love You, but STFU
"This piece had actually been performed by Ji Kang right before he was executed, so I can only hope that I can be just as graceful under pressure," Yao told the audience.
But, not everyone chose to follow Yao's example. 
Yang said she saw the ejected audience member again one last time in the lobby outside the auditorium. "He was on the phone reporting the incident to police, telling them he had no idea why he was forced to leave the concert," said Yang.
Beijing Youth Report said local police are investigating the ejected man's involvement with disrupting the concert.
"A Song of Guangling" is one of China's 10 most famous classical songs. You can listen to a version of it here or a video performance here.
More stories from this author here.
Twitter: @Sinopath
Images: NetEase, Sina Video
Comments