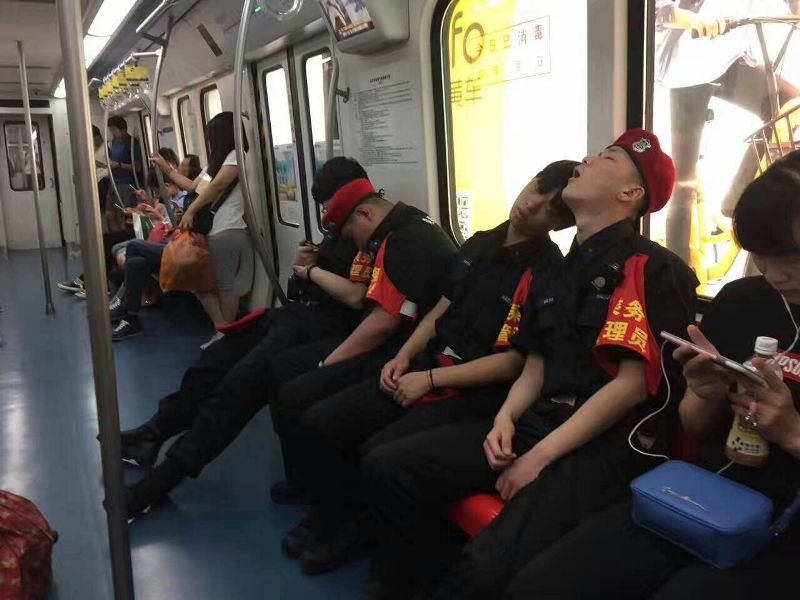 Beijing Subway Now Staffed With Safety Stewards for Your Own Protection
Your morning rush hour commute just got a little more snug as Beijing's overcrowded subway cars will now be protected by "safety stewards." 
As of June 1, the Beijing Transportation Committee has deployed over 1,100 security personnel to the oldest and busiest subway lines, the Beijing Metro Lines 1 and 2, in a pilot program designed to "preserve public security and order."
Each steward is assigned to watch over two subway cars during rush hour, and will be deployed according to the train schedule. During off hours, safety stewards will be assigned to patrol duty.
According to a spokesperson for the Beijing Metro, the the purpose of the safety stewards is to put an end to uncivilized behavior such as vagrancy and fighting, and they will also assist in emergency situations that require evacuation.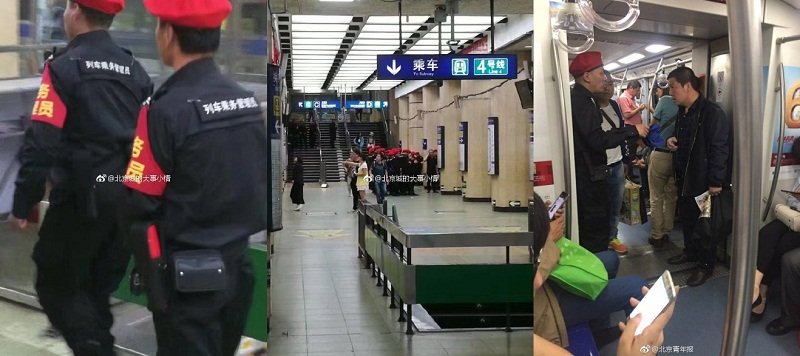 These safety stewards are not police officers, and aren't described as having any police powers. According to a CCTV report, safety stewards are responsible for "observing and reporting"; when helping with the investigation of suspicious persons, safety stewards are prompted to turn over any suspects to the law enforcement.
In the case of an emergency, commuters are told to make police reports using normal channels of communication.
Aged between 18 and 35 with no criminal record, the red beret-wearing safety stewards are "trained in subway carriage interior security measures" and are certified by public security authorities. Safety stewards are not armed with conventional weapons, but are equipped with a portable fire extinguisher, cut-proof gloves, and a heavy-duty flashlight.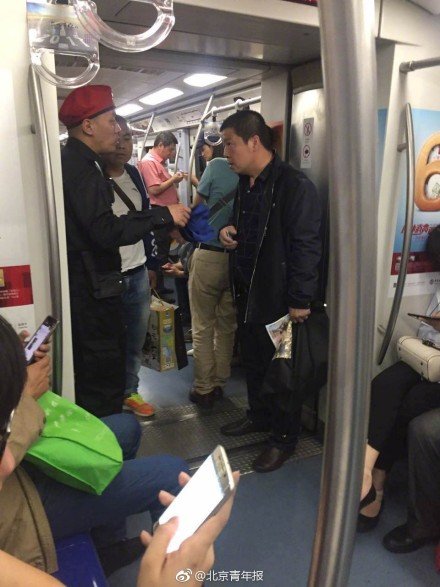 It's not clear when this program will be extended to other Beijing Metro subway lines, or if safety stewards will become a permanent fixture on the subway. Earlier this year right before the OBOR summit, safety stewards were assigned to watch over Beijing public busses, something which continued after the summit concluded.
Despite only appearing a few days ago, subway safety stewards have already made an impression on Beijing commuters.
One Weibo user wasn't impressed with Beijing's newest security force. "These two safety stewards rushed to get themselves a seat even before passengers had fully disembarked from the train," he wrote, while also posting this photo of a red-sleeved safety steward preoccupied with his phone: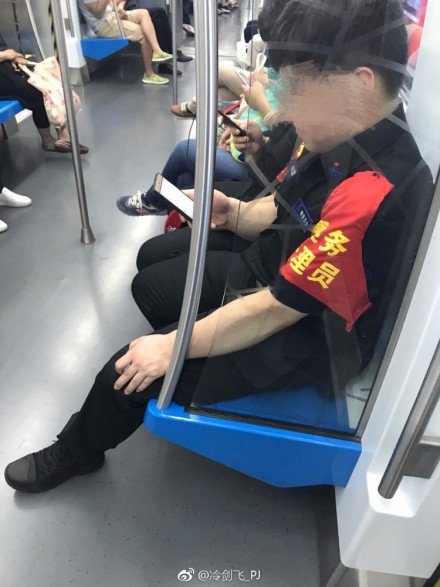 Another Weibo user posted several photos of what appeared to be sleeping stewards on Line 1 (shown below) and posted the following questions: "1) Should subway security sit or stand when they are on duty? and 2) Even if they are sitting, do they need to be sitting in the special needs seat?"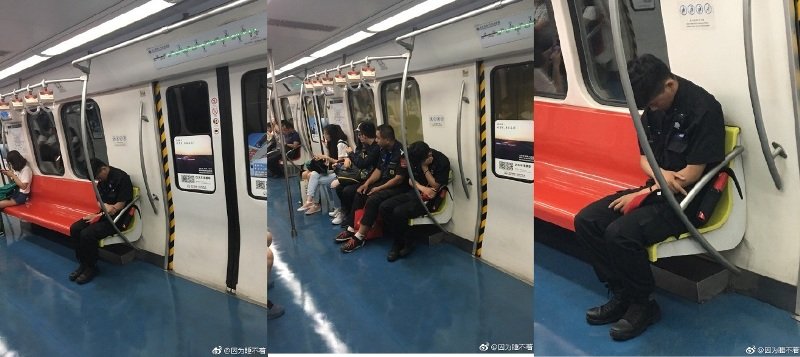 But sleeping safety stewards may not be such a bad thing. This photograph (shown below) closely resembles propaganda photos of soldiers, firefighters, and doctors who are reported to have worked so hard that they immediately fall asleep upon completing their work: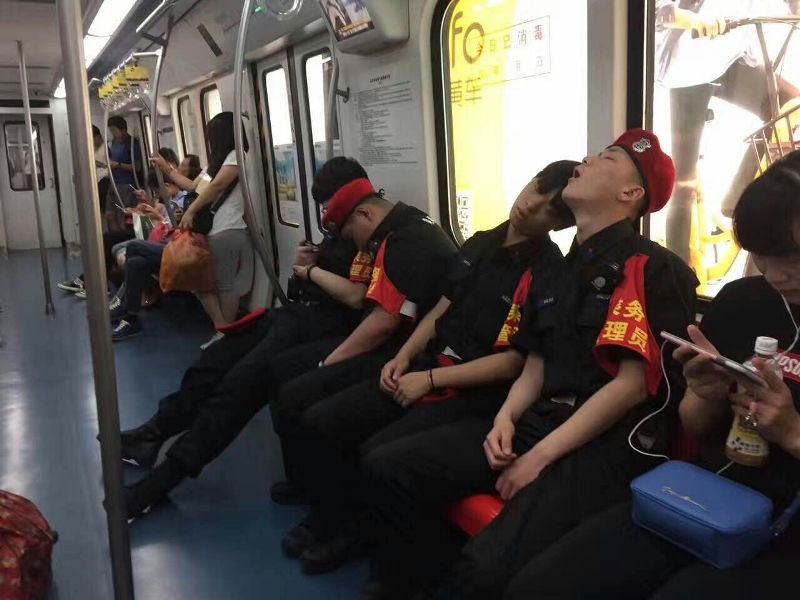 Yet another Weibo user voiced her disapproval of Beijing's newest subway security by writing, "Their acts don't appear to be much different from ruffians. Just from a glance, I'd guess that they are 'temporary workers'?" (A reference to the oft-quoted excuse when chengguan are reported to have exceeded their authority.)
The appearance of the safety stewards at the beginning of June also coincides with a public show of force in the capital. Just last weekend, a contingent of soldiers were witnessed riding the Beijing Metro (shown below):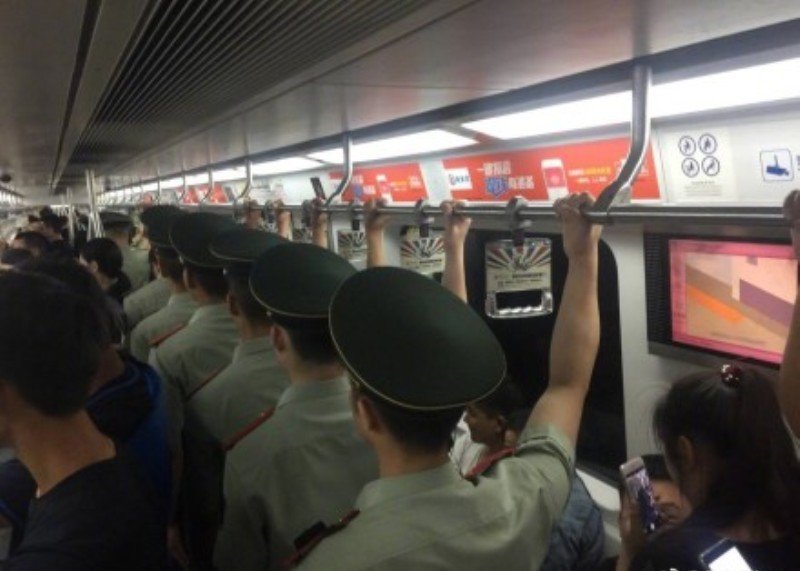 X-ray security was first instituted at Beijing subway stations during the 2008 Beijing Summer Olympics, and has persisted to the present day. In 2015, the Beijing Metro began restricting the amount of alcohol you could take on the subway as well as instituting a ban on "zombies."
A backlash against Beijing Metro security workers was reported in 2010, and similar incidents have continued through to this very day. 
More stories from this author here.
Twitter: @Sinopath
Images: Beijing Youth Report, Chengdu Report, Weibo (1, 2, 3), Sina News
Comments