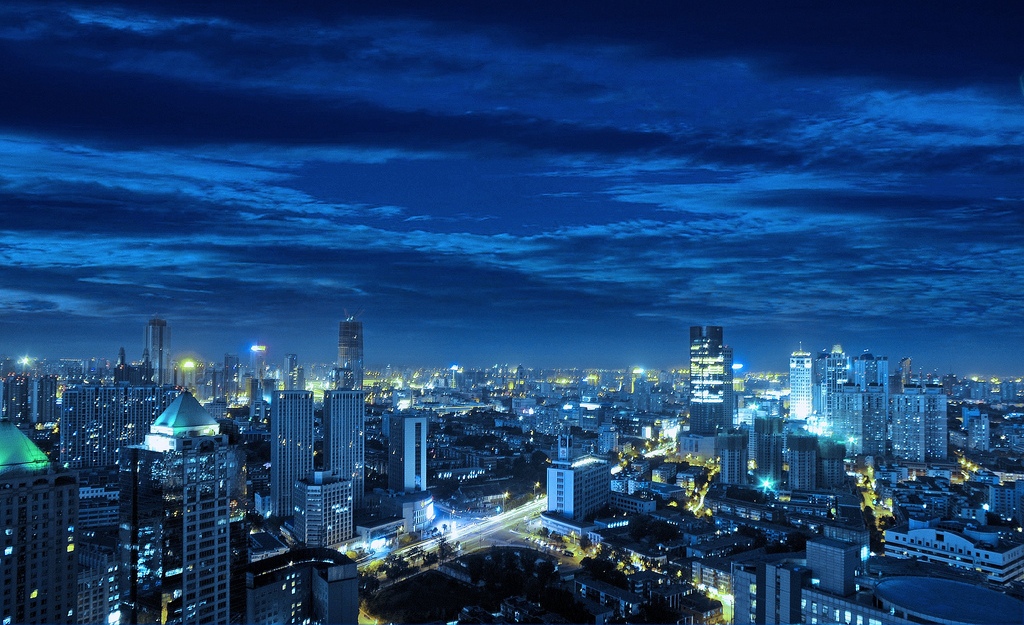 Your Ultimate 24-Hour Tianjin Travel Itinerary and Guide
If you want to escape Beijing for a change of scene, Tianjin is only a day trip away and has a completely different feel to the capital. Where East has met West in the past, Tianjin's history as a former foreign concessions port has resulted in a mix of European architecture, delicious food, and a relaxed vibe. It is definitely worth a visit if you have a free weekend, with trains running every 5-10 minutes between the two cities, making it extremely easy to hop onboard and explore Beijing's next-door neighbor.
8.30am: From Beijing South Railway Station to Tianjin, hop on a train for the short and sweet 30-minute journey (RMB 54.50 for a second-class seat).
9am: Exit the station to a view of The Bund park, a slightly surreal sight with its mix of skyscrapers and old-fashioned European architecture plus the French Customs area on the other side of the river. For a traditional Tianjin breakfast, pick up a jianbing guozi (RMB 10) – featuring a jianbing with a youtiao (fried dough stick) stuffed inside – from one of the many food carts around the city.
9.30am: Check in and dump your stuff at the hotel. Depending on your budget, there are plenty of hotels and hostels to choose from. If you want the authentic Tianjin experience circa 1800s, choose the Astor Hotel (approximately RMB 1,000 for double room), the oldest foreign-run hotel in Tianjin, complete with grand lobby, suited-and-booted doormen, and a museum about Tianjin (free for guests). If you prefer to spend your money on other things, like mountains of the aforementioned  jianbing, the Cloud Bay Youth Hostel may be more suitable, only a short walk away from the trendy Wudadao area, with a rooftop terrace and dorms starting at RMB 70.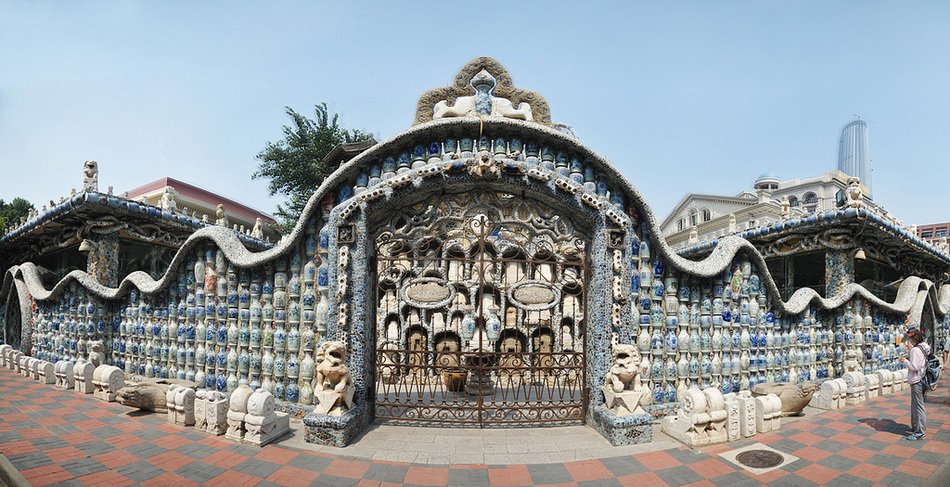 10am: Walk or rent a bike (Ofo, RMB 99 deposit but ride for RMB 1) in order to arrive early and beat the tourists at the China House (RMB 60 adult, RMB 30 discount ticket) on Chifeng Street. An old French-style villa (pictured above), it has been transformed into a Gaudi-esque treasure trove thanks to Zhang Lianzhi, a porcelain collector who spent a small fortune decorating the walls, ceilings, windows, and even gutters with pieces of porcelain vases, shards, and precious gemstones.
11am: Get back on your bike and cycle towards Wudadao. This concession area is named after the five main roads that are lined with old European-style houses and cute cafés. As a result, these buildings have been well-preserved. Bonus points if you spot the old haunts and homes of famous people, like rugby icon Eric Liddell. Oddly enough, Liddell designed the original stadium where Minyuan Plaza is nowadays; today the plaza has a running track inside and a shopping centre underneath the grass. You can even rent a horse-drawn carriage (RMB 600) or fat-wheeled scooter (RMB 100) if you want to switch things up; the carriage driver can also be your tour guide around the area.
12.30pm: Forget about going anywhere else for your food cravings, the best European restaurants are here in Wudadao. Enjoy the fresh pasta and oven-baked pizza at Pizza Bianca in Minyuan Plaza (pasta RMB 30-50, pizza RMB 80-100). It boasts attentive service and affordable prices. We recommend you grab a table by the window for the best people watching spot. Don't forget to try the dessert, particularly the gigantic serving of tiramisu.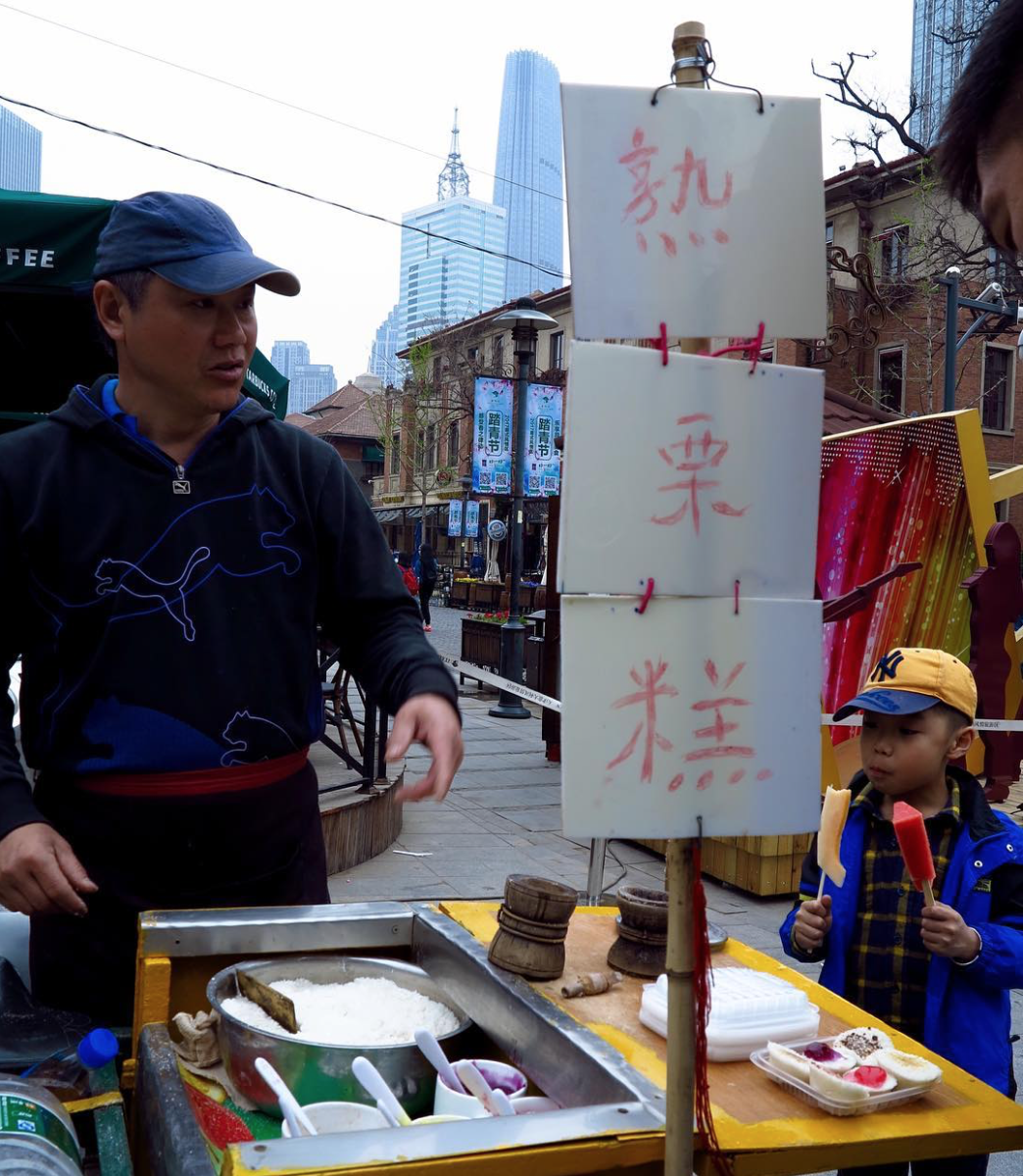 2pm: The Ancient Culture Street (古文化街 Guwenhua Jie) is worth a visit for its traditional Chinese architecture, shops, and bustling atmosphere. Although it has been heavily renovated and rebuilt, and thus is not actually that ancient, it is still fun to haggle over souvenirs, sweets, and artwork. Try another one of Tianjin's specialties dishes – shuligao, little cakes of ground hazelnut steamed and covered in multi-colored sauces and jellies (pictured above).
3.30pm: Criss-crossing over to the other side of the river, the Italian Style Town is a strange but pretty area with more European restaurants. Forget the overpriced food, sit down in the German beer garden and enjoy the live music with a drink. Or wander through the maze of buildings and markets to look for some cheap bargains and touristy knick-knacks.
5pm: The last famous landmark on the list is The Eye of Tianjin (pictured above), which claims to be the only ferris wheel built on a bridge. It might not be moving very fast but this allows you to get the best view of Tianjin (RMB 80, 30 minutes) as the sun sets and the city lights switch on.
6pm: If you're still hungry for more, Nanshi Food Street has it all. Whether you want some standard Chinese street food or something with a little more meat, there is something for everyone. Aside from jianbing guozi, you can also try Goubuli steamed buns (a traditional time-honored brand) with their distinctive 18 wrinkles, or Tianjin-style tofu. For dessert, it's a tough choice between the shibajie ma hua (18th street fried dough twists) with all the toppings and erduoyan zha gao (ear-hole-like fried rice cakes stuffed with red bean). Both look and taste more appetizing than they sound.
9pm: Not tired yet? Try out Tianjin's local nightlife, from the standard student-frequented bars like La Bamba and Helen's to something fancier in one of the luxurious hotels by the Hai River. The St. Regis Bar at the St. Regis Hotel is a stunning architectural masterpiece with a view of the Hai River and a Tianjin twist of the classic Bloody Mary, the Jin Mary.
Midnight: After all the walking, cycling and trekking through Tianjin, it's probably time to crawl into bed so you are up bright and early to catch the train the next day; but if you do have enough energy to dance the night away, head to BABI Club or Hank's Sports.
Images: Hannah-Mei Grisley, Feel Planet, St. Regis Tianjin
Comments