Beijing Metro Denies Explosions After Shuangjing Station Shut Down During Morning Rush
Massive delays broke out at this morning's rush hour when Shuangjing Station was shut down on the Beijing Metro's Line 10 after witnesses reported seeing bright flashes and heard loud bangs.
A number of online videos and photos show what appeared to be explosions in the subway tunnel heading northwards to Guomao Station at around 6.46am. A number of videos (1, 2, 3) posted online (that clearly show the flashes and bangs) show subway personnel attempting to get commuters to evacuate the platform as many of them use their phones to record the scene.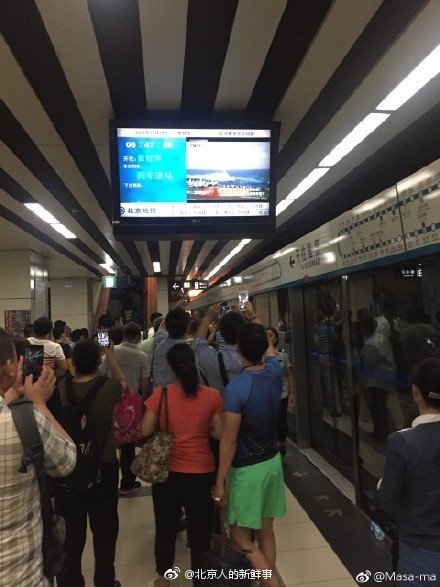 Service to Line 10 from Songjiazhuang Station to Agricultural Exhibition Center was affected. The transfer from Line 4 Jiaomen West Station to Line 10 was also temporarily shut down this morning, causing delays and massive lines of commuters trying to get to work on time.
Mr. Yang said he was traveling on the Line 10 subway when something went wrong.
"The train had stopped in the tunnel, it was very scary," Mr. Yang told the Beijing Youth Report. "The train eventually reached Guomao (Station) where it temporarily stopped. Outside on the platform, I could see many people running. The subway workers told passengers (over the PA system) not to disembark, and then the train left (the station). At the next stop, I immediately got off the subway and used (bus) public transportation."
The Beijing Metro explained on its Weibo account that malfunctioning subway equipment located in the Line 10 subway tunnel between Shuangjing Station and Jintaizizhao Station (just north of Guomao) had a detrimental effect on subway operations, causing delays and temporarily shutting down Shuangjing Station.
The subway said the problem had been fixed by 7.39am when normal operations were restored, and Shuangjing Station had reopened at 8am.
The Beijing Metro said no explosions took place.
Beijing experienced a heavy thunderstorm last night. The city is known to be prone to flooding after heavy precipitation, something that may have caused electrical problems for its subway system.
More stories from this author here.
Twitter: @Sinopath 
Comments