Unpublished
Jan 14
14:00 pm - 18:00 pm
We are witnesses to the most important moment in history. Never in the history of the world have more people lived on the earth–not even close. Never have so many people had the means to get an education, travel, communicate, and do work that is meaningful to them. Never before has one company–or one individual, been able to impact so many, so quickly. Never before have marketers had the data, tools, and experience to connect with millions in ways that make the connection personal.
China Marketing Summit Preview: Saturday, 14 January, 2017
Join Peter Vesterbacka, co-founder of Lightneer, Slush and Angry Birds, and 1,000+ other marketers at this four-hour preview event. You'll hear from 14 marketing experts speaking on branding, marketing via Amazon, taking your company international, the role of the CMO, cross-border commerce, Baidu, Google, Facebook, WeChat, and more.
Tickets:
Eventbrite or 活动行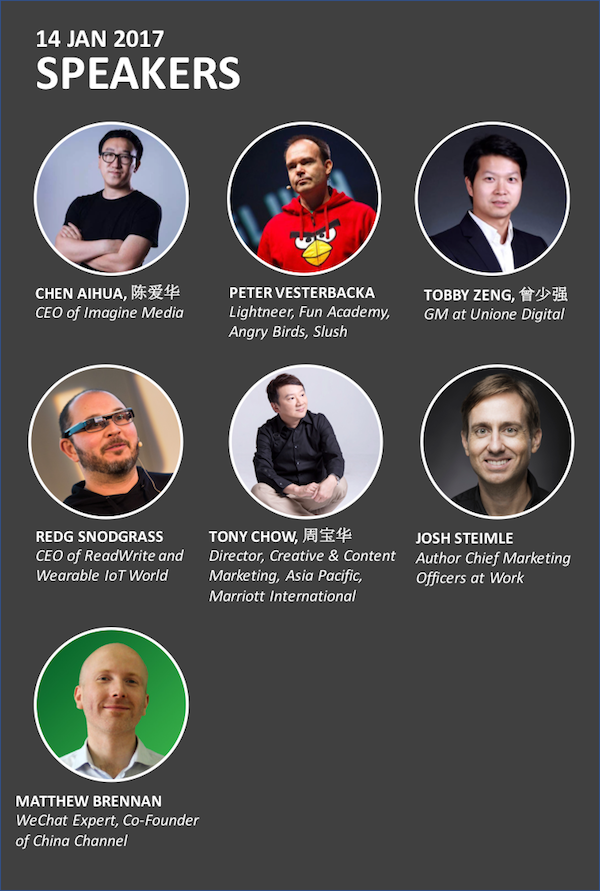 More about speakers and schedule: