500 Illegal Barbecues in Meaningless Pollution Crackdown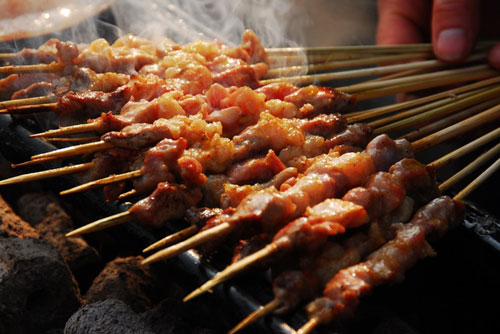 Like pirated CD and DVD smashing events back in the day when Hollywood could still wag its finger at China, a new culprit has emerged for public destruction in the face of a significant issue.
On Tuesday, over 500 illegal barbecues were destroyed, the casualties of Beijing's crackdown on outdoor grills as a way of fighting pollution. Our friends at Shanghaiist may have put it best, calling the anti-street cooking movement that began in August the "'blame pollution on everything except cars or coal' campaign." Violators can be fined up to RMB 5,000 and have their cooking wares confiscated.
Air pollution in Beijing has abated temporarily of late, with the Air Quality Index Wednesday morning clocking in at a miniscule 25. However, with the heat now on, and most of that heat coming from the burning of coal, combined with the large number of automobiles operating on Beijing streets, well, we'll have to see if a reduction in chuan'r stands makes any difference. Beijing plans to close its coal-burning power plants by 2017.
Air quality in northern China has been linked to reduced lifespans, along with causing a steady outflow of both Chinese and foreign talent and diminishing Beijing's appeal as a tourist destination. It has also spawned an anti-pollution cottage industry, including large capacity air filters from makers like IQ Air and Blueair, apps, nasal filters, and now even designer face masks.
One interesting note is that the outdoor grilling crackdown was no idle threat. The Beijing municipal government annnounced in May that it intended to take action, and almost three months to the day later, it did. At least they're doing something?
Photo: english.caijing.com.cn
Comments