Food Finds: The Groupon Coupon Craze Reaches Beijing
Who doesn't like a deal? The popular US website Groupon is all over the news recently over Google's proposal to buy it for USD 6 billion. This group buying website has become tremendously popular by creating a win-win situation – sellers offer large discounts in bulk to a group of buyers, and the discounts only take place if enough buyers opt-in. Buyers win since they can get ridiculous discounts on anything from dinners in restaurants to lawnmowers, and sellers can attract a large group of buyers at one a time.
Just because we live in China doesn't mean we're left out of the spending spree. China's web entrepreneurs launched similar sites starting this year, and there are now more than 1,200 websites providing this sort of "groupon" (or group coupon). These Chinese sites offer discounts on any number of things, from dining deals and gym memberships to KTV packages and haircuts. Popular websites such as Baidu, RenRen and Taobao have created their own groupon sites, and there are an even larger number of independent websites (such as Lashou) that are attracting more buyers and sellers daily.
Restaurants and food deals rate high on the list of popular items. For instance, you can get 40 percent off crates of mangos, 50 percent off a fancy seafood dinner, or 60 percent off a 10 kuai lunch box set. The rules and payment for the different websites differ (e.g. payment through the website versus directly to the seller), and some sites have policies to protect the consumer (e.g. refunds available if you change your mind). Do a little research, from the comfort of your couch no less, and you can make those kuai stretch even farther this holiday season.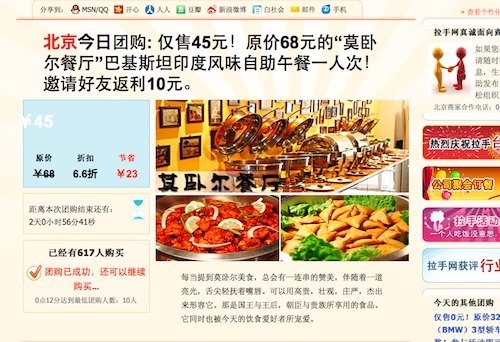 For a collection of the most popular groupon sites, check out http://t.bj100.com.
Group buying websites of popular sites:
Dianping.com (food review website): http://t.dianping.com/beijing.
Renren (China's Facebook): http://www.nuomi.com/deal/beijing
Baidu (China's Google): http://tuan.youa.com
Taobao (China's Amazon): http://ju.taobao.com.
Independent websites include:
Lashou: http://www.lashou.com
Meituan: http://www.meituan.com
Groupon China: http://www.groupon.cn
55tuan: http://www.55tuan.com
Manzuo: http://www.manzuo.com/beijing
Comments