Can't Get Enough of the Yeah Yeah Yeahs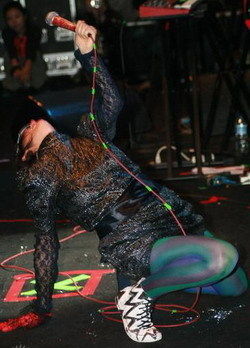 The long, drenched, muddy wait, soundtracked by Elton John, Britney Spears, and eventually impatient shouts of "sha bi!" and "no, no, no!" turned into perhaps the best musical blowout Beijing has seen this year. The art punk three-piece Yeah Yeah Yeahs rocked Haidian Park during the Modern Sky Festival last week. As soon as Nick Zinner's guitar began its hum, and Brian Chase's precise drums kicked in, the rain seemed to fade, and the thousands-strong crowd went wild for the promise of what was to come: a frenetic Karen O prancing and jolting around the stage in true punk fashion, replete with homemade costumes and explosive howl.
Despite less than stellar acoustics, as Brian hoped, the band clearly began a "long and beautiful relationship" with their Chinese audience, which made up what looked like half of the assembled. But this was clearly a show to please everyone, and it did that.
Below is the extended interview we did with the band for the that's Beijing October issue Live House. Click here to read the original article.
tbj: How would you describe the band's evolution up until now?
Nick: When we first started out, this was this thing we just sort of did for fun because we were bored and there was nothing happening in New York for us – seven years later you can't just be a party band, it would lose all meaning and purpose. Musically, it was very important when we started for everything to be very minimal and direct, but over the last few years, we've wanted to incorporate more sounds, more elements, more emotions, for the biggest expression we could make, without limits.
Brian: We have more grey hairs.
tbj: How has touring changed since the last album, Show Your Bones?
Karen: The dynamic of the show has changed since Show Your Bones, it's difficult to describe but I can assure you shows get better and better over the years. There is more of an emotional arc in the set, the heart isn't racing on and on, instead it drops into the stomach and flies over ones head and races in between.
Nick: This past tour for the EP has been one of my favorites – short and sweet. I think we've played some of the best shows of our career, and have been matched by the most fervent and passionate audiences.
Brian: We're getting older and starting to feel the benefits of our experience.
tbj: Do you wonder sometimes, how did we get so popular, so huge?!? My brother, who used to listen solely to hip-hop, disco and funk, made an indie rock exception because of you guys. And now you're headlining a festival in China for god-sakes!
Karen: I can't make any sense of why we have had the success we've enjoyed. There is something exceptional about the chemistry between the three of us that has taken us farther than we ever could have dreamed. We have always felt that we were at the right place at the right time with the right attitude.
Nick: WOW. That thought entered my mind last summer when we played in Dublin. Our last show in Ireland before that was in 2003 to 40 people in a pub. Last year we played to 30,000 people, with everyone singing along. It was one of those "whoa, how did this happen?" moments. I still don't know the answer, but I'm grateful to be asking the question.
Brian: From the outside, it might appear that we are huge and popular but, from the inside, we are just us.
tbj: Know of any Chinese fans? They're out there.
Nick: I've seen a few on myspace!
Brian: I have a friend that spends some time in China and he has a friend that runs a bar in Beijing called KAI that plays Yeah Yeah Yeahs on the jukebox. I even gave my friend a poster to be put up in that bar.
tbj: What about Chinese bands?
Karen: I remember reading about a Chinese female led band called the Subs in Giant Robot magazine. The photographs looked very punk rock, I was so excited that I looked on Myspace trying to get a listen but I couldn't find anything. I'm hoping maybe we will cross paths one day if not at the Modern Sky Fest.
Nick: I really like this all girl punk band who I think are called Hang on the Box.
Brian: I don't really know any Chinese bands.
tbj: Karen, how does your Korean heritage affect you, both personally and in the context of your rock stardom? Is it an issue or is it basically in the background?
Karen: Being half Asian is very important to me. I have a great affinity for Asian culture and Asian American culture. There is a reserved aspect of my personality that I always attribute to my Asian heritage, a shyness and conservatism. I believe that a great deal of my persona in the YYYs is a reaction to the more conservative side of myself – my persona in the band is unhinged and empowered, a bit mad. I have enjoyed playing concerts in Japan and Korea because I feel as though the Asian audience can relate to this reactive persona of mine and the celebratory aspect of our shows. It's a big celebration of passion in the human spirit, the deeper darker side as well as the soaring transcendent side.
tbj: Is the music scene in New York exciting you at all now – or are you happy to be disconnected?
Nick: There are a few bands, mostly around the TV On The Radio guys that are pretty interesting, but I think we have a few more years before another big scene in NY music comes about.
Brian: I am still very much an active part of the New York music scene. New York really does have it all and there will always be a good scene happening for underground creative music.
tbj: What other projects are you guys up to? What happened to Karen's solo project? I hear things about this NASA album, and a Scarlett Johanson-run Tom Waits record (!). What about that?
Karen: I am working on music for a film soundtrack at the moment. There isn't any progress on the project that has been dubbed my solo project – only time will tell how that will shape up.
Nick: We all like and encourage each other to collaborate with other people and projects, so you'll always see our names popping up here and there.
Brian: I play in a few different groups, like the Seconds and the Sway Machinery. I am also very active on the Brooklyn experimental/improv scene and perform two to three times a month. I also just released a CD with a saxophonist named Seth Misterka on the Heathen Skulls label. Other people I've played with recently include Jessica Pavone, Mary Halvorson, Matt Welch, and Matt Elliot.
Links and Sources:
Official Band Site: http://www.yeahyeahyeahs.com
Yeah Yeah Yeahs Myspace page:
http://www.myspace.com/yeahyeahyeahs
Youtube videos of the Modern Sky Festival Performance:
http://youtube.com/watch?v=fs2o5pwfLMM
http://youtube.com/watch?v=H0-YgWsitpo
More videos of the Beijing Show:
http://shanghaiist.com/2007/10/05/video_of_yeah_y.php
CRI: Image
Comments