Martin Atkins releases two albums from his China sessions
The new Bingmasi (Maybe Mars) label may be turning people's ears with their high-profile projects of late – their next batch of albums will likely include two albums with some professional production help (Demerit, produced by Public Enemy's Brian Hardgroove; and White, produced by Blixa Bargeld). Among the label's initial releases, of course, was Snapline's Party is Over, Pornostar, produced by Martin Atkins – giving the label a triple-threat of overseas credentials.
Certainly, each producer has their own motivations and personal China connection. Among the three producers, however, Atkins has thus far proven to be the most controversial – arriving in Beijing with a stack of contracts and attempting to sign as many bands as possible. After a whirlwind two-week visit, Snapline and Subs, among others, were added to his Chicago-based Invisible Records roster. While the licensing of Pornostar's Chinese distribution rights to Bingmasi has given Atkins a bit of Beijing goodwill, the wild-haired producer's intentions don't seem nearly as gracious when compared to someone like, say, Hardgroove, who doesn't own a label, wasn't looking to sign bands, and seemed to genuinely want to, in his own words, "contribute to the scene."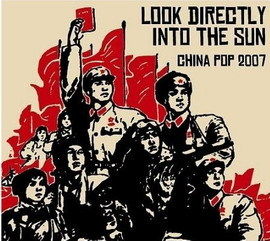 Perhaps the difference is best exemplified by the recently released Look Directly Into the Sun: China Pop 2007, from Invisible Records. The album features 18 tracks from as many local Beijing bands, some recorded live, others in the studio. Certainly, it's good exposure for the bands. But beyond the one-time recording fees they were offered on the spot, it's doubtful that anyone included on the album will receive much else. Meanwhile, a few media outlets out west have picked up on the release (even Rolling Stone's Robert Christgau has given it a listen), and already, Atkins has been quoted in various media talking about his "discoveries" – bands like Carsick Cars being among his "favorite finds."
The release was also accompanied by Made In China, credited to the Martin Atkins China Dub Soundsystem (both albums are available on amazon.com and you can take listen to some samples here and here). You may remember the Soundsystem making a bonus-track appearance on Pornostar, on the track Yellow Cab featuring Subs' Kang Mao. Made in China includes a few additional surprise studio collaborations: DJ Wordy, Konka Lamu (though they're credited only as the "Tibetans"), and more.
Noble intentions? You decide: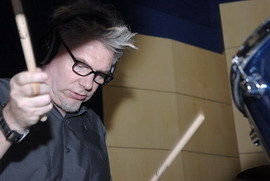 Look Directly Into the Sun: China Pop 2007 tracklist:
1. Snapline: Close Your Cold Eyes
2. China MC Brothers: Jai Jung
3. Caffe-in: Mario And Peaches
4. PK14: Storm Eyes
5. China Dub Soundsystem: Pink 09 – Determining The Dose
6. Joyside: Dang
7. Tookoo: Take Me Home
8. Subs: What More
9. Hang on the Box: Shanghai
10. White: Song 5
11. Ruins: Love Of Sun
12. The Scoff: Nasty
13. Demerit: Fight Your Apathy
14. Queen Sea Big Shark: Hold The Line
15. Honey Gun: Light
16. Voodoo Kungfu: Chian
17. Carsick Cars: Panda
18. Rococo: We Just Free
Made in China:
1. Radio China (feat. Kang Mao)
2. Mostly Hulusi (feat. Shao Feng)
3. Tibetans vs. Dirty Girl
4. China MC Brothers vs. Martin Atkins
5. Yellow Cab (feat. Chen Xi)
6. Beijing Taxi (feat. Dave Wright)
7. Fortune Cookie (feat. Yi Yi Jun)
8. Pink7 - Determining The Dose (feat. Chen Xi)
9. DJ Wordy vs. Martin Atkins
10. Re:Load - The Return Of The Notorious China MC Brothers vs. Martin Atkins
11. Hand Drum (feat. Kang Mao)
Links and Sources:
The Beijinger: Demerit gets their Hardgroove on
that's Beijing: Music: Album News
that's Beijing: Snapline review
that's Beijing: Original Atkins interview
MySpace: China Music Network
that's Beijing: Commentary on Atkins' visit
Rolling Stone: Robert Christgau review
Sharp Darts: Atkins' "favorite finds"
Comments