Tuesday's Film Roundup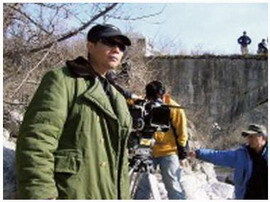 Blind Acting
Li Yang, director of the recently-released Blind Mountain, gave a talk this morning to a motley-crew of listeners as part of the Channel Zero documentary-making class that continues until Dec 2 (click here for more info about the classes). Li talked about the making of his films Blind Shaft (Mang Jing) and the more recent Blind Mountain (Mang Shan) – which after careful consideration by SARFT has been allowed to screen in mainstream cinemas. See below for screening times.
Li Yang was quick to point out that Blind Mountain has been cut in 44 places. After watching the film, one does begin to wonder whether this has seriously affected the end result, or whether it was actually Li Yang's own failings as a filmmaker that has made it as unconvincing and lifeless as it is. The only "real" actress in the film is Lu Huang, who plays a kidnapped university student sold to a rural villager as his "wife," bears his child and fails repeatedly to escape. This story, which is meant to be a documentary-cum-movie, fails partially because Li Yang chose to cast real people from the villages.
Because unlike watching a documentary, where you are convinced that these are real people and thus forgive their ineptitudes at acting, in a film where ordinary people play the parts, there is a sense of not knowing how to receive this film – is it realistic or just bad acting? It seems somewhat unprofessional on Li Yang's part to give central parts – the husband's, for example – to rural folk whose ineffectual beatings (and raping) makes the viewer cringe rather than gasp.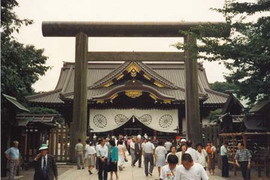 From Tongli to Berlin
Ai Wan might not be having the best of luck as far as her stake in Tongli Studio nightclub China Doll is concerned, but if recent rumblings are anything to go by she's set to reap the rewards for her hitherto innocuous involvement in the film industry. Co-producer of Yasukuni, a controversial documentary focusing on the Japanese war shrine of the same name. Ai Wan tells us that the film has received an invitation to the Berlin Festival as part of the New Cinema Forum, as well as having received an official nomination for another major international film festival next year.
A labor of love for Japan-based Chinese director Li Ying, Yasukuni is scheduled for an April release in Japan, while release dates for China and Korea are still subject to negotiation. Both Li and Ai Wan are hoping to see their film released simultaneously in all three countries, where it will doubtless evoke very different reactions.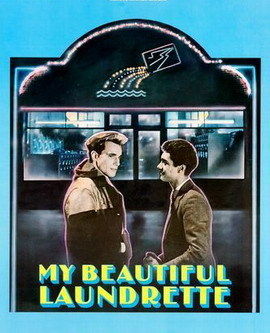 London in Beijing
No, we're not talking about Wanda Plaza's London Pub, rather the London Film Week that begins next Tuesday and which will run through to Dec 23. The London film Bureau's Adrian Wootton will lead a visiting group of directors and film insiders including Stephen Frears (whose film The Queen was released in China earlier this year), Lynda Myles (the producer of The Commitments) and Andrew Macdonald (the producer of 28 Days Later) to both Beijing and Shanghai. The Queen will open the festival on Dec 4 at 6.45pm at Beijing's Story Club and the director will be present to introduce the film.
At the time of writing, 22 films have already been confirmed including, Blow-Up, Dangerous Liaisons and 28 Days Later along with a series of short films and animations. A complete schedule will be confirmed after all the films receive an all-clear from The State Administration Of Radio Film And Television.
All films will be screened at the China Film Archives and The Beijing Film Academy at reasonable prices. Check this site or keep an eye on the 7 Days in Beijing newsletter for more details about the program and screening times.
German Film Festival Opens
An exhibition of German Films, supported by the Swiss and Austrian embassies and the Goethe-Institut China, starts tomorrow with films being screened at the Beijing Film Academy showing room and Chinese Media University until Dec 9. The program of German-language films includes Lisbon Story (1995), Das Fräulein (2006) and Gegen die Wand (2004). Austrian director Goran Rebic and Swiss director Andrea Staka will be on hand to answer questions. In German with Chinese subtitles. For details, call 8251 2909 ext 125.
Found in Beijing
The long-awaited Lost in Beijing (Pingguo) finally hit's Beijing cinemas this coming Thursday. Shandong-born filmmaker Li Yu's latest movie depicts a bizarre "ménage a quatre" in contemporary Beijing. Starring Fan Bingbing, Elaine Jin, and Tony Leung Ka Fai. Take a look at some early reviews here and here and the trailer here.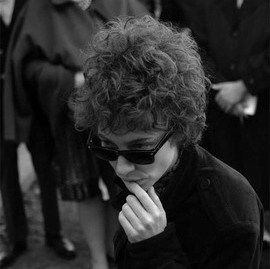 I'm Not There Yet
Finally, Bob Dylan fans who are having an anxious wait for the star-studded bio-pic I'm Not There to make it to China (it got its US release last week – take a look at the trailer here - can placate themselves with a screening of Martin Scorsese's Dylan doco No Direction Home at D-22 on Wednesday and Thursday night this week. Free. See the 7 Days in Beijing Newsletter for more details.
Screening Times for English Language Films in Beijing – Tuesday Nov 27
(All times and prices have been taken from today's Beijing News or this website – it would be a good idea to call and confirm details)
Haidian
UME International Cineplex
Live Free or Die Hard
17:05 19:30 21:55
The Bourne Ultimatum
16:10 18:20 20:20 22:40 23:20
Special Die Hard/Bourne Ultimatum Double Feature
21:20
Lust, Caution
Digital Screenings:16:00 17:30 18:40 20:10 20:45 22:50
CBD
Wanda International Cinema
Blind Mountain
17:40 19:40
Live Free or Die Hard
17:20 19:10 19:50 21:40 22:20
The Bourne Ultimatum
17:15 18:05 18:50 19:30 20:20 21:05 21:45 22:35
Lust, Caution
16:30 19:20 20:15 21:40 22:10
Ratatouille
18:00
Art Gallery
Changhong Cinema
Lust, Caution
11:50 13:50 14:40 16:40 17:40 19:30 20:30
Digital Screenings: 18:10 21:00
The Bourne Ultimatum
2:45 14:55 17:00 19:05 21:10
Live Free or Die Hard
13:20 15:40 18:00 20:20
Dongsishitiao
East Gate Cinema
Live Free or Die Hard
17:30 19:50 22:00
The Bourne Ultimatum
16:20 17:20 18:20 19:20 20:20 21:20 22:20
Lust, Caution
16:10 19:00 21:40
Wangfujing
Xindong'an Cinema
Live Free or Die Hard
17:00 19:30 21:50
The Bourne Ultimatum
16:30 18:40 20:50
Lust, Caution
15:50 17:10 18:30 19:20 21:10 22:00
East Fourth Ring Road
Espace France Cinema
Live Free or Die Hard
17:40 19:00 20:00 21:20 22:20
Lust, Caution
17:50 18:35 19:25 20:30 21:30
Blind Mountain
16:00 17:55 20:00 22:00
Wangjing
Stellar International Cineplex
Live Free or Die Hard
17:40 19:00 21:20 22:40 23:45
The Bourne Ultimatum
18:15 19:30 20:30 21:35
Lust, Caution
19:15 20:00 21:55
(Screenings also available with Korean subtitles – call for more info)
Ratatouille
18:25
Xidan
Shoudu Shidai Cinema
Live Free or Die Hard
17:00 19:20 21:40
Lust, Caution
16:20 19:00 21:40
Blind Mountain
21:30
Links and Sources
Melbourne Film Festival: Blind Mountain
Killer Films: I'm Not There (images)
Comments