Joey Negro at Zeta Bar Tonight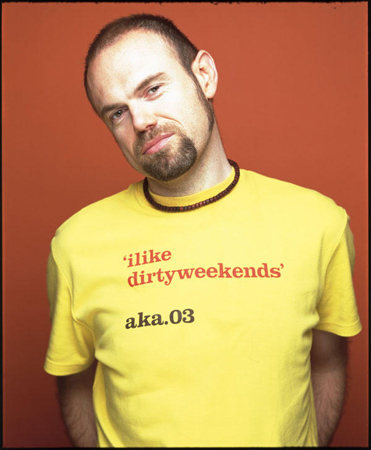 Joey Negro has been at the top of the house music game for the last two decades. It might not have been the case if he had stuck with his real name of Dave Lee. The Isle of Wight native hits Beijing tonight in the Hilton Hotel's Zeta Bar. Here's what he had to say about his career so far and coming to China.
the Beijinger: What's the deal with your name?
Joey Negro: When I thought of the name it was just for one record "Do It, Believe It" on NY's Nu Groove in 91. That release was a scam and I wanted to sound like a Hispanic street kid, I had s few records by my desk at work (one by Pal Joey and another by J Walter Negro). I assumed it would be a one off amd I certainly didn't think I'd be using it as a pseudonym to DJ and produce under 20 years later. Maybe if I'd known it was gonna be a long term thing I'd have gone for something else? In fact I was talked into using it the second time by a friend who I played a new track to which I was going to release under the name raven maize - he said it sounded much more like the nu groove tune and it should come out under that name, the record blew up into a pop hit and got signed to a major label. I actually stopped using jn (for various reasons) in the mid '90s but then I realized establishing another name would be pretty hard and I was probably shooting myself in the foot doing so.
tbj: You've released records under a variety of aliases, what decides which one you use?
JN: I've actually cut down of the names now. I'm sticking with about half a dozen of the best known names - JN, Jakatta, Akabu, Sunburst Band etc.All of them have their own sound but I won't go thru all the differences here. In the past I have chosen names I thought I would be interested in if I saw the record on the wall of a shop. That's why I've never been convinced Dave Lee is an exciting name, though I've released a couple of tracks under that name more recently The reason for that is purely because after all these years I think the pseudonyms are not doing me any favours.
tbj: Who, in your opinion, is the best DJ in the world? If you had to pay to see a DJ who would it be?
JN: Not sure I can answer that really accurately as I don't go out and check other DJs that often as I'm normally working myself. Some of the scratch guys are fantastic technicians, it's amazing what they can do - sometimes I more interesting to watch than dance to. If I was going to go out for a dance I'd like to hear Giles Peterson or DJ Spen.
tbj: You've been going over 20 years, how long will you keep going? Is it still as exciting as when you first started?
JN: Obviously I still love music but I think my taste has probably got more obscure as I've heard a lot of the standard chord progressions, basslines and instrumentation so many times. However, I like to think I'm not a snob and can still appreciate a good big commercial house record like pjianno for what it is. In truth I think I've always been a fussy bastard who doesn't like a lot of stuff out there, but that's probably a good thing as having strong convictions has helped me with my productions and DJing. Realistically nothing remains as exciting if you do it all the time, but I still love it.
tbj: What has been the highlight of your career so far?
JN: Maybe appearing on top of the pops, a TV show for pop music I used to watch religiously as a child.
tbj: Has there ever been a point where you thought about quitting music? What prevented you?
JN: Yeah, maybe once or twice, like all jobs you get fed up with it from time to time. When I was mainly producing/remixing I got sick of the long hours I was working and the fact I was in a fairly small room with no daylight and one or 2 other people all the time. Working in a big open plan office probably has many pitfalls but it seemed very appealing to me. I didn't really act on it because I wouldn't know where to start and I still love making music.
tbj: What do you think you would have done if you were not a superstar DJ?
JN: Hope fully something to do with music, even if it was just a record dealer.
tbj: When you're on the road is there a particular food you get homesick for?
JN: I like to eat healthy food at home, porridge and fruit for breakfast. When you're travelling that's pretty hard, you inevitably eat a lot of crap when you're touring.
tbj: Is there anything that particularly excites you about coming to Beijing? Eating Chicken Feet, perhaps?
JN: China is a fast developing country so it's always good to come and see somewhere first hand. I'm only in town for one night, but I'm a bit fan of traditional Chinese food, so I always try and make a point of eating somewhere local people rate highly.
Comments