Britop Comes To China: Puressence and Mani at MAO Livehouse This Saturday
Manchester has long been understood to be the musical capital of the UK and the city's Puressence have been part of that scene for the last two decades. The band formed having met as youngsters on the bus to The Stone Roses legendary Spike Island concert (and then climbing the fence to get in as they had no tickets). Fashioned in Manchester's longstanding guitar mould, the band gained fame for plastering the city with their name in a guerrilla campaign that took in such legendary sites as The Hacienda and TV's Coronation Street. Now the band have finally come to China. They appear this Saturday (Apr 17) at MAO Livehouse. They're heading a line-up that includes former Stone Roses and Primal Scream bassist Mani's DJ set alongside local acts who have adopted the Mancunian music tradition. We had a chat with Puressence bassist Kevin Matthews - the man who having seen Mani live immediately went out and bought a bass guitar. Here's his lowdown on the city, its music and its football.
What are your top 5 Manchester bands ever?
The Stone Roses, The Smiths, Doves, Oasis, Happy Mondays
How do you rank yourselves in there?
We hope to have made our mark in the top 10 or thereabouts!
Why do you think Manchester has been such a hotbed of great guitar bands?
Because being northern means we tell it like it is and a great city spawns great bands. The desire to make it against all odds spurs us on, Manchester never had the big money that London had with all the record labels, you had to make something happen without them. So it was just about good music with no hype.
What's the song on your iPod you hope no one ever finds?
Johnny Mathis - "Stone in love with you"
Manchester, so much to answer for - true or false?
True
Has Manchester got everything except a beach?
Yes and only one great football team.
Which of your Puressence guerilla flypostering sites were you most proud of?
The one we got on the (TV soap opera) Coronation Street. It was shown on TV for weeks!
Tevez as a red or as a blue?
He looked great in Red. Shame he left for money, it certainly wasn't for trophies or Champions' League football.
Johnny Marr or Noel Gallagher?
Johnny Marr.
Would you ever tell your kids not to be in a band for a living?
No, It's the hardest and greatest job ever.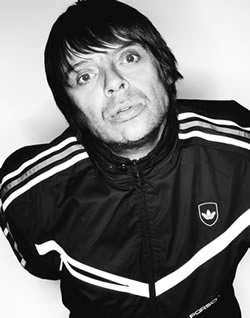 If you could do it all again would you do anything different?
Yes, not sign to a major record label.
What's the worst job you've ever had?
Packing Fairy washing up liquid bottles in boxes, I lasted half a day.
What's your favourite song right now?
"In Harms Way" – a new song by Puressence
Who's your top tip for the next big thing from Manchester?
Glass and Exit Calm (the band are not all from Manchester but they're great).
Manchester is …
Superlatively palatable
What's the best film about Manchester?
24 hour party people - check out the cameo from Mani!
Finally, what do you make of FC United?
I think it's a great concept. One day there will be two great teams in Manchester: FC United and Manchester United.
Comments