Dr. Philip Brooks of Beijing United Family Hospital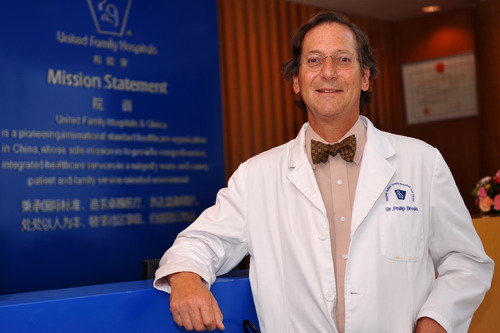 Building on a long and distinguished career in the United States, Dr. Philip Brooks now leads the oncology program at United Family Hospital's recently launched New Hope Center. With an attractive modern design, this LEED-certified cancer center stresses an international approach and standard of treatment. Dr. Brooks shares his thoughts with Agenda on how the Center will be able to help Beijing's cancer patients.
How has your experience practicing medicine in the US prepared you to establish this new treatment center in China? I have had the very good fortune to train at wonderful institutions [in the US], including University of Pennsylvania and Dartmouth. I spent my career doing a very broad range of hematology-oncology. During my years of practice I worked closely with the Dana Farber Cancer Center at Harvard and this always kept me on the cutting edge working with clinical protocols.
To begin a program, I think it is good to have a broad background in many cancers. Serving as an administrator in Maine, my practice developed a small cancer center, which went through three metamorphoses, growing much larger. As I left, we were just completing a 16 million dollar center. So I've had clinical experience, administrative experience, I've been on the board of trustees of hospitals and have a fairly broad background. Also, I had the interest to come to China.
What kinds of cancers do you specialize in treating? In what area do you have the most experience and expertise? I have a broad range of expertise. I've had 31 years of experience before coming to China. I have a lot of experience with all the major cancers – breast, lung and gastrointestinal cancers. Those three made up a large part of my practice but I also have experience with most other diagnoses.
Even though we are a small center, if something is out of my expertise, I will have access to consultants. So if something is out of my specialty, I will have the ability to consult with colleagues in the United States or local colleagues here in Beijing. I think we will have the capacity to treat most cancer diagnoses but the areas we're going to really try to develop resources for will be breast cancer, lung cancer and gastrointestinal cancers.
How many patients can the clinic handle at one time? We have eight consultation rooms, eight comfortable areas to give chemotherapy and two other private rooms. As an outpatient center when we are fully staffed, we could possibly see up to 80 patients per day and treat up to 30 patients a day. This will increase when we start our radiation therapy program. This is not going to be anything like a 1,000-bed cancer hospital but we're going to have the ability to treat a considerable number of patients.
What kind of treatments will you offer and how comprehensive will the care be? What kind of cancers will you be able to treat? We'll be specializing in breast cancer, gastrointestinal cancers and lung cancer, but are interested in seeing all diagnoses. I'm a medical oncologist – not a surgeon. My focus is on treating patients with chemotherapy and biologic therapy, but we will offer the full spectrum of services. We will be working with our surgeons in the hospital. We'll do screening, prevention, diagnoses, surgical biopsies and imaging, staging, significant surgical procedures, and we'll be able to bring in both chemotherapy and radiation therapy. The downstairs two floors will be for radiation therapy and house a linear accelerator – which is a very advanced machine that does radiation.
I think we will be able to do most aspects of treatment. There are always going to be areas that will be out of the capacity of a small hospital like ourselves, but when that happens, we would work with one of the local hospitals to supply the things that we are not be able to do.
This center has been promoted repeatedly to the public as "Western," what does that mean? Well, I think perhaps what we mean here is "international." I've been here for a year and a half and it's clear there are wonderful doctors here. They are very knowledgeable, with wonderful facilities and technology. The doctors have a similar knowledge. But I come from a more international model of care. One obvious thing for my field in medical oncology is that for the last 30 or 40 years in the United States has been done primarily as outpatient treatment. I think there are great advantages to that. I think when somebody is being treated for cancer, being taken away from your routine of life is not a healthy way to face your cancer, to psychologically manage your cancer. And frankly, when you're in a hospital, you're apt to be getting bacteria infections that are associated with hospitals. So I think it's a healthier environment.
Other things – when we treat patients, we use a multidisciplinary model. I think Chinese hospitals use that term as well, but in truth, when I see a person, I think "What's the best way to approach their care?" Not, "Am I a surgeon? I'll treat it with surgery," "Am I a chemotherapy doctor? And I'll give them chemotherapy." My mindset, my entire training is "What is the best way for the patient?" And then to incorporate all the doctors who would be a part of that plan. I think in the Chinese system, it's more common that if you see a surgeon, although there may be a multidisciplinary conference for some patients, mostly, you see a surgeon and then if you need radiation therapy, you are told you need one. Then the patient is expected to go out and find one. We will have what we call patient navigation. Where we won't only have a multidisciplinary plan, we will also help them navigate through that plan. So I won't just say, find a radiation therapy doctor. We will make contact with that radiologist, communicate with the doctor, come up with a plan, arrange the appointment and if necessary, accompany the patient to see the doctor. We will make the arrangements and make it happen.
What kind of cancer treatment options existed for foreigners prior to the BJU oncology clinic opening? First of all, I should say although we do make this a center for excellence and a place for foreigners to feel most comfortable, the success of this program will not be based on only on foreign patients. We really want this to be a place unique to China that will bring Chinese patients. It's not just going to be Dr. Brooks. There will be Chinese doctors as well. We want this to be for international and Chinese patients.
But for international patients with cancer, there are many hospitals that have international sections, and/or VIP rooms. But in truth, as I've seen what's available, I don't think that there has been any facility or model of care that would make generally international patients comfortable – the level of language, the facility, or the concept they are more used to including all the things I've just mentioned. In the past year, we have treated many international patients and I think that many of them, had we not been here, probably would have left and gone home.
What kind of unique challenges do you face in setting up such a program in Beijing? It's always hard to break the status quo. We need to reach out to the Chinese community of doctors and the public to make them aware of this new model of care and how it could be beneficial. Some of these ideas, such as outpatient therapy, or care in a smaller facility are new to the Chinese population. I feel like we've already done well reaching out to the international community, but the biggest impediment is educating Chinese patients and getting the word out there.
If someone was diagnosed with cancer in Beijing, what would your advice to them be? I would advise them to remain optimistic and understand that many of the most common cancers are curable if found early enough and treated correctly. There's always room for realistic hope. A cancer diagnosis in China is often thought to be fatal. In my framework, the first thought with a diagnosis of cancer is still that we can cure you of this cancer. I would suggest that they should become educated, do some research and learn about it. Then I would recommend them to find a doctor they trust and who will spend time with them and give them hope. I would suggest consider contacting us and coming to the New Hope Oncology Center.
New Hope Oncology Center Mon-Sat 8.30am-5.30pm. Beijing United Family Hospital,
9-11 Jiangtai Xilu, Chaoyang District. (5927 7021) 朝阳区将台西路9-11
Comments