Slow Food Saturday: Talk with Chef Randhir Singh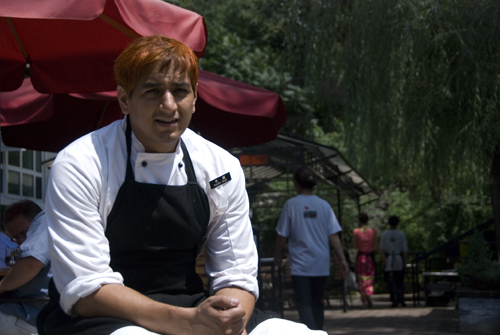 Living out under the Great Wall for the last four years, Randhir Singh may be one of the luckiest chefs in Beijing. Surrounded by the mountains and villages of Mutianyu, he has ready access to orchards and local produce. He's inspired by local ingredients, and more importantly, is an inspiration for those interested in the slow food movement. Randhir has taken out some time to chat about slow food, and the Slow Food Saturday event taking place on September 4. (For more information, also see previous post)
What is the point of slow food?
A lot of people know fast food, but not many know slow food. So it'll be a revolution, once people start to understand. It's about getting the history of where your ingredients come from – it's so important. There's a lot of inspiration in what's growing around here, and no one knows about it. These villagers grow their vegetables in the mountains and the taste is far from what you get in big farms or markets. Eating out here is a totally different experience, and it's amazing when the ingredient speaks for itself.

What's your inspiration?
Our menu changes every week, and depends on what I see around. We have a great gardener and we try to learn from him and incorporate all of what he grows. My staff are local villagers, so they know what is good and growing – for example, they knew watercress was growing in the hills, and cut some for this week's menu. I just try to maintain the integrity of these ingredients. Also, what inspires me is the food people eat regularly, and the best local restaurants. I tried this amazing cold white fungus soup with pear and goji berry one night, and made that into our soup of the day.
What do you like best about cooking at Mutianyu?
There are so many possibilities for cooking here. For example, in the Schoolhouse garden there is a hawberry tree in the corner, and once the fruit ripens, I'm going to take it all and turn them into sorbet or ice cream, or even just caramelize the leftovers. There's a story here, it's grown right in our gardens. Even our pine tree – I've used the needles to infuse erguotou, and we use them to smoke our trout.
What is your cooking philosophy?
Build on little things. For example, I started by making my own fresh pasta. The next simple step was to mix in old argula I didn't want to throw away – which added great flavor. Then, we started to smoke our own bacon for the pasta. So growing slowly from our kitchen, our gardens, looking at what is available. I think growing your own identity is very important.
How much of your menu is sourced from The Schoolhouse garden?
This year, the temperature is too low, but we are using our own basil, argula, chives, herbs, leeks, and eggplants. We have a new sustainability manager so will keep growing the garden and composting and see how that goes. Last year, all our salads were grown from own garden. But we also source many things from nearby. The chestnut mushrooms are from the next village, and last week we collected our watercress from the mountains. Also, I'm going to buy up all the apricots I can this season. Mutianyu is famous for almonds, so there are so many apricots here, and I want to make jam, and puree. And I'll also take the raw almonds, and make fresh almond milk. There are also walnut trees everywhere! I can see turning them into ice creams or pesto.
Who is Slow Food Saturday trying to reach?
We want to reach as many people as we can, but the main audience we hope for is Chinese people. We are working with local people and restaurants to come up with signature dishes in small portions so people can try many things, learn about specific dishes and the stories behind them. The village itself is also really involved – the people in the city are used to their ready-made life, but it is important to see other things, and the life out here is really pure. I want people to learn about the identity of these villages.
We want to keep this event going, take it to the next level next year and involve more restaurants, and more people. The most important takeaway is that there are these villages near the city, and that there is something called slow. It's so important for people to understand. And in the cities in China, I haven't seen many things like this. This event is just to help people try and understand … that maybe you can grow your own food or eat locally, instead of just running to McDonald's.
What are your restaurants making for Slow Food Saturday?
At all of The Schoolhouse restaurants, we are making homemade foods and demonstrate some techniques. The Schoolhouse is making ice cream, using local in-season eggs. We're serving them with amazing sorghum dumplings. We learned from Mrs. Wong, our neighbor, who makes them once a year. They use local walnuts, sesame, and are deep-fried. At Xiaolumian, we will do homemade noodles, and dumplings. So we'll show people how to make stretch and cut noodles, with carrot and spinach and even buckwheat. At Brickyard, we'll grill local rainbow trout and make fried rice out in the garden.
What do you think about the Beijing dining scene?
I go to Beijing occasionally, and there are some good restaurants. But it seems to me like the menus in Beijing reflect what they want to create, not what is available, so there is no real personality that tells you you are in Beijing. Few places have menu items that they are especially proud of. We don't get salmon in China, but it's always on the menu. Or beef from New Zealand. I think that there are so many things you can do if you just look outside your home and take some time to think about what you can do with what is there. It's about putting your heart and feelings into making your food, and trying to find it locally.
Comments