Listening to Your Favorite Enemies
Is it possible to tour the world while actively fighting for human rights, gaining critical praise and staying independent? Apparently it is if you are in a group which is as close as a family, that keeps producing good music and insists on doing it themselves. The proof is Canadian alternative rock band Your Favorite Enemies. Here, the sextet shares some of their thoughts.
Who are not to be trusted?
Don't trust a big bearded guy trying to get you into a conversation about Space Gorillas, about the inner electric circuits of an Orange guitar amplifier, about the importance of giving your bearded heart a shampoo of love or trying to explain why he's touring with all his 35 guitars (because he doesn't want to create jealousy amongst them... true story)! Because it means you're talking with Sef, Your Favorite Enemies' crazy lead guitar player, which means he missed the train to the next festival, which ultimately means you'll have to take him back to your home, to look at him eat the whole contents of your refrigerator, to let him lay down on your favorite couch, to watch the whole collection of Steven Seagal movies with him and to let him listen to every single Kiss album all night. So don't trust him, even if he looks like a good guy to hang out with. He's bad news for your sanity, trust me! He decided to turn me into his best friend a few years ago... nothing has been the same for me ever since! Help me!
Who are your heroes?
For us, a true hero is a person seeding hope in the midst of despair. We're millions of people whispering for change, but a hero is a person ready to be transformed in order to become the change agent for others who are hoping to witness bloom out of desperation. Everyone can be an "heroic" spark for anyone looking for light in the darkness of their lives.
Who are your favorite enemies?
Our favorite enemies are the illusions every one keeps feeding their soul with. When we feel lost in the dusk of our faithlessness, when the fog of our make-believe is turning the light of deepest dreams into shadows of fake neon lights. These favorite enemies are any emotions blooming from hopelessness, faithless and desperation. Those emotions are our favorite enemies. Favorite because they are self-indulgent lies we are turning into false sense of emotive security. Favorite because we know those lies are the enemies of our souls. We hate them, but somehow we convinced ourselves that we need those illusions in order to stay away from pain and suffering. Freedom is not the lies we turned into comforting truth; freedom is the hope we have in the invisible essence of life. We don't need illusions. We need faith to believe in the dreams we used to have for our own life!!!
... and if the question was about a rock band named Your Favorite Enemies... well, the band is infamously worse than any infamous rumors you may have heard about them... way worse... lol...
If you can go back in time to save or kill one person in history, what would you do?
We don't really live in the past, but Sef insisted to say that if he had one wish, involving going back in time and the ability to use all the science fiction crazy tools coming with it, he would go back in time to tell Bella and Edward that the vampire Victoria has created an army of "newborn" vampires to battle the Cullen family and murder Bella for revenge... Maybe should we have told Sef that this movie wasn't a "based on a true story" type of movie the night we rented Twilight for him to watch, in order for the others to have a proper band meeting! Sef keeps talking about wolves hating vampires and how Bella and Ed have the right to live their love without the the pressure of the Volturi clan ever since! Yes, it can be complicated being in a band sometimes!
What have you put in Love Is a Promise Whispering Goodbye?
We pretty much recorded "moments" on Love Is a Promise Whispering Goodbye. At the time we recorded the album, it was a recollection of pieces of where we were at, both emotionally and artistically. The heaviest songs are not the ones with loudest sounds. They are the ones crafted from a true sense of abandonment and we did craft those songs in total abandonment, for many personal reasons. The album, intended to be a special limited edition album for the fans only, became a platinum record to be re-issued next June! Sometimes what feels too painful to be publicly exposed can be turned into the freedom that others are no longer believing for their own lives. When art is real, life will bloom. And we are experiencing that freedom ourselves every time we are performing those "moments" others are calling songs.
What benefit do you get from being in a rock band except money and traveling the world?
Is being with bearded freaks 24 hours a day, seven days a week is considered a positive benefit? Because if it's not, I truly don't recall any other type of benefits! Seriously, I think that being able to be with your best friends, to do what you love the most in life and to personally grow from all the incredible experiences we're living should not be seen just as benefits... because that's truly being blessed!!!
What is the oddest comment you got about the band?
I think the oddest comments come with what we started calling "the beard issues". We had to answer oddest questions such as: "Are the beards a political statement?", "Are the beards a radical reaction to the unbearded social symbols leading the world right now?", "Are the beards a way to reaffirm your manly nature in a feminist environment?", "What would say to kids being too young to actually have beards, aren't you afraid to alienate unbearded fans?", "Are beards a catch for girls?", "Would you shave your beards for success, because no bearded band has had any hits in the last 20 years?"... and on and on... We are about to add a "Your Favorite Enemies' Beard Facts" on our press kit and website!! But the truth about beards is so simple;. some are good looking, others need beards!
Which character from the Star Wars would most likely be your fan?
I would say a cross over between Chewbacca's fur style, Hans Solo's mojo, R2-D2's geekness, Padmé's passion for social justice, Yoda's faith's and Optimus Prime intergalactic tire power (Optimus was supposed to play the role of C-3PO but his agent convinced him to play in the Transformers instead, the rest is history...)
How do you name your albums? The title of your EP has like... 15 words...
For us, every musical or artistic project has a soul, a true spiritual imprint. The name doesn't have to be long, cool or trendy. The name needs to be real! it needs to be felt through the creation process, it needs to be the reflection of the journey. It's the same thing when we are touring. When we were thinking about the upcoming China tour, it was important for us to let our Chinese friends feel the true nature of our relationship with them. It wasn't another tour, it wasn't another road trip, it wasn't another "experience". It's not some second hand rock stars touring in China. It's "The Rising Youth Of The Dragon's Land". It means something deeply important for us. It's our hearts towards China being humbly expressed in our own words, not some corporate advertisement trick. It's Your Favorite Enemies exposing their souls, it's Your Favorite Enemies saying: "thank you for receiving us as true friends of China", it's our hearts reaching out and it's your hearts reaching back. Because by receiving us as your friends, we will all become "The Rising Youth Of The Dragon's Land" and we are really honored to be welcomed with such warmness...
And speaking of soul... I'm sure you will love and appreciate the name of Your Favorite Enemies first official bootleg: "A Moment Of Screams and Whispers... As We're Turning Fog Into Daydreams". 12 words. I guess we came short this time! But it's inspiring, right? And if it's not, well, at least it's free! So go download your free copy at www.yourfavoriteenemies.com/bootleg ... oh and by the way, the tittle of our fist EP was "And If I Was To Die In The Morning... Would I Still Be Sleeping With You". I'm counting 16 words!
What is a hopeful tragedy?
HOPEFUL TRAGEDY: "The much rewarding feelings of owning your own independent record label, along with all the crazy working hours coming with the reality of being totally D.I.Y. driven" ... somedays are hopeful when others are totally tragic... lol...
What is it like to write the theme song for Final Fantasy?
It was a wonderful honor to be the first international artist to write the theme song for a legendary journey such as Final Fantasy and quite an incredible privilege, because we've always been hardcore fans of every Final Fantasy game. We probably spent more hours playing those games than attending school! Ben, Your Favorite Enemies bass player, is probably the craziest Final Fantasy fan I ever met. To say he is obsessed by the game is not only true, it's something we are worried about! So when we received the offer to write songs for the game, it was a natural association for us. The process was great, especially that we were able to actually give the soul of the game through the music. So that was a real opportunity for us not only to put our artistic imprint on one of the most important games of our generation, but to actually connect with people on another level, to lay down the soundtrack of a dream collectively lived all over the planet. It's really a wonderful artistic experience for us. And to be honest, even if we are often solicited to write songs for video games, being fans of game still remains the only criteria for us to contribute. Otherwise, it's only commerce and commerce doesn't have soul. But as Ben would say; we love so many games that it's never going to be a problem!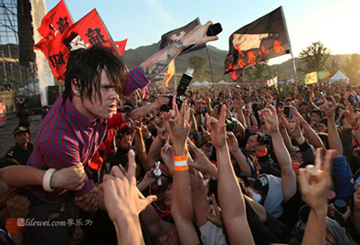 Will you sign with a major label some time in the future?
Our musical background is the Do It Yourself Hardcore scene. We grew up taking care of ourselves, and we've learned to work hard, destiny is not some Hollywood fairy tale. For us, art has never been at the service of commerce; it's the other way around. Art is defining and redefining elements of life and we are actually living in quite an exciting time right now! It's not about the nostalgia of what the 90's music scene had been... unknown bands signing to majors and becoming multi-millionaires over night. Those days are over. It's not about stardom or ambition now, it's about having a vision. Your Favorite Enemies' fans started communities all over the world and we decided to get involved with them, to be part of those communities. Your Favorite Enemies is more than a band, it's more than a movement, it's a family. So for us, the question is not if we will sign with a major label some time in the future. The question is "Could a major label be part of a family such as Your Favorite Enemies'?". We are not against corporations, we are anti bullshit being organized in a system based on screwing people dry. There is false righteousness in the independent music world as well, so independent labels are even worst than major labels. Some independent heroes have been total assholes with artists as well. There's no such thing as purity when you're dealing business. We believe there's a good and a bad way to deal business. We simply decided to deal in business based on our community values. Ambition is the enemy of vision, and everything we're doing is based on that community vision. We had the Chinese people in our hearts for a long time and visiting you is truly a blessing for us! It's not based on some business ambition!
What can't we miss at your gig?
Passion of being alive... Chaotic noises turned into sonic landscapes... The fact that there's no such thing as boundaries between the band and the people... Long hair moving in every direction... In other words, you can't miss that band letting go of everything, ready to die on stage because they believe it's worth dying for! There's no fear no more! Life creates life!!!
What was the strangest liquor you've tried? Ready for some Baijiu?
The strangest liquor we tried is something called the Lumberjack Head Cutter. It's a crazy strong alcohol created with maple syrup. The tradition says that the Devil appeared to lumberjacks during a very hard winter, they were starving, totally frozen, isolated in their wood camp due to several snow storms. In exchange for their souls, the Devil traded that alcohol. Only one of them refused the deal and he's known as the only lumberjack who made it back home in the spring time. The other lumberjacks have been haunting the woods ever since, ready to make the same type of deal with any lost and desperate travelers in order to have their souls released from the spell they are under. We obviously haven't traded our souls for the sip we had! I guess we've been saved by the fact that we're not really into drinking, due to the fact that some of team members had major alcohol problems in past. We are a family, standing tight for each other, especially knowing the price some of our people had to pay to sober up and to clean up. But if we don't have to trade our souls to taste some Baijiu, you can count us in for a few sips! But only if we are sharing that moment with you Miss Dai... or any other Beijinger representatives! It's a fair deal... especially that I'm not asking for your soul in return!
Your Favorite Enemies end their China tour at MAO Livehouse on Saturday (May 21)
Comments