Tackle the Zoo Market
Some say it resembles a madhouse.
Hot. Stifling. Swarming with people. There's a reason why so many of us choose to avoid this massive wholesale market. But really, those who haven't tried it shouldn't be so quick to write it off.
Gems galore await, if you only know how to navigate the cluster of markets (seven in all, in case you were wondering). Here, we have a few quick tips to get you started.
The most popular sections are Julong, Tianlegong and Shiji Tianle. Set aside an entire day if you want the chance to explore them all. (Opening hours for the market are around 6am-5pm.)
The "madhouse" description is no exaggeration on the weekends. Pushy crowds and poor ventilation can chip away at your resolve, no matter how determined of a shopper you are. If possible, go on a weekday morning.
Remember: This is where the locals shop, so there is less room to bargain. In fact, many stalls have fixed prices.
This may sound obvious, but do keep your belongings in sight at all times. (Big crowds + constant exchange of money = ideal conditions for pickpocketing.)
Don't let the glittery cheap stuff distract. Stay focused on your mission of procuring the best of the bunch, and always check for quality.
Now, for the "best of the bunch." We recruited a local friend to show us just a few of her go-to stalls.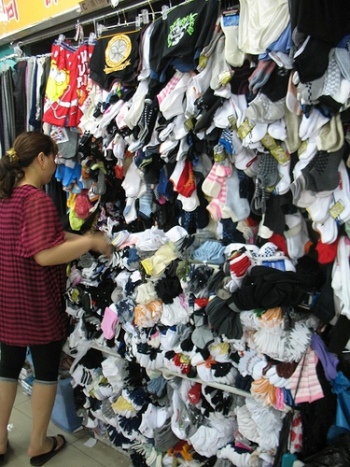 JULONG 动物园聚龙 (Directions: Take subway Line 4 to Beijing Zoo Station. Take Exit C, walk east about 100m in the direction of KFC and McDonald's.)
B道3133: A reliable stop for wool socks (RMB 10) and patterned tights (RMB 20).
B7383: Brands such as T by Alexander Wang, Ralph Lauren, Topshop and American Apparel abound here. We can't vouch for their authenticity, but the pieces fit well enough.
丁013: Patagonia vests to keep you nice and cozy in the winter.
B9504: More puffy vests (from RMB 130) and jackets (RMB 200-260).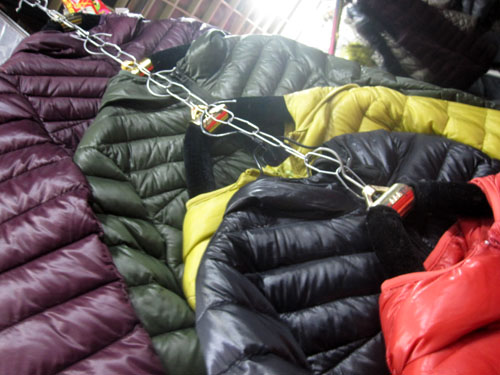 B4162: Plus-sized gear! A modest range of large denim jeans, jackets and tees.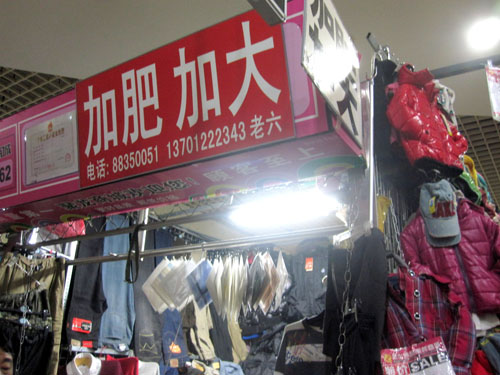 KOREA CITY 韩国城 (Directions: Take subway Line 4 to Beijing Zoo Station. Take Exit D, the southwest exit, and cross the street.)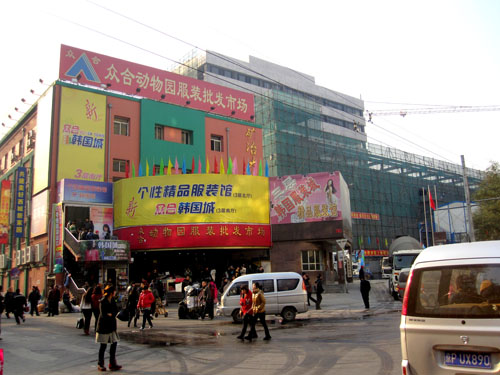 1中47: All one-of-a-kind silver and metal jewelry. The staff here are not exactly known for their impeccable customer service, but their wares are undeniably unique. We loved their dagger earrings, cross necklace and spiky ring. Each piece is sold by weight.
1北22: Ugg boots in all different sizes and colors. The sign claims they're by the original manufacturer.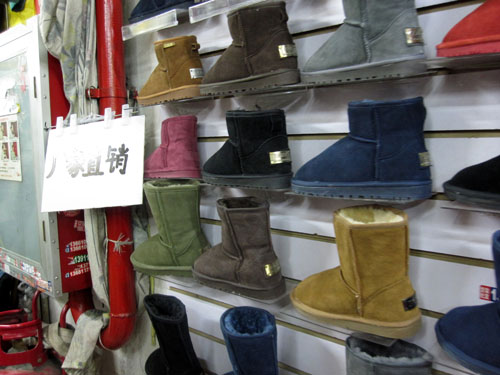 Of course, many more stalls have yet to be uncovered. We'd recommend Korea City for scarves, jewelry and other accessories as well. We didn't name any specific shops for those since the selection is more-or-less the same and constantly changing. It's worth checking back often.
Note also that we only mentioned two of the markets. A handful more lie behind Korea City, specializing more in athletic wear and shoes. Make a day trip of it, and chance upon some of these treasures yourselves.
Good luck! And feel free to tell us about your favorite Zoo Market stalls.
Dongwuyuan Wholesale Market. Xizhimenwai Dajie (south of Beijing Zoo), Xicheng District (8837 8056) 动物园服装批发市场,西城区西直门外大街(北京动物园路南)

Photos: flickr user keitha.kid, televiseus
Comments