China's Prodigal Daughter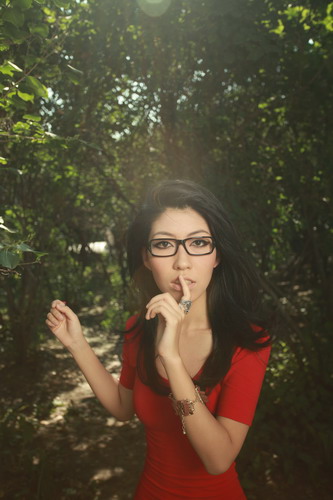 Café background music is supposed to help us unwind, not write blockbuster movie scripts. But when Beijing bistro Navena Cafe blared a throbbing ballad called "Drenched" one afternoon last year, Hong Kong rom-com auteur Pang Ho-Cheung started writing a new screenplay then and there as his coffee order percolated. Eventually, he found the song's source: a Myspace page belonging to Vancouver-based, Harbin-born songstress Qu Wanting.
"Fans from all over China somehow ripped the song from Myspace. That must be how the coffee shop got it," says Wanting of the tune that inspired Pang and was eventually featured in the film itself, a recent hit Mandarin date flick dubbed Love in the Buff. "At first I didn't think it was right – it was only a demo for fans, for feedback. But having it in the movie was a huge opportunity."
From pirated demos to tiger-mom meddling, Wanting tells us more about the happy surprises of her songwriting career.
If you could choose any director in the world to feature your songs in their next movie, who would it be?
It depends more on the movie, I don't follow directors that much. I probably couldn't write for any sci-fi movies. It has to be a real person-to-person story; it definitely has to have love in it.
What kind of love songs are featured on your upcoming album, Everything in the World?
"Shell" is a love song about me and my mom. I wrote it after a phone call where I tried to convince her I should do music. She said I should focus on my business degree, and then the conversation ended. The song was about me living in Canada young and alone, but not financially independent because I didn't have a work permit. I had to live off my mom's money, and felt responsible to her.
How did you change her mind – was it when your amateur Chinese songs netted thousands of fans on Renren and Weibo? When your English Myspace songs nabbed you a record deal on the Canadian label Nettwerk? When you played for 10,000 people at an outdoor festival in Harbin?
When I was in university I joined bands and went to concerts all the time, but never kept Mom in the loop. Then I graduated, called home and said, "Hey Mom, I got this degree for you. It's not something I wanted. Now I want to study music theory and go to the Art Institute of Vancouver." I got really good grades there, then got signed, and after that she said, "If you ever need me to fly you to Shanghai or Beijing for a show, let me know."
Did you resent her for offering that support so late?
I'm here now because she didn't support me. It made me want to prove her wrong.
How did she react when she saw you perform for the first time?
She cried. Then she told the audience: "Parents, listen to your children more when they tell you they can do something." But she's the type of mom that will never give me 100 percent – she'll always find something in there to make me work harder.
Wanting will play a sold-out show at Yugong Yishan on Mar 17 at 8.30pm as part of the JUE Festival. For more information, visit www.yugongyishan.com or http://site.douban.com/wanting.
Photo: Courtesy of the organizer
Comments