Seize the Day: Eatalia Carpe Diem at Di'anmen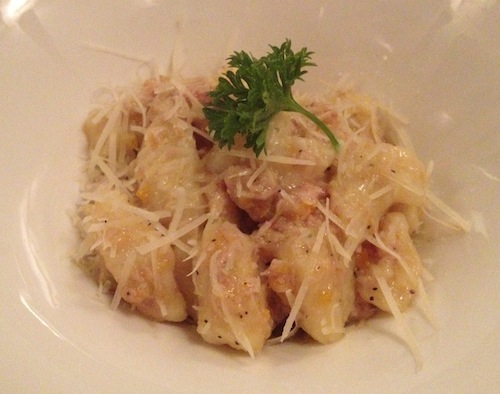 Eatalia's first location in Wudaokou has been churning out authentic Italian food for over a year now and keeping me well-fed in the process. So I was curious to try the second location, dubbed Carpe Diem, at the main Di'anmen intersection.
The restaurant's design concept preserves the building's courtyard origins while adding some modern styling. Owner Mario Zaccagnini and his partners have had some fun with it, as evidenced by their own take on Leonardo da Vinci's The Last Supper (photo below). The upstairs veranda could easily host a private party, especially since it includes a barbecue. For a more covered option, a separate "indoor garden" room will also function as a dining area/private party room.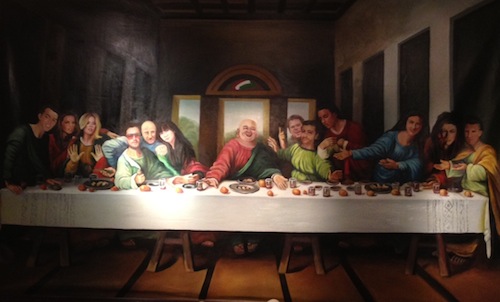 Eatalia in Wudaokou has a pretty simple menu, but the new Carpe Diem has a much fuller selection with choices like risotto, gnocchi and white pizza. The wine list has also been rounded out.
The gnocchi trentino (RMB 68) were a delight – little luscious pasta pillows that melt in your mouth. The blend of gorgonzola, speck and rosemary was creamy and subtly savory. The Marione white pizza (RMB 18 for the small slice) with sausage and roasted potatoes also kept us happy. The sausage is the processed kind and not little balls of fresh ground meat, so it's not worth writing home to nonna about, but the roast potatoes made for warm, starchy bites that synergized with the crust, while the cheese and the white sauce commingled nicely.
Dessert was an intriguing white chocolate and truffle oil creme brûlée. We loved the pairing, even if it did throw our tastebuds for a loop. In fact, we enjoyed it because it did just that. Some of you will undoubtably prickle at the thought of the strong, funky truffle flavor meddling with the delicate tastes and textures of the custard. But they got their proportions just right, so as for me and my house, we're going to keep taking John Keating's advice to "seize the day."
Eatalia Carpe Diem. 18 Xilou Xiang (near the Qiulixiang chestnut sellers at the southwest corner of Di'anmen Xidajie and Di'anmenwai Dajie), Xicheng District (6401 3263) 西城区西楼巷18号(近秋栗香)
Photos: Josh Ong, Marilyn Mai and Eatalia
Comments