This Musicologist Takes No UNESCO Bullshit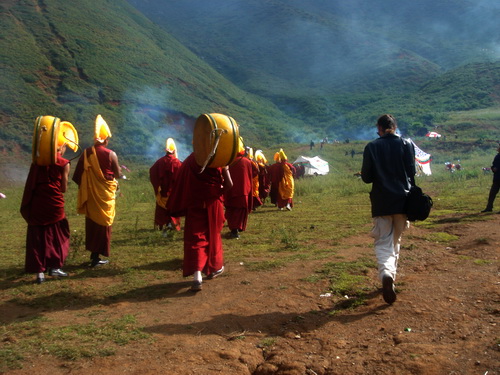 She hit "play" on her laptop and the sounds that emerged were primal and hypnotic. Though these songs were taped on remote mountains and in humid forests, they reminded me of the thrill I felt the first time I heard the archival recordings of Robert Johnson, the legendary blues guitarist. Field recordings are entrancing. The tinny sound carries raw emotions that don't show up in a well-produced record. The musician's feelings are real. You can touch their sadness, joy and love – those impromptu expressions of their soul that have been captured forever.
The musicologist who played those hypnotic tracks, Shi Tanding, has been doing field recordings in China and Southeast Asia since 2006. Together with her husband, Laurent Jeanneau, she has escaped city life to trek across the continent building their own label, King Gong Records. The music they preserve is not what most would imagine ethnic music to be: a guy with feathers in his hair playing a hand drum, or as Jeanneau puts it, "UNESCO bullshit."
Listen: Yunnan Yao Recording
To capture authentic expressions of ethnic music, Shi and Jeanneau hike to isolated villages, only accessible by foot, and literally move in with the locals. They get to know the people and adopt their customs before they request a recording. Often, the performances they capture aren't planned or rehearsed. Shi remembers one Cambodian girl who was famous in the village for her beautiful voice. "At first she wouldn't sing for us. We were told she liked to drink, so we invited her over for a meal as a gesture of friendship. The girl sat down at the table and just burst into song. Then the boy next to her picked up a guitar and started to strum along. We scrambled to get our recording equipment set up before the moment was over."
Shi and Jeanneau have gotten mild recognition for their efforts. A few publishing companies in the US have released some of their pieces, and last year a filmmaker joined them in the field to make a documentary, Small Path Music. The couple lives off the royalties they earn from their fieldwork and they pay everyone they record. As a result, their lifestyle is simple. Shi doesn't buy new clothes; she wears traditional garments that were given to her.
Listen: Xinjiang Uyghur Recording
It's not that Shi had any illusions that this path would lead to great wealth. In 2006, she quit her job as a reporter in Beijing to backpack through Yunnan, writing and taking photos. Her distaste for city life is profound. She describes watching a group of senior citizens milling around outside her building in Beijing hitting their own limbs, a qigong technique used to stimulate blood flow. "It was an ugly scene," Shi tells me. "In the villages I visited, the elderly tended the fields with strong and healthy bodies. I found that beautiful. I realized that the glitz of Beijing's development hides the very wounds it inflict upon us." To bring her point home, Shi mentions an article she wrote about her pet cat. "When I left Beijing, I gave the pet to a friend. One day I received a call saying my cat had died. The fat buildup in the creature's arteries gave it a heart attack. Obesity killed the animal. Or, you could say, the so-called 'high-quality of life' in this city killed her."
As a journalist, Shi was in a position to attack the things she thought were ugly about urban life. Nowadays, she sets out in search of things she thinks are beautiful and preserves them to share with others. On her laptop, she shows me a video of a wrinkled old man from Xinjiang. He strums a little stringed instrument so fast that his hand is a blur on the screen. The pentatonic tune he plays repeats itself over and over. The tension builds. Suddenly, he opens his mouth and begins to sing. The tension is released and harmonies wash over you like cold rain on a hot day. What could be more beautiful?
Shi and Jeanneau will be screening their film Small Path Music at Zajia Lab on June 16.

Watch the trailer for Small Path Music below:
A version of this article appeared in the April 2013 issue of the Beijinger
Photos: Courtesy of Shi Tanding
Comments