South African Cuisine Moves South: Shunyi Finally Shares Pinotage With Sanlitun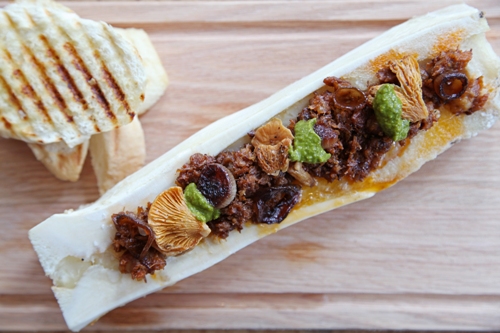 It's a weird, weird moment when you find yourself jealous of Shunyi. But that's what the second outpost of Pinotage in Sanlitun will do. After five years in the closest thing Beijing has to the suburbs, Chef Amber Deetlefs has brought her South African cuisine downtown.
There are differences. The second branch has a new selection of menu items and a special lunch set (RMB 78 for two courses). Most distinctive is their novel approach to portion sizes. They're calling it S.E.T. – "share" (3-4 people), "enjoy" (1-2 people), "taste" (one person) – and any item on the menu is scalable to these dimensions.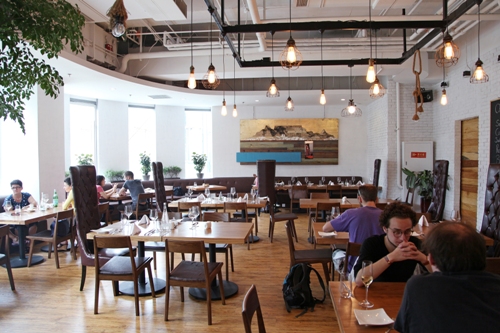 The starters would be a satisfying meal by themselves. Bone marrow (RMB 200/120/50) is roasted and served in a long white bone, absurd and prehistoric in its size and length. Buried beneath braised oxtail, chanterelles, caramelized mushrooms, and dotted with a green chermoula (cilantro and garlic sauce typical of northern Africa), the buttery marrow below demands excavation.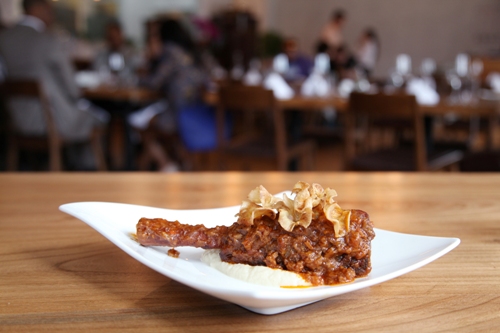 If digging the marrow from the cavity of a bone strikes you as too carnivorous, too uncivilized, please reconsider again. Alternatively, the kitchen prepares offerings "from the earth," a starter of open beetroot ravioli (RMB 160/85/35), a dinner entrée of butternut squash risotto (RMB 160/90/40), a brunch main of asparagus grilled cheese (RMB 140) with truffle mayo and a poached egg. There is a remarkable but simple side of unassuming green beans braised with tomatoes and onions (and yes, bacon). The result, a captivating pull of spice and strong umami notes drawn out from the tomatoes, provoked disbelief from the table – "but really, is that all that is in it?"
It is to Deetlefs' credit that the dishes are devoured without superfluous praise. The magic seems natural, expected – exactly the illusion a kitchen should create. Instead, a few curious details give pause: the provocative parsnip chip on the lamb shank (RMB 300/160/75), the roasted banana and mustard puree beneath the pork confit (RMB 180/100/45), the gorgeous gnarled cross-sections of fennel prostrate against the sea bass (RMB 300/160/75).
Photos: Lova
Comments