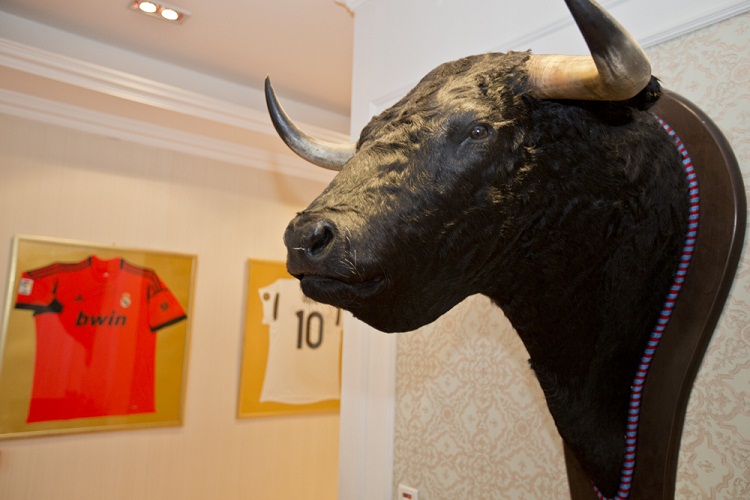 Where Football Meets Food: Puerta 20 is a Shrine to Spanish Culture and the Beautiful Game
This post is sponsored by Puerta 20, a world-class Spanish restaurant located in the Worker's Stadium complex. 
Gazing out over the spacious second floor dining area at Puerta 20 is a singularly unique trophy: the head of a genuine Spanish bull. Two enormous horns protrude from its skull, as if the animal is ready to charge, and the eyes have long since been replaced with glass. But you can still sense the majesty and brute power of this magnificent creature when you peer up at this massive wall mounting. 
Downstairs near the entrance is the counterpart to the majestic trophy upstairs: an autographed flowing yellow matador's cape with regal purple trimmings across the neck and shoulders. Together, these two items tell a story of tragedy and triumph, and a proud Spanish heritage that dates back to ancient times.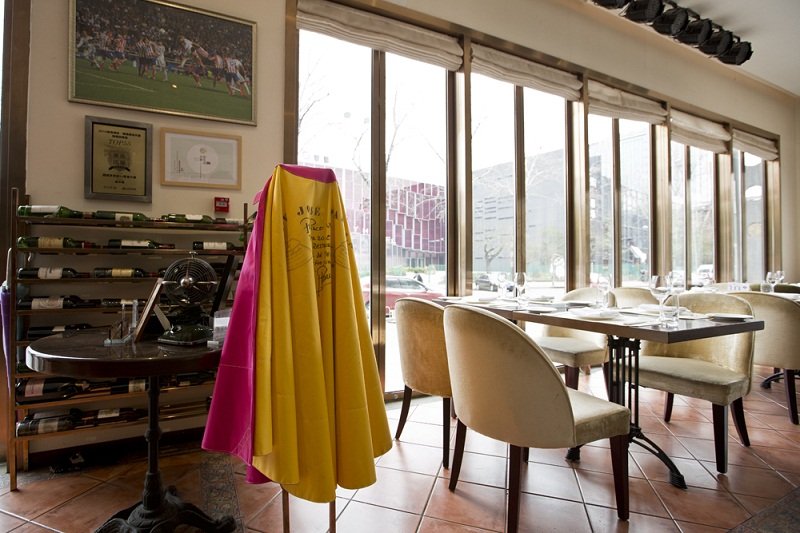 But bullfighting is not the only sport enshrined within the walls of Puerta 20 – the real passion of its owners lies in another equally ancient, but far more universal game: football. The walls of this Workers Stadium restaurant are lined with an impressive array of memorabilia and autographed jerseys worn by some of the biggest superstars in the world. Below are some of the most interest items on display from both of these quintessentially Spanish obsessions:


A Ringing Endorsement from a Legendary Bullfighter
All of the items displayed in the restaurant have fascinating stories, but perhaps the most interesting belongs to the aforementioned cape, which has a single name imprinted on the back: Juan José Padilla. The famed Spanish matador was gored by a bull in 2011 and nearly died from his injuries, but survived and returned to the ring wearing an eye patch just a year later. When Padilla visited Beijing and dined at Puerta 20 he enjoyed the food so much he gave the restaurant one of his prized capes with not only his autograph, but also a ringing endorsement: "This is the best Spanish restaurant in Beijing. With care, Juan José Padilla."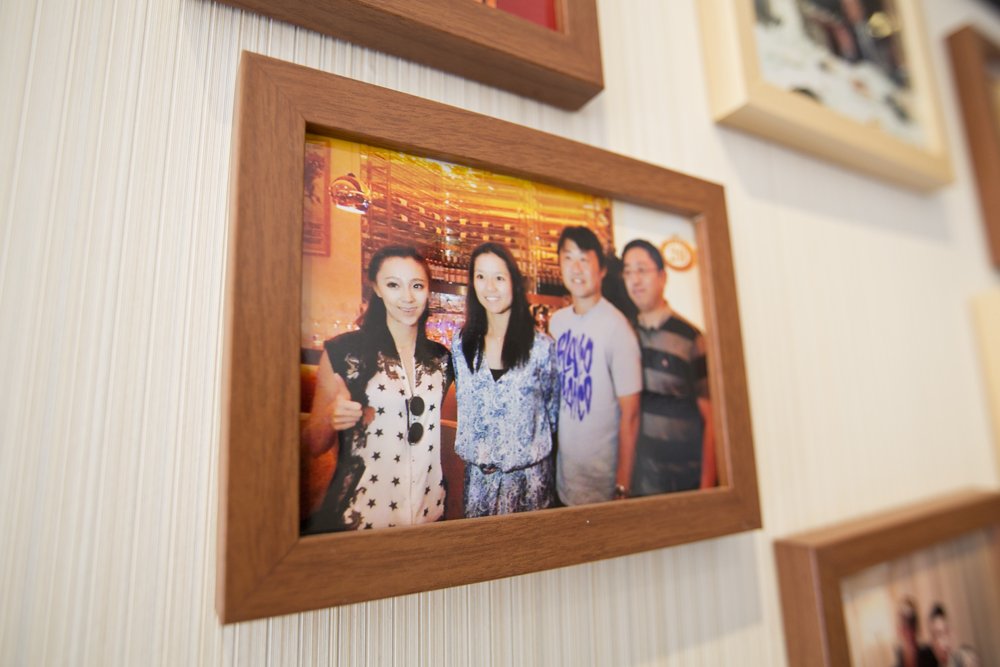 Where the Stars Come Out to Dine 
Juan José Padilla is far from the only celebrity to have dined at this Spanish restaurant. The establishment's stairwell is lined with photos of famous faces who have enjoyed Puerta 20's fine Spanish fare, including tennis megastar Li Na, BTV host Dai Jun, Beijing Guo'an head coach Gregorio Manzano (who eats there on a daily basis) and CBA superstar and newly-minted permanent Beijing resident Stephon Marbury. In fact, athletes and stars from China and abroad wine and dine here on such a regular basis, Puerta 20 has garnered a reputation as one of the best places for celebrity spotting in Beijing.


Jersey City
Walk past the framed celebrity snapshots on the stairwell and you will come across an even more impressive display of autographed jerseys worn by such football legends as David Beckham, Cristiano Ronaldo, Kaka, Ramos and Ozul. These priceless items testify to how integral football is to Puerta 20's identity, but there is an even deeper and actual physical connection – the door at the rear of the second floor leads directly to the Beijing Guo'an dorms where players stay on the nights before home games and a second set of doors opens directly onto a VIP box overlooking the stadium pitch. Dine here on any given day and you'll invariably be seated near some of the best players from Guo'an and abroad.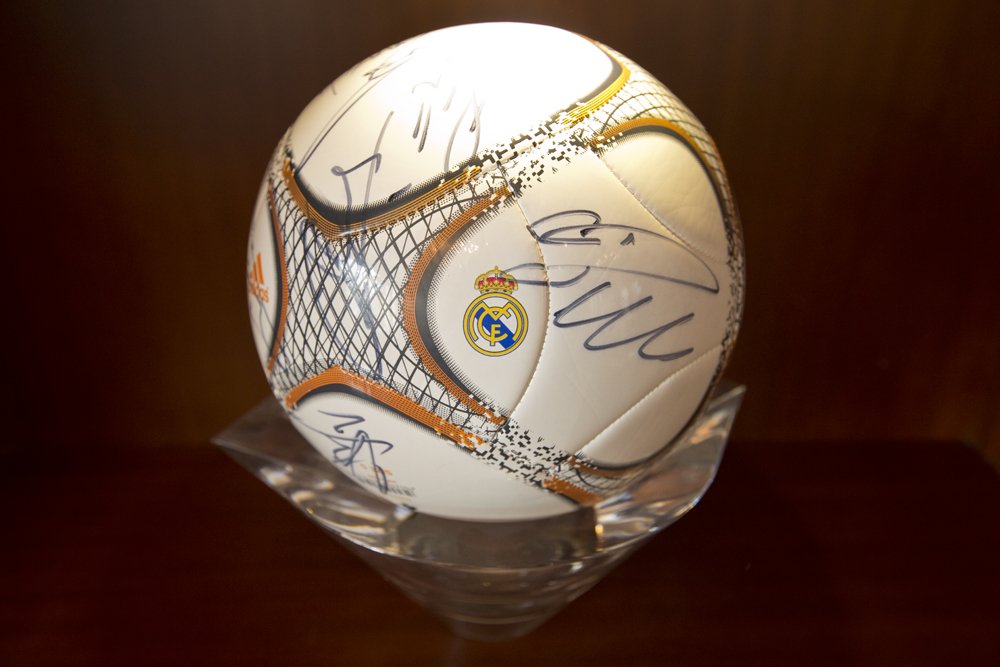 A Real Connection
Not all of Puerta 20's autographed items are hung on the walls of the stairwell. In the restaurant's VIP room, there is a mantle dedicated to a football covered in signatures from the players of Real Madrid, which co-owner Paco Wu also represents in China. Among all those star signatures, one stands out: that of Brazilian born football virtuoso Marcelo Vieira, who always finishes his autographs by doodling a similey-face.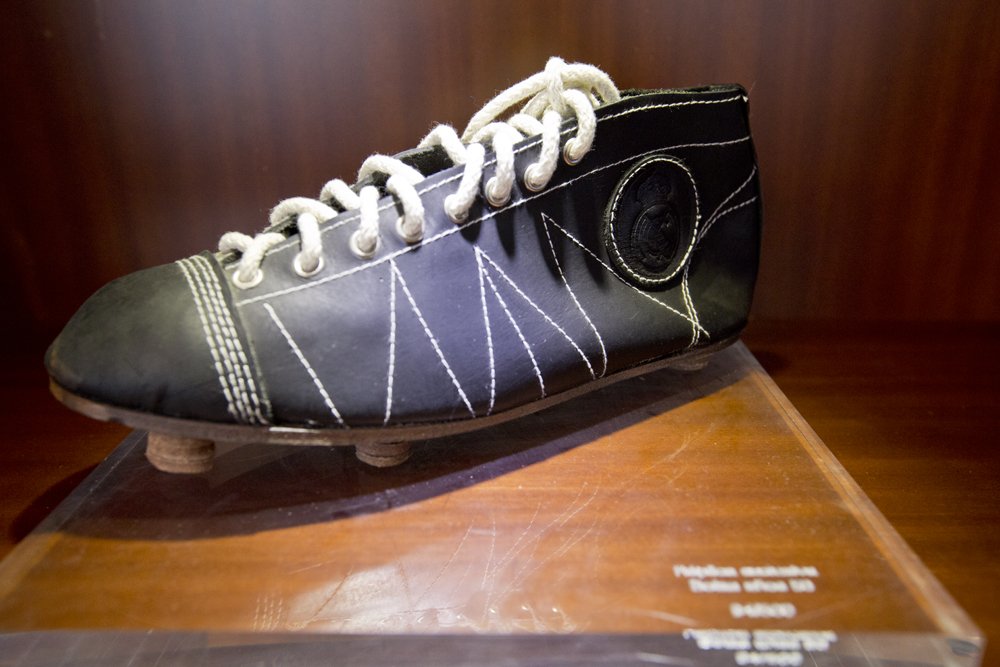 Storied Spikes
Lying alongside the autographed Real Madrid football is another fascinating piece of memorabilia: a vintage pair of 50-year-old cleats from Real Madrid's own archives. These shoes were handmade from 100 percent leather – one look and you'll gain a new appreciation for the high-tech and form-fitted athletic shoes of today, you can only imagine the painful blisters and scrapes that players had to endure back in the day. The cleats were donated to the restaurant by Real Madrid Manager Carlo Ancelotti, who dined at Puerta 20 during one of his visits and loved the food so much he personally arranged to have the antique cleats, autographed football and other pieces of club memorabilia sent to the Beijing restaurant, where each item is now proudly displayed in the second-floor VIP room.
Photos: Uni You
Comments