Why Suika Should be Your New Favorite Japanese Restaurant
Japanese food in its many forms is probably the cuisine I end up going out to eat the most in Beijing since I most often cook "Western" food at home and Chinese food can be found, well, anywhere, Japanese always feels like the most satisfying dining out experience. Chief among my latest find is Suika, a small Japanese izakaya located within the rather marvelous First Avenue Food Court (一番街 Yī fān jiē) near Maizidian, home to a slew of good quality Japanese restaurants. 
Related: Punk and Hearty Noodles at Maizidian's Qimianting
Of course, when I say "find" I should point out that Suika has actually been open for well over a year, but it has certainly flown under my radar since then. The wide-ranging menu includes a selection of the classic izakaya snacks and dishes – fried chicken (RMB 38), edamame, grilled eel rice – but for me the real attraction is the kushikatsu, deep-fried skewers of meat and vegetables (sometimes known as kushiage).
Starting at RMB 8 per skewer for vegetables and going up to RMB 15 for choice cuts of meat and seafood, the kushikatsu emerge from the kitchen crisp and greaseless on a metal draining rack, accompanied by a dish of piquant Bull Dog tonkatsu sauce. If you're not sure which ones to pick, go for the set of seven skewers (RMB 68), which includes a selection of meat and vegetables. Either way, don't forget to order a couple of pork neck skewers (猪颈肉 zhū jǐng ròu, RMB 10), the fattier cut making for an incredibly indulgent snack.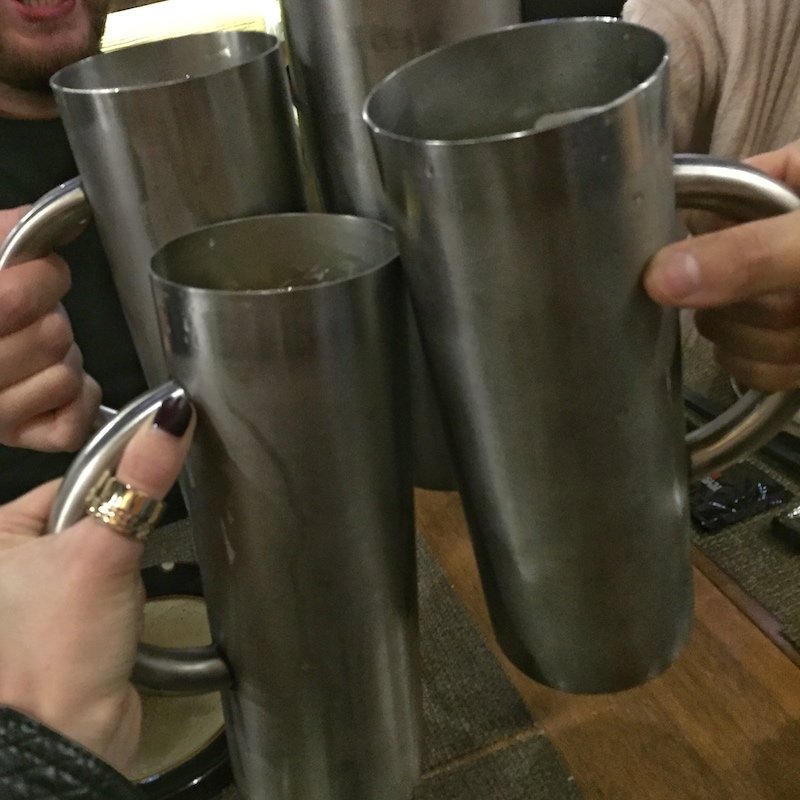 The second selling point here is the drinks, specifically the selection of highballs, which come in eight flavors. You'd think it would be pretty hard to mess up a whiskey soda, although people somehow do it all the time, but thankfully here the classic mix of Suntory, soda water, ice, and lemon is perfectly balanced. The highballs are available in three sizes: medium (RMB 25), large (RMB 48), and extra large (RMB 88). For full comedy effect, go for the extra large, which comes in a huge, chilled stainless steel stein. For those balking at the price, never fear – this will get you as drunk as two to three regular sized drinks. 
Suika is also open at lunch when they eschew the kushikatsu in favor of reasonably priced donburi (rice bowl) sets, priced from around RMB 98 upwards and including salad, miso soup, and ice cream. I went along one day and tried the rice bowl topped with chopped mixed sashimi and while the fish was fresh and the portion substantial, I wouldn't necessarily go out of my way to order it. No, come at night, come with friends, stick to the kushikatsu and comedically large drinks, and you won't go far wrong. Fried stuff and getting drunk, what's not to love?
Suika
Daily 11.30am-2pm, 5.30pm-midnight. 1/F, First Avenue Food Court, Nongzhanguan Beilu, Chaoyang District (8595 8830)
朝阳区农展馆北路宾都苑东侧一层底商一番街内
More stories by this author here.
Instagram: @gongbaobeijing
Twitter: @gongbaobeijing
Weibo: @宫保北京
Photos: Robynne Tindall, Dianping 
Comments