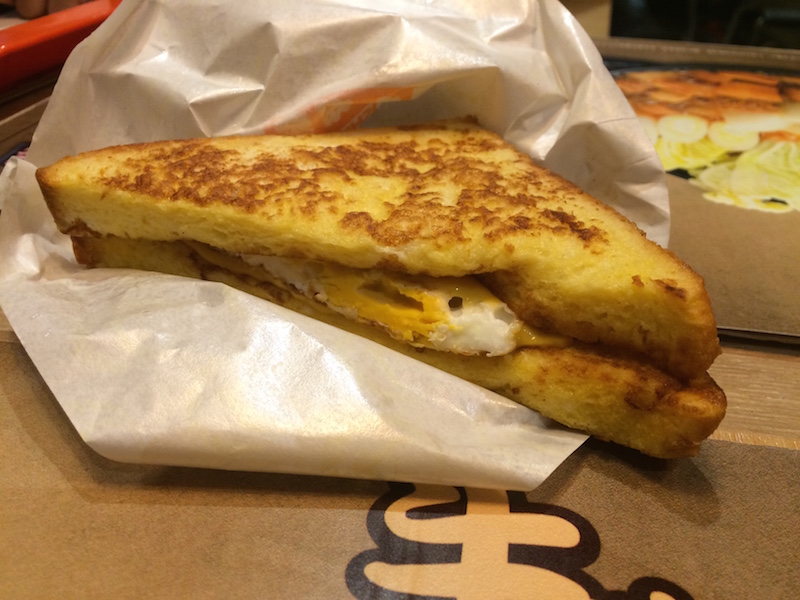 Fast Food Watch: Yoshinoya Tempts Early Risers With Bulky and Bland (but Cheap) French Toast
It looks like Yoshinoya is trying to make us forget all about the Egg McMuffin or our favorite street-side jianbing stands. Although the Japanese chain is known for serving steaming bowls of meat and rice, we were recently surprised to see a decidedly non-Asian breakfast item on its menu: French toast.
Sadly, they should have left this to the French. The ham and cheese French toast sandwich we ordered, although admittedly cheap at RMB 6, featured two slices of flavorless bacon wedged between pieces of plasticky processed cheese which, thankfully, at least had a hint of an aftertaste. Worse still: the sandwich wasn't served hot enough to melt the cheese in the slightest. But the biggest travesty of all came courtesy of the bread, which wasn't eggy or fluffy, but instead bulky and bland.
The egg stuffed sandwich (RMB 8) wasn't any better, thanks to a Styrofoam-esque slice of fried egg. A peanut butter option (also RMB 8) and a bacon version (RMB 9) are also available, though we're guessing they're not of any higher quality. Yoshinoya stops serving these breakfast items at 10am sharp (we caught them just in time during our earlier-than-usual visit), meaning you'll have to get up somewhat early if you're curious to try these subpar, carb-loaded snacks.
Though the old adage of getting what you pay for should have braced us for the paltry quality of these cheap eats, we still found ourselves aghast at how bad they actually were. If you're extremely hungover and in need of a filling, quick, and greasy fix that won't even make a dent in your wallet then these sandwiches might do the trick, though we're guessing you'd have to still be drunk from the previous night to actually enjoy them.
More stories by this author here.
More stories by this author here.
Email: kylemullin@truerun.com
Twitter: @MulKyle
WeChat: 13263495040
Photo: Kyle Mullin
Comments