We Tried (Nearly) Everything on the New Common Burger Menu at Hatchery and You Should Too
It's a new year and they've got a new concept over at the Hatchery, Common Burger, this time peddling gourmet burgers and sides. The menu is inspired by the team's multicultural background and chef David Ball's travels around southeast Asia, although the biggest influences come from Australia (expect to find beetroot and fried egg on at least one of the burgers), the UK, and New Zealand (by way of a venison burger). Said Venison is sourced directly from New Zealand, as is the beef, fish, and all of the dairy products they use. 
The burgers have been picking up traction on social media since they soft launched after Spring Festival, so naturally, when they invited us down to try out the menu we were there in less time than it takes to order from McDonald's.
The menu kicks off with sides (selection pictured in lead image), which range in style from "classic diner" (e.g. the Caesar wedge salad, RMB 35) to "gourmet fusion" (e.g. pan-fried Brussels sprouts with ginger, garlic, and chili, RMB 35). However, than standouts are the mac 'n' cheese croquettes with truffle aioli (RMB 35) and the coconut and sesame chicken strips with green curry mayo (RMB 40), both expertly fried and crunchy. Pay attention to those funky mayos – they've got a very strong sauce game going on here at Common Burger.
On to the burgers.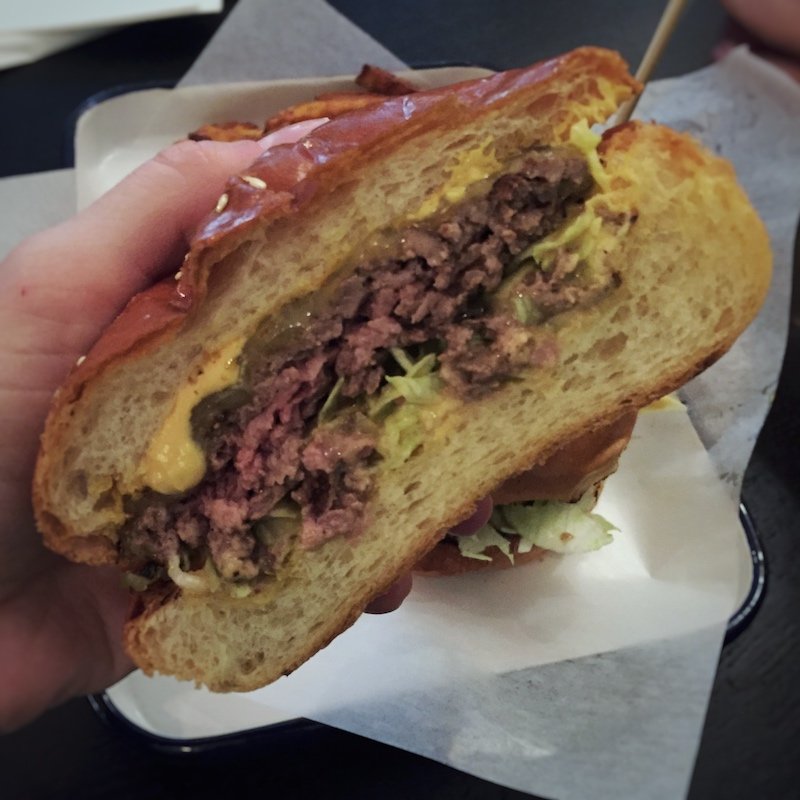 One of the simpler burgers on the menu, the Common burger (RMB 65) tastes, to all intents and purposes, like a souped-up Big Mac – and trust us when we say that we mean that with love. The simple toppings – cheese, pickles, special sauce – allow the flavor of the buns, which are made especially for Hatchery by Shunyi-based Jiang Mai Tang, to hold their own. 
However, if you prefer your burger a little more complicated, there is plenty to satisfy. We were big fans of the "Beached As" burger (RMB 60), featuring a beer battered fillet of fish, fresh veggies, and homemade tartare sauce. Tasty but still light.
Other burgers include the "Yeah Nah, Bro" (RMB 75) with New Zealand venison, beetroot relish, and whipped feta with mint; the crazy indulgent "Gatsby" (RMB 55), stuffed with fried chicken, sweet potato fries, and piri piri mayo; and the "Jamaican Me Jerk" (RMB 55), which features jerk chicken from Gail's Caribbean Cuisine (topped with pineapple and avocado – not as strange as it sounds) fresh off her recent pop-up residency at Hatchery.
Real talk though, the burger you really need to be ordering here is the stout, bacon, and cheese (RMB 75). Featuring another one of those juicy beef patties topped with thick-cut bacon, cheese, and a syrup made from Jing-A's Black Velvet Vanilla Stout, this is an altogether indulgent mouthful with a hint of sweetness and a strong smokey aftertaste from the bacon and stout syrup. 
The main things we didn't get to try were the breakfast menu items, which include coconut milk porridge (RMB 30), Yeyo coconut yogurt with fresh fruit (RMB 50), and the extra indulgent "Geezer" sandwich, which comes loaded with black pudding, bacon, cheddar, fried egg, mustard, and relish. 
Common Burger is open for breakfast, lunch, dinner and weekend brunch seven days a week (breakfast 8am til 10.30pm, full menu 11am til 10.30pm). Take advantage of one of their current deals to get the best value out of the new menu, including buy-one-get-one-free burgers on Wednesday and 50 percent off your food bill when four friends dine together on Monday. 
More stories by this author here.
Instagram: @gongbaobeijing
Twitter: @gongbaobeijing
Weibo: @宫保北京
Photos: Robynne Tindall, courtesy of Hatchery
Comments