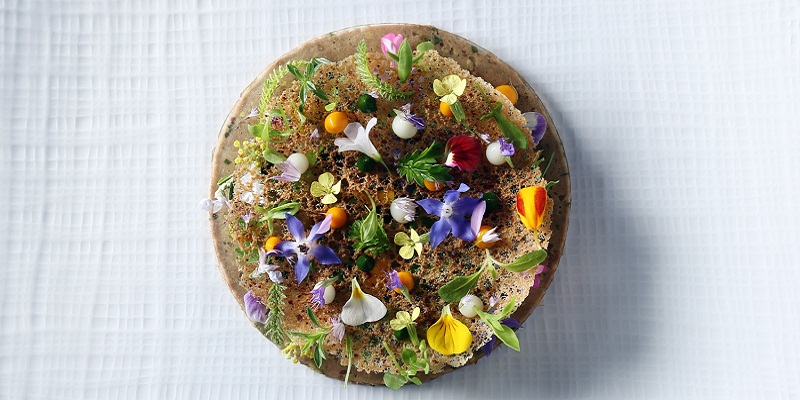 New Spring Menu at Azur, the Shining Foodie Star of West Beijing
We have to confess that, being quite spoiled, we seldom head to the west of the city, but we feel that Azur by Mauro Colagreco on the first floor of the Shangri-la Hotel (by the West Third Ring Road) is worth the 40 minutes on subway. You heard us right – 40 whole minutes!
Previously S.T.A.Y, Azur has been taken over by Michelin-starred chef Italo-Argentinian Mauro Colagreco, known by foodies for establishing restaurant Mirazur in Menton, France, which is now the proud owner of two Michelin stars. In 2014 and 2015, Colagreco's Mirazur was elected the 11th best restaurant in the world and the first in France by San Pellegrino's World's 50 Best Restaurants.
We were lucky enough to try their revamped spring menu, and can give you a peek of what to expect. We started with their signature bread, based on Colagreco's mother's recipe, meant for sharing. The bun was served alongside Pablo Neruda's poem Ode to Bread, coincidentally one of my favorite poems, and a nice touch to ease your restless mind into the meal.
The appetizer of green peas and tangerine was a great palate freshener, the sweetness from the green peas and tangerine melding to awaken your tastebuds before the heavier courses ahead. The following beef carpaccio with wild herbs and flowers was in itself as pretty as a delicate artwork; a crisp hollowed pastry sat atop of a layer of beef carpaccio, decorated with colorful petals.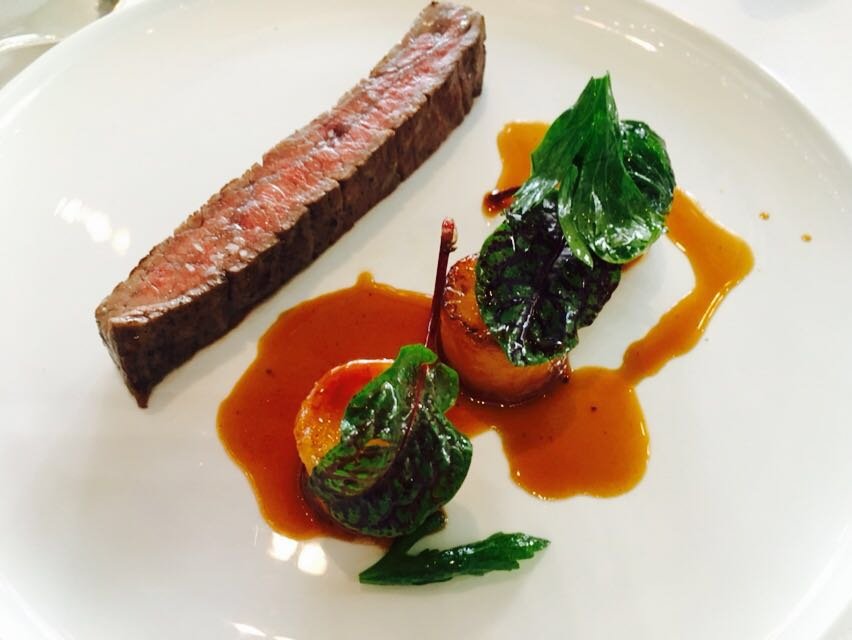 Moving onto the mains, we got to taste the black monkfish, which was flavored with lemon, and rice cream. The dish popped thanks to the slight umami flavor and the addition of milky rice cream balancing out the earthy aroma from the truffles. Our favorite, however, was the slice of angus beef flank steak with potatoes and gravy. The beef was tender, cooked just past medium but retaining a slightly pink color, and the potatoes were perfectly seasoned with a slight orange scent and a rich secret recipe jus. 
With expectations continuously rising and being met throughout the meal, the lemon tart dessert was thankfully also extremely gratifying. The acidic tart, creamy pastry, and slightly singed marshmallow topping comes served alongside caramelized cream, a spoon of lemon-flavored sorbet, and black sesame snaps for that extra crunch.
Since we visited, Azur has released a host of new dishes to their revamped spring menu, including oysters, caviar, seafood platters (RMB 388/688). The team has also put together a "discovery menu," the best way to get a taster of everything and costs RMB 698 for five courses. Or their "signature menu" for RMB 988 gets you seven courses. Both can be complemented with a RMB 488 wine pairing. All the prices are subject to a 10 percent service charge and VAT.
All in all, the whole experience was superb with on-point service, seeing Azur to live up to the hype. We believe it to be worth trekking west of the city to enjoy this fine dining establishment, and if you're already living in the near vicinity, Azur is absolutely worth your patronage.
More stories by this author here.
Email: tracywang@thebeijinger.com
Twitter: @flyingfigure
Instagram: @flyingfigure
Photos: Shangri-La Hotel, Tracy Wang
Comments