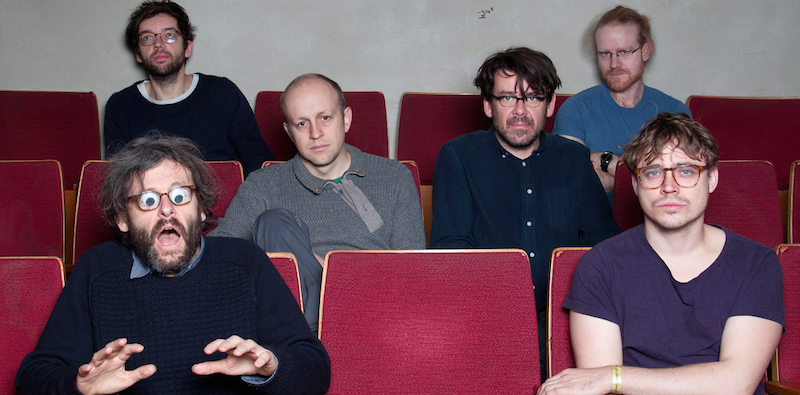 Q&A With Veteran German Rockers The Notwist, Playing Yugong Yishan May 14
Since forming in 1989, they've been one of Germany's most popular bands. They're known for playing heavy metal, indie rock, and electronica. Then they were signed to the same label on which Kurt Cobain became a star.
Yes, few bands have had as varied and eclectic careers as The Notwist. Hopefully the veteran German quintet will showcase their many musical incarnations at Yugong Yishan, where they'll be performing a highly anticipated gig on May 14.
Formed by brothers Markus and Micha Acher, on guitar and bass respectively (former members have now left and the band currently is rounded out by drummer Andi Haberl), in their southern Bavarian hometown of Weilheim in Oberbayern, not far from Munich, in 1989, the Notwist (pronounced noʊ.twɪst) recorded their eponymous grunge-metal debut a year later, in 1990. And, unlike many long-running bands that have dabbled in many genres, The Notwist's eclectic nature didn't take years to manifest.
Instead, according to one bio, they recorded their indie rock inflected Nook in 1992, and followed that up with 12, "their first flirtation with electronics," in 1995. In 2002 they broke out Stateside with Neon Golden, arguably their most popular album. Reviewers fawned, including Pop Matters, who called it "one of the most exquisite electronic albums to come out in ages." It features favorite fan cuts like "Consequence."
To date they have released 10 albums and a wide swath of singles and EPs. No doubt more impressive to music buffs outside of The Notwist's core fanbase is their collaborations and remixes of their songs by currently hot acts like Caribou (formerly Manitoba) and Grizzly Bear (which you can hear here and here, respectively).
Below, Markus Acher, tells us more about maintaing a band for nearly 30 years, how their band came to be so eclectic, and more. 
Your band is known for performing many styles and genres of music. Can you tell me which one was the most challenging to immerse yourself in and master?
Ah, we don't think that way, actually. It came from being fans of all kinds of different styles, and listening to a lot of other music. So, step by step, we started to integrate elements of music we liked, into our own music. Sampling, electronic instruments, more experimental playing and recording methods, brass-and string-arrangements, improvisation, and so on.
But we did never try to master another style completely. We found our own way of picking certain sounds and trying to do them our way. I wouldn't dare to play dub-reggae for example, that would be impossible. But we took over the idea of having a bassline, that is independent from the rest of the song and can stand on it's own, and of this great art form of treating instruments like different tracks, so you can jump in and out anytime.
That makes sense. Still, you've had such a long and varied career. What is the biggest difference you see in the music business between now and when your band formed in 1989?
The biggest difference is the Internet, of course. It was harder then to get concerts and find a record label. But also, you could discover a lot of 'secret' and very unknown music. Today it seems, that everything is available and exposed sometimes.
Is that necessarily a bad thing?
Well, the internet has a lot of advantages. As we are very interested in music and art outside of Germany, or outside Europe, it's now easy for us to release Japanese or Korean bands on our record label, Alien Transistor, and be in constant conversation with these bands.
The difficult side is the money-side, like always, and that it's hard to survive as a band from record sales or downloads alone. You have to play a lot of concerts all the time. But I don't want to complain at all. There are so many good things and possibilities in connecting, networking, interests, and collaborating, that I'm really happy about the current state of all that. We wouldn't be able to come to China as a band without the Internet, and we are very excited about that.
Few bands have managed to stay together and keep going like yours has. Do you have any survival advice for other bands looking for similar longevity?
I think it was very important that we all play in other bands and projects, too. To concentrate on other music and ideas, work with other people, sometimes also play another instrument, makes it always great to return to The Notwist. It still feels very lively and fresh, actually.
Can you tell me about any new music you are working on, and what is inspiring it?
We just recorded music for a TV-series in Germany. And we are gradually starting to record a new studio album, which should be released next year. Every one of us also has their own projects, and is constantly working on new music and tours.
Our inspiration frequently comes from current and old music. I can only speak for myself: at the moment I'm listening to the American musician and poet Moor Mother a lot, to the Children of Alice album, to the 1970s-records of the Italian composer Egisto Macchi, and incredibly beautiful music from Okinawa, Japan. And the wonderful Japanese Duo Tenniscoats, always. I had the great pleasure to play and record with them last December.
Speaking of working with and being fans of other bands, how did it feel to have Four Tet and Manitoba and Grizzly Bear reinterpret your music?
Oh, we were and are very excited by that. We love both of them a lot, and so we are very happy about these remixes.
The Notwist will perform at Yugong Yishan on May 14, 9pm. Tickets are RMB 150 at the door, RMB 120 presale. Tickets are available online here. For more information, check out Yugong Yishan's website here. 
More stories by this author here.
Email: kylemullin@thebeijinger.com
Twitter: @MulKyle
Photos: Groove, Toutpartout, The Snipe News
Comments