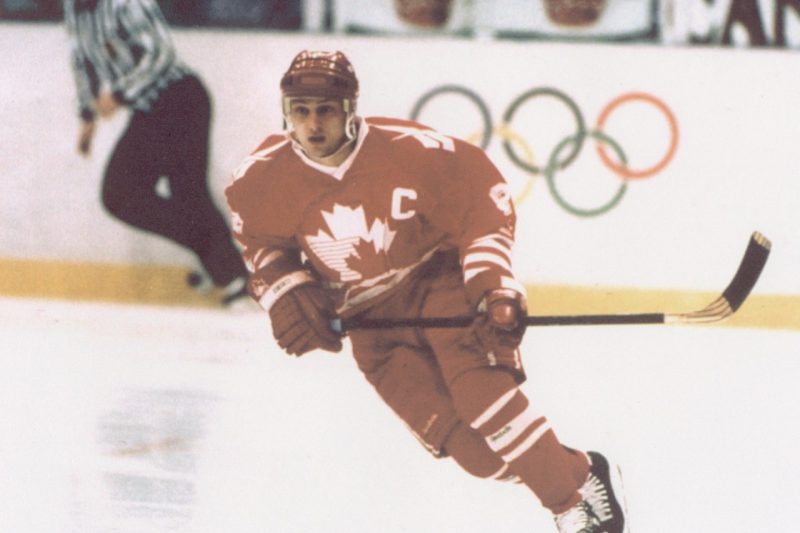 OlymPicks: NHL Sits Out 2018 Games, Dismaying Fans But Heartening Would-Be Stars
Anyone dismayed by the National Hockey League's (NHL's) shocking withdrawal from the 2018 Olympic Games in Pyeongchang, South Korea, should be heartened by two words: Eric Lindros.
The star hockey player's career got a major boost back in the early 90s, along with the good fortunes of other notable would be pros like Petr Nedved, when they were part of national Olympic squads that were not dominated by star pros before the league's more assertive, full-fledged participation in men's hockey, beginning in 1998 in Nagano, Japan. After that, the NHL flooded the rosters of Canadian and American Olympic teams with its established players at the Games.
But in that pre-1998 era, up and comers had a chance to prove themselves. Fabian Joseph (pictured above), of Sydney Nova Scotia, recently gave an interview to one of his home province's papers, Cape Breton Post about winning the silver medal in Albertville, France in 1992 alongside Lindros.
The article said even though "NHL players won't be participating in the 2018 Olympic Winter Games ... Fabian Joseph believes it's a good opportunity for amateurs or young pros to take center stage once more." It went on to quote him as saying: "Obviously, you want to see the best players in the world compete at the Olympic Games like other sports, but selfishly, I look back at my two experiences at the 92 and 94 Olympics and what it did for my career and my development not only as a player, but as a person."
While that may be encouraging for talented youngsters looking to prove themselves, investors looking to capitalize on China's huge recent hockey push may still be feeling wobbly. After all, NHL commissioner Gary Bettman recently announced plans to put on two hockey exhibition games, one in Shanghai and one in Beijing, this coming September.
Onlookers saw it as a way to capitalize on China's vigorous winter sports thrust ahead of the 2022 games. There were doubts, because Bettman's negotiations with the IOC over 2018 seeming trivialities like transpiration and insurance costs, along with reaping more of the games' marketing rewards. But, as a Canadian Broadcasting Corporation op-ed insisted, Bettman was only bluffing and would never pass up the sponsorship opportunities and other lucrative aspects of partaking in the Korean Games.
Then Bettman shocked the sports world by doing just that. On April 3, the NHL released a statement that no "meaningful dialogue has materialized" between the league and the IOC and that the "matter is officially closed." Worse still for Chinese hockey proponents, the statement also read: "the IOC has now expressed the position that the NHL's participation in Beijing in 2022 is conditioned on our participation in South Korea in 2018."
Still, winter sports are being promoted with abandon by Chinese authorities, and the NHL exhibition games are still slated to take place this fall, lending to the icy air of competitive fun. What's more: Xinhua recently reported on how hockey is becoming a fast track for Chinese boys to move to Canada for their studies at an even earlier age than many of their peers, thanks to rigorous hockey camps.
All of this may seem far fetched in a country where hockey remains an obscurity, compared to mainstays like football, basketball, and badminton. But now that the NHL will no longer hog the 2022 games, then who knows? Maybe China will be all the more excited by the prospect of a wide open ice rink, figuratively speaking, and greater room for some of its players to skate their way to stardom just like Lindros and Nedved did in the early 90s.
More stories by this author here.
Email: kylemullin@truerun.com
Twitter: @MulKyle
Photos: Cape Breton Post, Reuters
Comments