Burger Brief: Back to America's Heyday With Cannon's Double Deluxe Cheeseburger
Burger Brief takes a look at some of the attendees of the Beijinger's 2017 Burger Cup. In this edition we visited Will Cannon of Cannon's, whose venue is in contention for the honor of Beijing's Best Burger.
Last week, we ventured to a less-frequented neighborhood far, far away – Gaobeidian. You can count those Gaobeidian's lucky however as it also happens to be the home of Cannon's, a high quality fast food joint specializing in burgers. The brainchild of South Carolina native Will Cannon, Cannon's has successfully brought a taste of classic Americana to Beijing by way of their damn fine buns.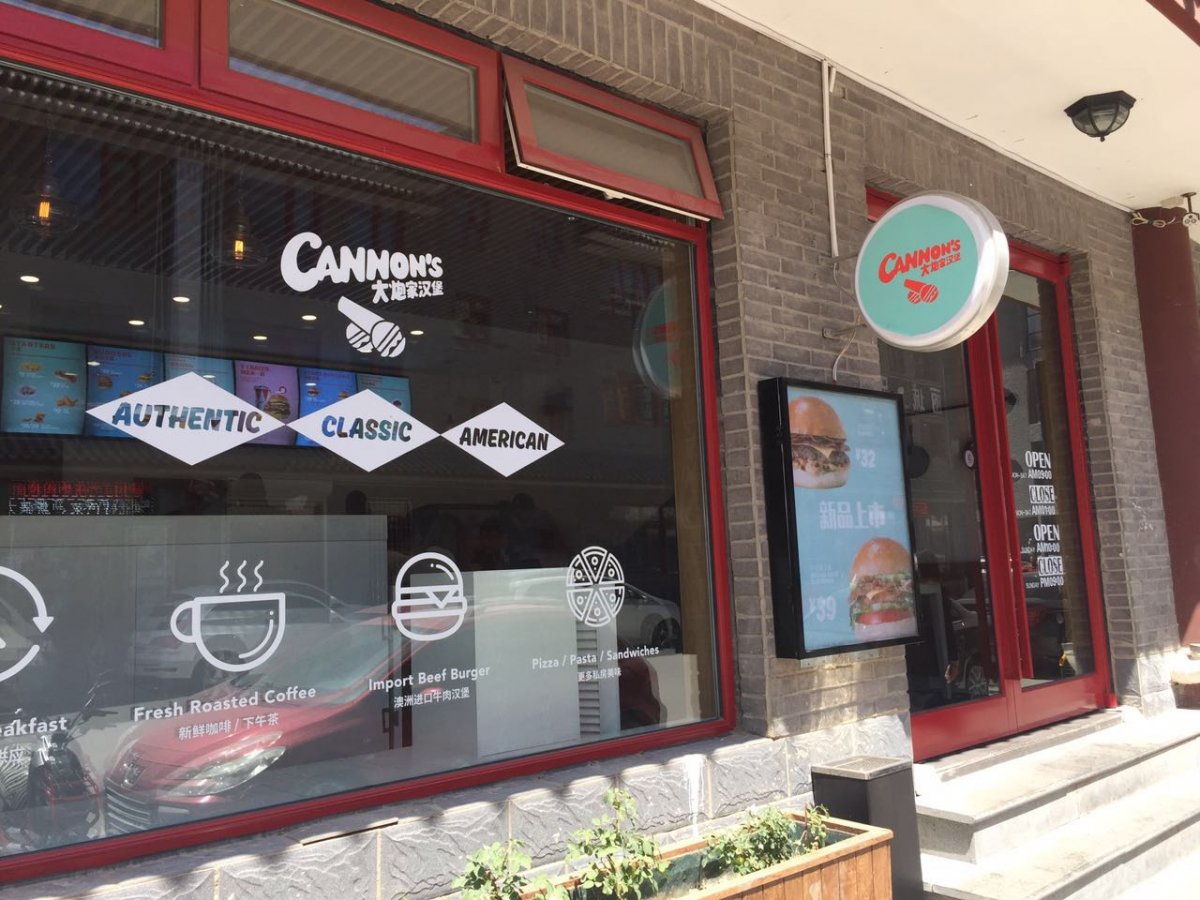 Cannon's pays homage to 'secret sauce' burgers that were popularized in USA's mid-century heyday. The interiors, color combination, logo, packaging, and not to mention the burgers, are reminiscent of old-school burger joints, and there's even a fast food counter, complete with neon signage for a menu, on one side of the restaurant.
Said menu offers a total 12 burgers and sandwiches, amongst which are the classic cheeseburger (RMB 24), Buffalo fried chicken (RMB 29), pulled pork (RMB 39), and sloppy Joes (RMB 29). All main dishes can be ordered with a side of fries and drink for a difficult-to-say-no RMB 7. They also serve side dishes in the likes of chicken nuggets (RMB 10/20) and wings (RMB 12), as well as desserts like pecan pie (RMB 25), cheesecake (RMB 20), chocolate chip cookies (RMB 8), and soft serve ice cream.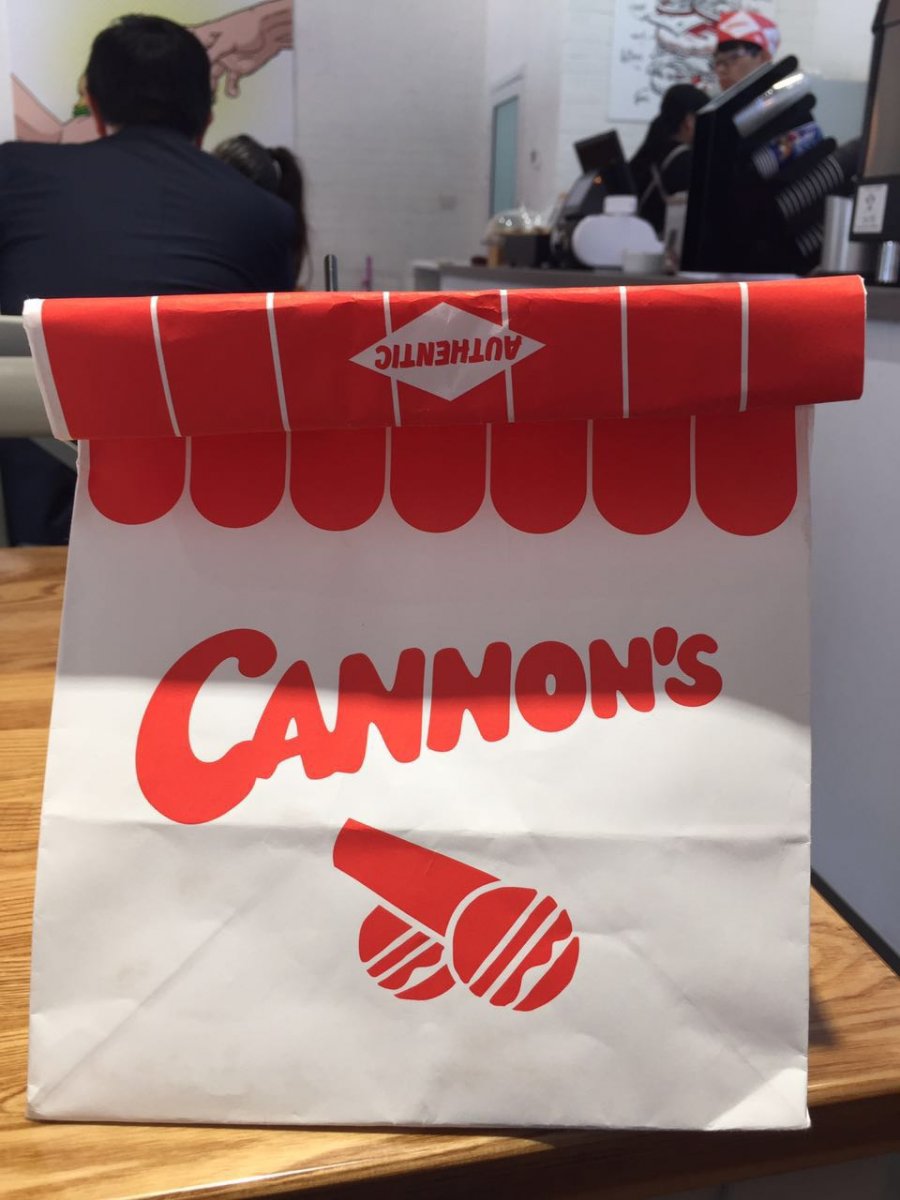 What makes Cannon's special is their tremendous attention to detail. Every single component of every single dish on the menu is made from scratch. They knead fresh dough to make fresh burger buns every day, they bake their own desserts, make their own soft serve and import hormone-free Australian Angus beef patties, as well as french fries from the States. In the end, the added effort is palpable in the burgers.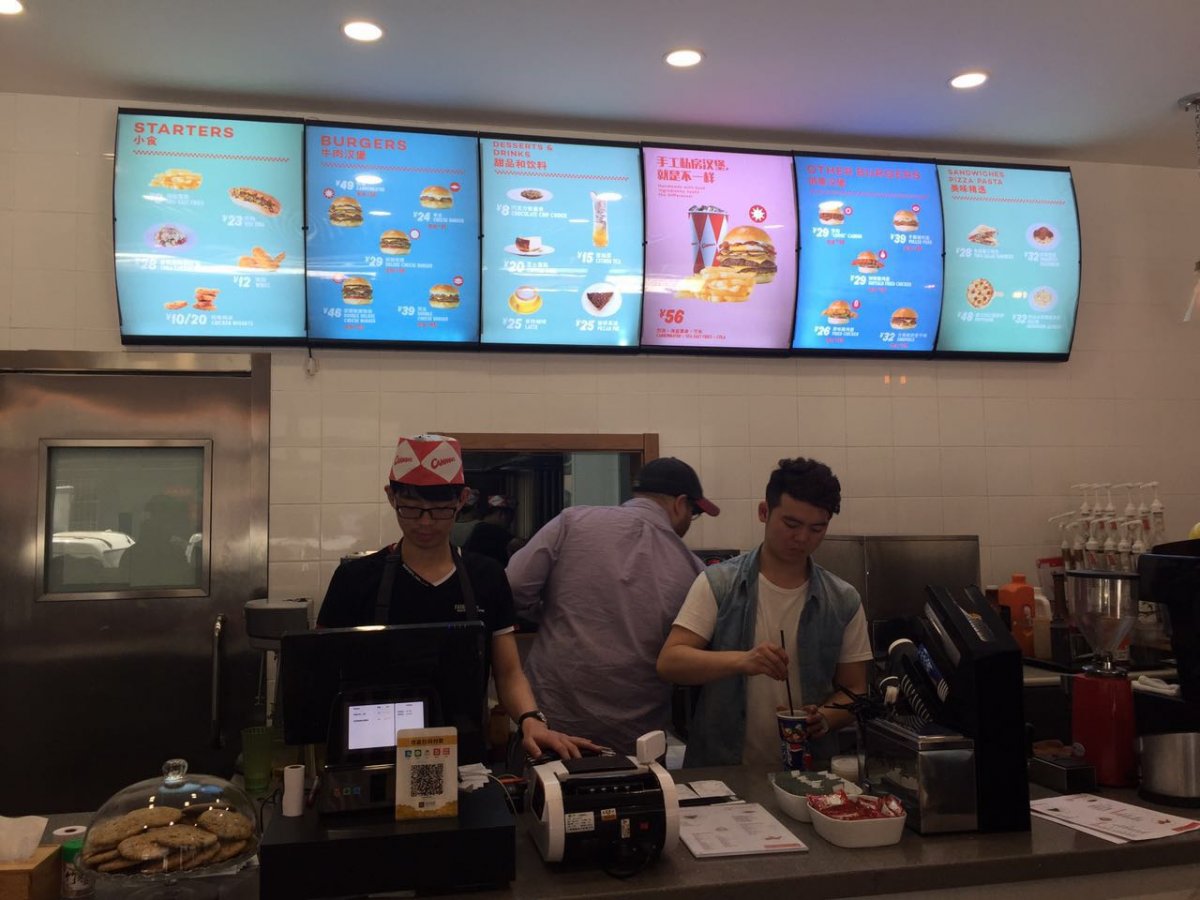 We tried Cannon's signature burger, the double deluxe cheeseburger (RMB 46). The burger itself was huge and very photogenic – kind of like what McDonald's burgers look like in ads, but never achieve in real life. In between the supple, homemade buns there were two smashed Angus beef patties encased in melted cheese, caramelized onion, shredded lettuce, thinly-sliced tomatoes, all proportionately drenched in their "secret sauce." Upon the first bite, a burst of flavors and textures immediately takes over; the tang from the sauce, the crunchiness of the vegetables, the springiness of the buns and most importantly, the superb, well-seasoned, buttery beef patties. Sure, eating soon became very messy, but the trick is to never let go of the burger once you've latched on.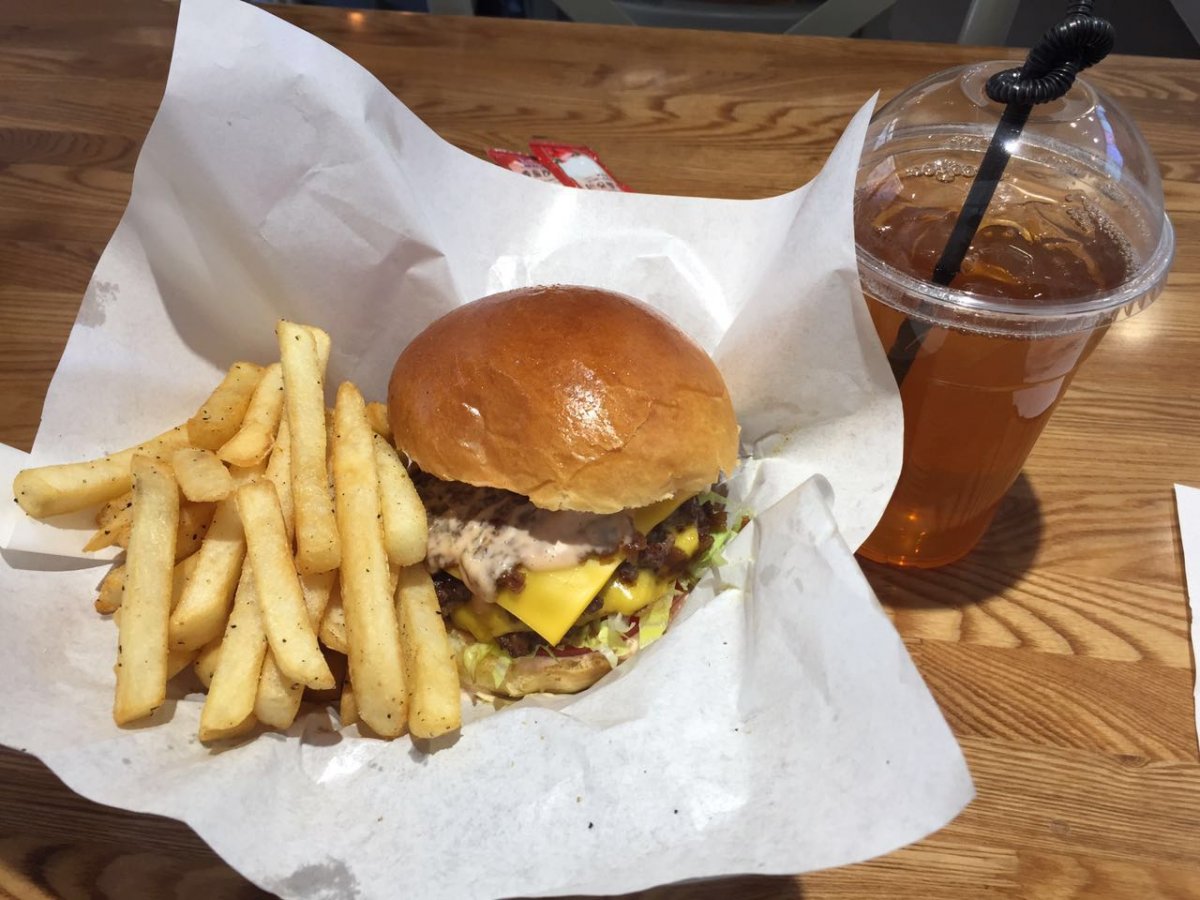 The medium cut golden-brown fries sprinkled with a crack of black pepper and salt paired well with the burger. Afterwards we still had a little room left to stuff in a chocolate chip cookie and homemade soft serve, the former making for a great contrast to the savory burger and fries, whereas the latter stood out for its milky and refreshing taste and its ability retain its shape even in the sweltering heat.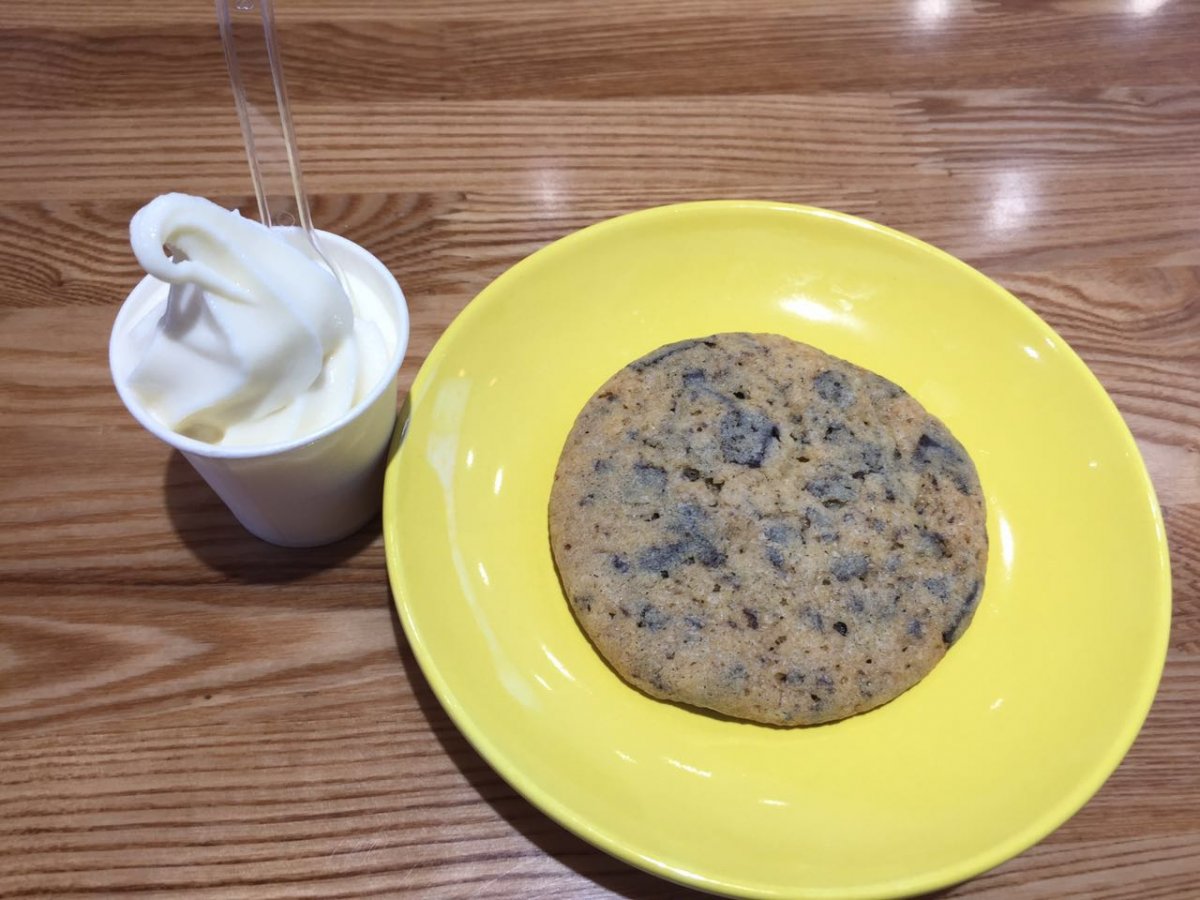 After our meal we had a little extra time to quiz Cannon on why he thinks his burger stands a chance at coming out on top in this year's competition.
Tell us about your signature burger. What makes it the best burger in Beijing?
We think the double deluxe is the best burger in Beijing because of the ingredients, attention to detail, and the nostalgic feeling you get from your first bite. We make our own buns from scratch and our burgers are made with hormone-free Australian Angus. The sauce and the griddle method we use to cook the burgers are just one of the ways we go the extra step to create a burger that is one-of-a-kind in Bejing. We think customers will be able to taste the difference.
What is the inspiration behind your signature burger?
Classic "secret sauce" burgers from the 1950s and 1960s. Not many of the old chains are still around. Of course the most famous is going to be In-n-Out, but there were many burger joints in the mid-20th century like Burger Chef (which was bought by Carl's Jr) that had a signature burger with a "special sauce." We wanted to pay homage to these classic burger joints by making one of our own.
What does the burger come with?
The double deluxe comes with our handmade burger bun, two Australian Angus beef patties seasoned with our house seasoning, lettuce, tomato, cheese, caramelized onions, and our special sauce. No ketchup!
What drink from your menu go best with the burger?
That's the toughest question of this interview! I love it with a Coca-Cola in the old-fashioned glass bottles, but the fat-ass in me will occasionally have one of our milkshakes made with our soft-serve ice cream. Don't tell my wife, I'm supposed to be losing weight.
What other burgers do you have on the menu?
We have a lot of other burgers. The Cannonnator is a double cheeseburger with grilled onions, mushrooms, bacon, and a fried egg. We make a very authentic Carolina gold pulled pork sandwich with a family recipe, being from South Carolina, I couldn't resist putting it on the menu. We also serve sloppy Joes, which started out as a joke but our customers liked it so it stayed. Our Buffalo fried chicken comes with our homemade blue cheese dressing, and we have a Sinophile burger that features laoganma. We are proud to serve ketchup-free burgers!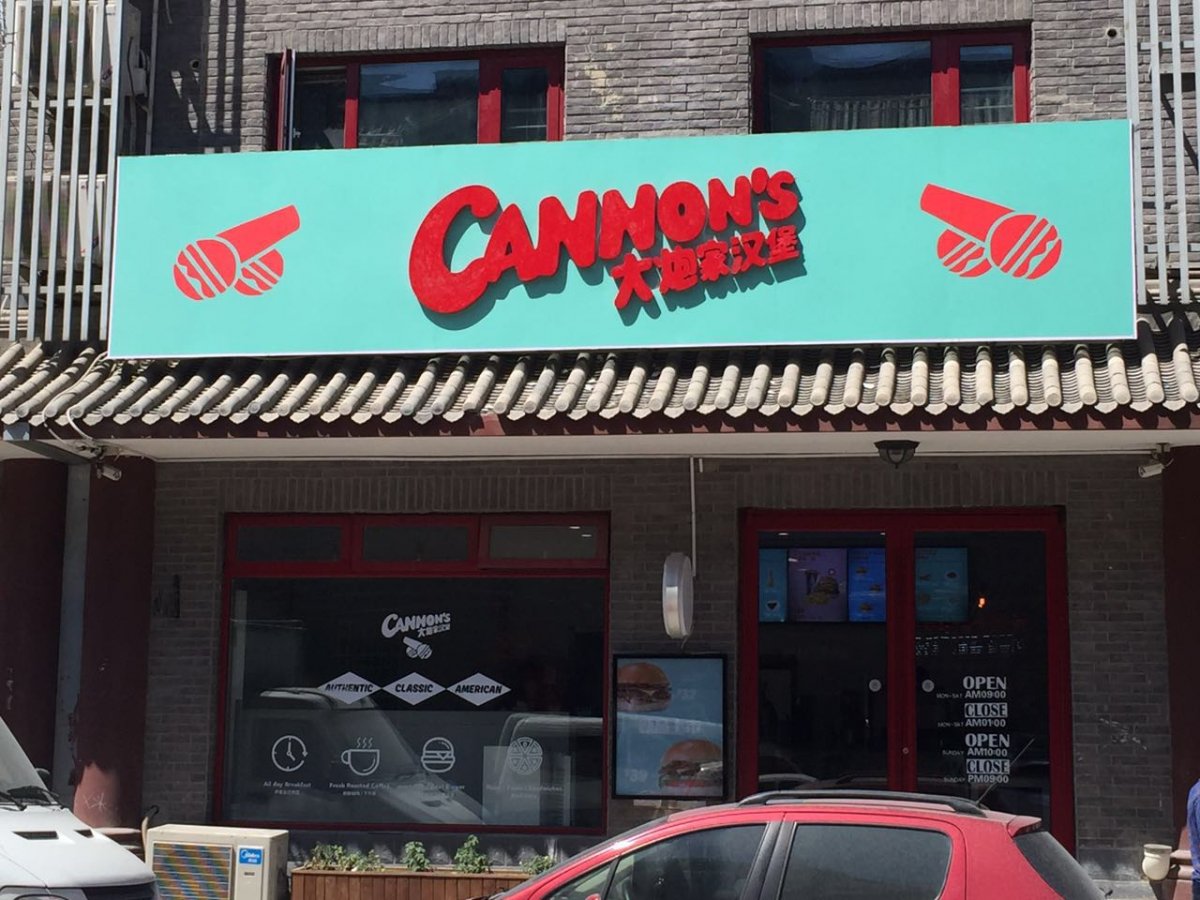 Cannon's has been in business for the past year, and is in the process of opening another branch in Xingfucun, across from April Gourmet. We wish them the best in the May 20-21 Burger Cup!
The Beijinger 2017 Burger Cup is sponsored by Bon App, Job-in, and Left Hand App.
Read more articles by this author here.
Instagram: carmelmoersalim
Photos: Cannon's, Carmel Moersalim
Comments