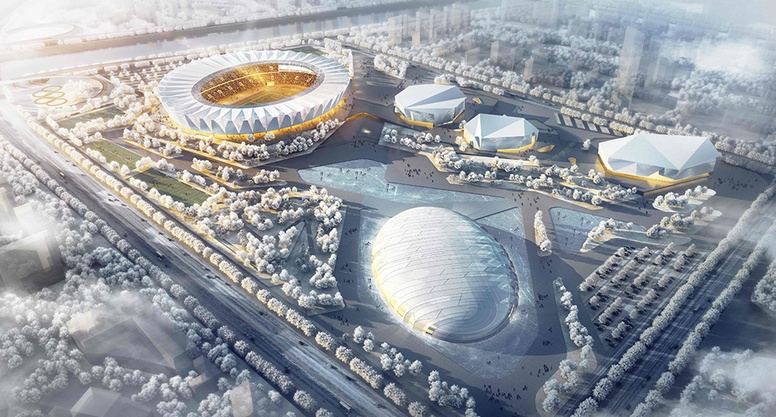 OlymPicks: Forget the Medalists, Beijing 2022's Real Winners Will Be Luxury Hotels
If you told any Beijinger in 2008 that the Olympics would lead to some of the city's nicest hotels being built in Zhangjiakou, they never would have believed you. Actually, before expressing such doubt they'd probably ask: "Zhangjia-what? Zhangjia-where?"
But as the 2022 Winter Games approach, and rampant development of the Hebei prefecture's skiing and other sports facilities continues (you can see the design proposal in the lead photo above), glitzy brands like InterContinental Hotels Group are looking to do some major building of their own in the area.
The Global Times recently reported on plans for the new InterContinental hotel, dubbed Hualuxe Zhangjiakou. The company's CEO in China, Kenneth Macpherson, told the Times that such amenities, along with the 2022 Games and a new high speed railway station, will quickly put Zhangjiakou on the map for even the most downtown-centric Beijingers, adding: "I'm told that it will take about 43 minutes to travel from Beijing to Zhangjiakou, making the city a more attractive destination for tourism." Macpherson added that he hopes that his company's investment will pay off long after the Games, because "the city also boasts of natural scenery that attracts Beijing residents to visit during weekends and holidays."
Aside from situating themselves as a rustic escape from Beijing's concrete jungle, the Hebei areas that are being transform by pre-Olympic development are also touting their benefits for Chinese families. Specifically, officials in the area (not to mention the highest reaches of the government) want that region to become a haven for children's winter sports education.
A spokesperson for the area's Genting Resort Secret Garden told state media earlier this week that registration for its winter camp shot up in 2016 to 10 times the number of applicants from the previous year, despite an increase in price to RMB 8,000. "In 2013 we opened a winter camp aimed at six-to-nine-year-old children. At the time, we had to beg schools for more children using promotional prices," the spokesperson said, leading state media to herald a new "golden era" for China's winter sports.
And if those parents thinking shelling out RMB 8,000 for their kids to stay at camp is a lot, they'll also likely be surprised by the area's hotel prices if they plan to stick around, though the InterContinental's atmosphere is bound to be more cozy than whatever was offered in Zhangjiakou before Beijing won the bid for the Games. At the very least, it will be a "golden era" for the rich who want to splurge on luxury hotel stays, and of course the hotels that house them.
More stories by this author here.
Email: kylemullin@truerun.com
Twitter: @MulKyle
WeChat: 13263495040
Photo: latzundpartner.de
Comments