Beijing Beats: Jimpster, Lantern's Weng Weng's Birthday, Soul Party, and Syndicate Sessions
Beijing Beats brings you the best in Beijing nightlife each weekend. Its aim: to help you soothe the woes of a long and stressful week with some out-of-body gyrating and some experiences you'd rather forget come Monday. Check the weekend's full list of nightlife events here.
 
Friday, July 14
Mickey Zhang
Lantern hosts a night of local techno courtesy of a six-hour set from Mickey Zhang. Better ditch your dancing shoes and just go barefoot since they'll probably just sweat and slip off your feet anyway. Zhang is joined by Lantern residents Weng Weng and Jackson Lee in the main room. 10pm. RMB 50. Lantern
Pretty Cold
Cool down this Friday with some frigid synthwave, goth, and retro-future sounds with the Pretty Cold collective. What could be better than dancing your weekend away to the dissonant themes of dark romanticism, alienation, body horror, and the inevitable collapse of post-industrial society. Expect a night of staccato drum machines, ice-cold synths, and infinite reverb for a unique atmosphere of lust, shattered hope, and beautiful ruin. 10pm. Price TBC. Dada
 
Saturday, July 15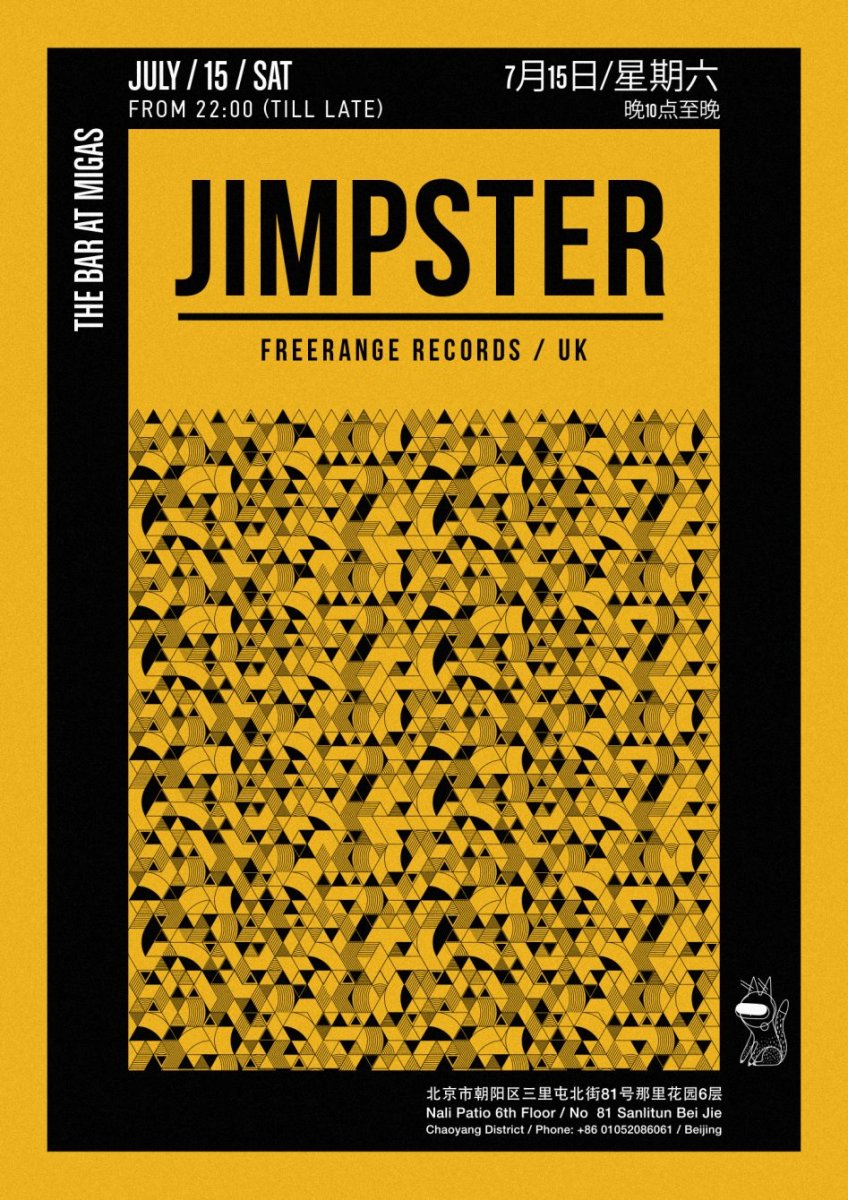 Jimpster
Tastemaker, label boss, producer, DJ, remixer. Jamie Odell, AKA Jimpster (pictured at top), wears many hats and wears them well, becoming one the most revered deep house producer/DJs operating on the scene today. His esteemed labels Freerange and Delusions Of Grandeur continue to help break incredible new music and equally impressive acts such as Detroit Swindle, Tornado Wallace and Session Victim. From his UK base, Jimpster has inadvertently become a standard-bearer and custodian of the authentic house sound, and carries this flag to the four corners of the world. This weekend you'll find him planting it firmly into Migas' dancefloor. 10pm. Price TBC. Migas
Syndicate Sessions
Once again, Dada promises a messy night with the Syndicate crew shining the spotlight back on the Chinese bass music scene. Fresh from killing it in Shenzhen and Hong Kong, UK-born Daniel Power – considered the most prolific promoter in southern China – and Hong Kong-native Just Bee – one of the region's hottest young talents – bring their own brand of sub-bothering DnB to Dada's meaty soundsystem. They will be aided and abetted by the Syndicate's grisly residents. 10pm. Price TBC. Dada
Soul Party vol. 5
Another month, another Soul Party. Head to Ramo this Friday for prime cuts of the best soul, funk, and disco, bolstered by America's finest comfort food (or soul food, as they like to call it). The fun starts at 4pm at Mimi e Coco with beats from DJ Jay 1,2 as well as Fruity Shop's DJ Duff. In the meantime, Ramo's kitchen will be whipping up Southern comfort food to keep you full throughout the day. 4pm-late. Free. Ramo
Weng Weng and Cancer's Birthday Night
You can always rely on Lantern to provide a high-quality night, and Saturday night's fun in the form of founder and resident DJ Weng Weng (and his fellow Cancers) birthday will be no different. Head over, pay your respects, and dance until the sun comes up. 10pm. RMB 50. Lantern
As always, all of Beijing's best nightlife events can be found in our Events section here.
Images courtesy of the venues
Comments