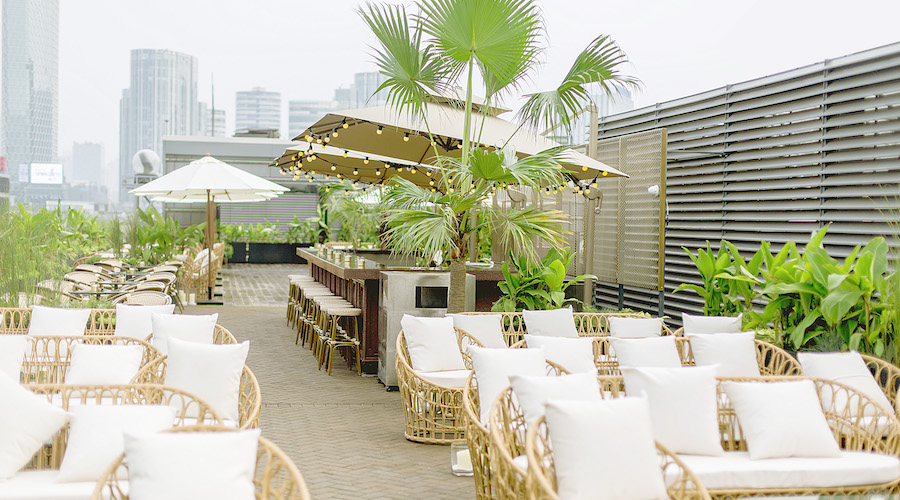 EAT: Three Excellent New Terraces to Wine and Dine Away the Rest of the Summer
Beijing is in the grips of some of the nicest weather I can recall us ever having and since, as ever, there's no telling how long it will last, you're going to want to get out there and make the most of it ASAP. Luckily several Beijing favorites have opened up new terraces just in time for the last few months of summer.
Firstly, the team behind popular boutique cinema/bar and restaurant concept Cinker Pictures has just opened the Garden by Cinker Pictures (pictured in lead blog image), a part open-air lounge, part screening space on the roof of Taikooli North, with 30 seats for cinema goers and a spacious bar area. The Garden has a très chic French Riviera vibe, with rattan chairs, white upholstery, and plenty of breezy greenery. Open daily from 2-10pm, the Garden serves afternoon tea (2-5.30pm), and cocktails and wines, with a buy-one-get-one-free happy hour on the latter two every day from 2-8pm (which, as far as we're aware, makes it one of the longest in the capital). Movie screenings are held every night from 8pm. 
It's not all drinks and movies, however. The Garden also boasts a menu of light summer dishes with an emphasis on seafood, including a New England-style lobster roll (RMB 98), fritto misto (RMB 358) served with romesco, basil pesto, and aioli, and a towering seafood platter (RMB 538) that is sure to attract plenty of "oohs" and "aahs" when you 'gram it.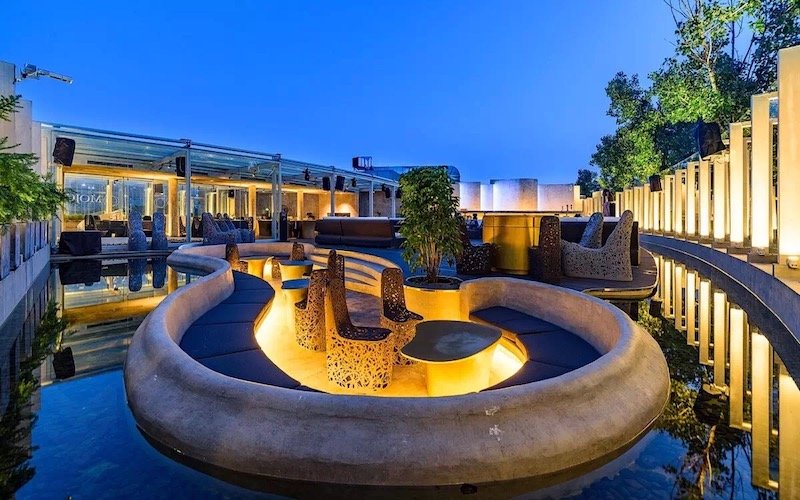 Over in Gongti, gastro-lounge Mojo has just officially opened their 600-plus-square-meter roof terrace, extending the exquisite interior decor the restaurant has become known for into the outdoor space. Chefs Davide Allievi and Simone Oppezzo have also come up with a new summer menu, including interesting-sounding dishes like broccoli risotto with smoked scamorza, slow-cooked cod with three textures of peppers, and a dessert of mint and chocolate "flexi ganache." Watch this space for a review of those summer dishes. 
Finally, the proprietors of surely Beijing's most talked-about terrace, Migas, have another hit on their hands with the terrace at their new CBD spot, Migas Mercado. We're loving everything about the newly opened terrace, from the striking yellow and purple color scheme to the panoramic CBD views. They've also got some interesting cocktails on the way, such as a matcha-infused pina colada served in a very Instagramable copper pineapple. Look for the terrace to open sometime before the weekend (call ahead to check, just in case). Food-wise, they're planning to serve an all-day tapas menu (also available inside the restaurant) on the terrace, which has the advantage of more shade than the original Migas in Sanlitun, making it more suitable for daytime eats. 
More stories by this author here.
Instagram: @gongbaobeijing
Twitter: @gongbaobeijing
Weibo: @宫保北京
Images courtesy of Garden by Cinker Pictures, Mojo, Robynne Tindall 
Comments