Groovy Schiller's Releases New German Hearty and Honest Dishes and Irresistible Daily Lunch Deals
We are happy to report that the Great Brickening hasn't taken the 19-year-old veteran Groovy Schiller's down (after reopening in April). And while the long-running bar and restaurant didn't survive unscathed, having lost their second floor, Schiller's at least successfully kept its al fresco area. The freshly painted outdoor white wall – replacing the old crimson one – is clean and eye-catching, and makes the name of the bar written in red pop and stick in your memory.
They've also revamped their menu recently. It features plenty of German-style goodies: pork knuckle with mashed potatoes and sauerkraut (RMB 118), sausages (RMB 58-78), German roasted pork ribs (RMB 98), a mixed sausage plate (RMB 158) with seven different sausages, chili con carne (RMB 65), eleven different salads (RMB 50-60), as well as Indonesian fried rice dishes, Thai-style fried rice noodles, and Singapore beef noodles (RMB 48-58). They have also kept their most popular dishes, such as our favorite roasted chicken (RMB 108 for a whole/RMB 70 for a half) and fries (RMB 25-35).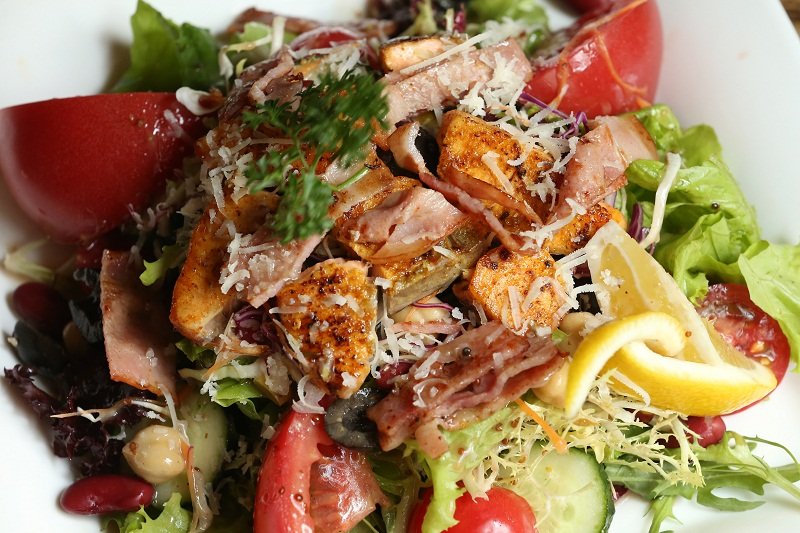 The Schiller's salmon salad (RMB 60) features crispy fried bacon, grilled salmon, parmesan cheese, lettuce, cucumber, cherry tomatoes, chicory, and red kidney beans. It's made zesty and refreshing by its red wine vinaigrette dressing and a squeeze of lemon.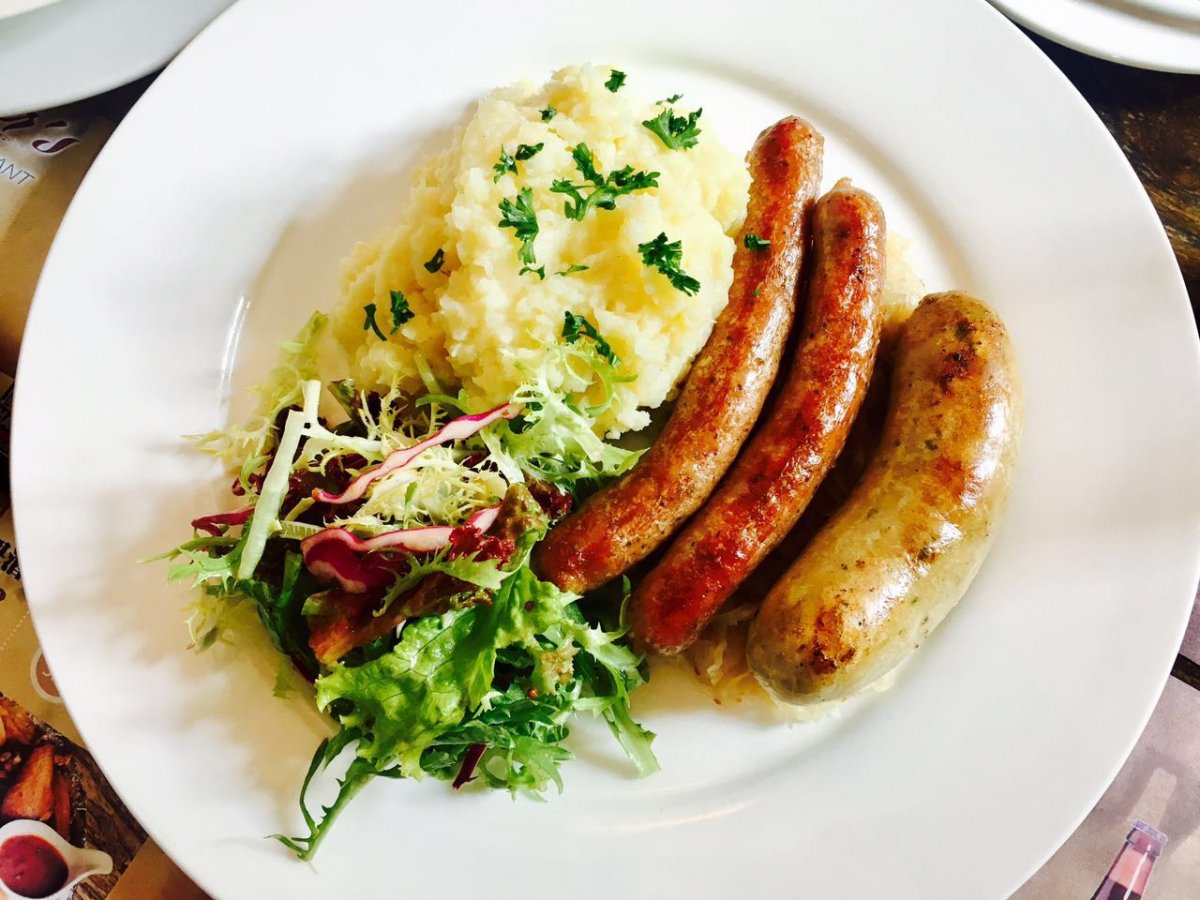 The traditional German sausage (RMB 68) has two Thüringen sausages and one Munich sausage, which were cooked and grilled well, and paired with sauerkraut and salad. The sausages were simply chunky and good, and the imported sauerkraut was cooked with bacon to add more flavor. We especially like the potatoes, which were boiled and mashed, then mixed with salt, butter, milk, and nutmeg.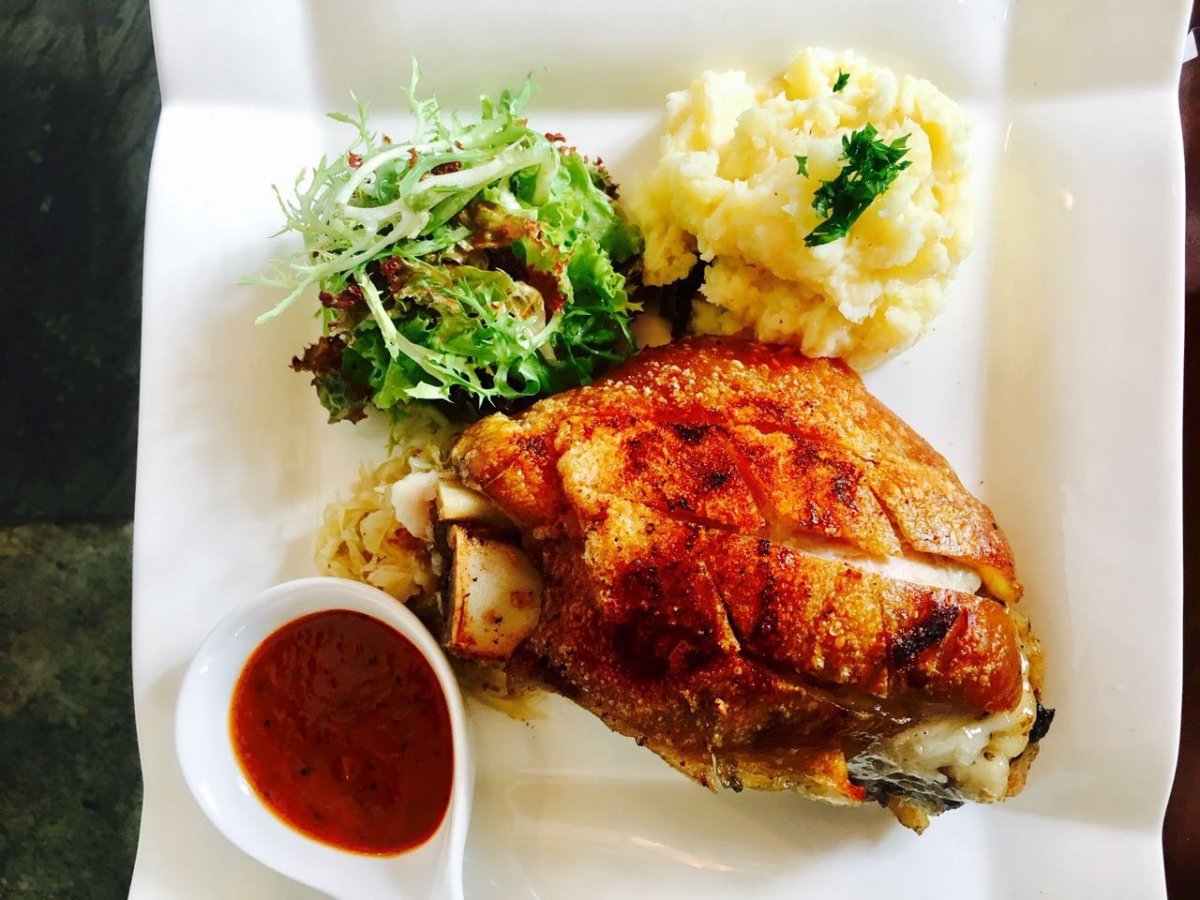 The pork knuckle (RMB 118) – oven-roasted for four-and-a-half hours – is the star, with a crisp skin and juicy meat. It's served with mashed potatoes, sauerkraut and salad, as well as a special spicy-and-sweet sauce with black pepper. Jack Zhou claimed they don't deep-fry the outer skin, but slow-roast it to avoid an oily texture.
For the carb and pasta lover, try the Spätzle (RMB 50), a kind of soft pasta consisting of eggs, flour and salt that is freshly handmade by the chef every day. There are three flavors to choose from: bacon and cheese, fried egg, or mushroom sauce. The bacon and cheese one was pleasing, with bouncy noodles covered by a layer of cheese, for a hefty dish that isn't too oily or greasy.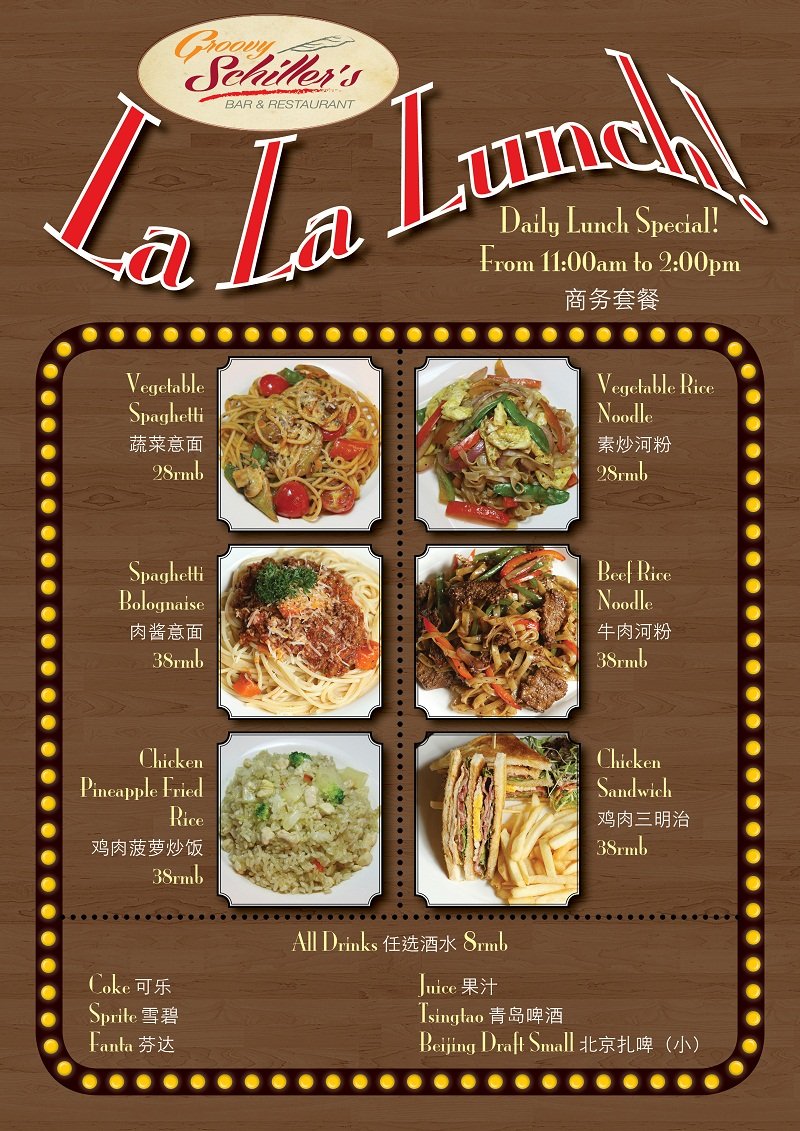 In order to be irresistible to the local lunch crowd, Schiller's has also released its La La Lunch daily lunch special. A choice of vegetable spaghetti, vegetable rice noodles, spaghetti bolognaise, beef rice noodles, chicken and pineapple fried rice, or a chicken sandwich will be on a special deal at RMB 28-38, and an extra RMB 8 will get you a drink of Coke, Sprite, Fanta, juice, Tsingtao, or Beijing draft beer.
To wash down such a big meal, you might need some drinks, of which Groovy Schiller's has plenty. Tennent's, Guinness, Steen Brugge, Konig Ludwig, Carlsberg, and Yanjing are available on tap (RMB 25-60), while bottled Dogfish Head IPA, Brewdog Punk IPA, Goose Island IPA, Kentucky IPA, Leffe Blonde, Chimay Red, Delirium Tremens, Rochefort 10, Erdinger white and dark, Magners Cider, Franziskaner white and dark, Weihenstephaner white and dark are all chilling in the fridge. During the daily happy hour (3-8pm), certain beers are RMB 20-50, or part of a buy-one-get-one-free deal. The bar also offers whiskies and shots of liquors. As for cocktails, there are over two dozen options with different bases to choose from, including some new specialties like Strawberry Cake, Strawberry Batida, and Bourbon Peak Smash, all at a surprisingly reasonable range of RMB 45-50, making Schiller's irreplaceable in the over-priced Sanlitun area.
Quick reminder: portions here are quite large, so be wary of ordering like you would at other restaurants. Without following the trend, Schiller's does just what suits them best. Open from 10am to 2am daily, this humble pub is like a good friend back home. Whenever you return, you are welcomed with hearty dishes, endless drinks and familiar faces. Time seems to never change here.
Danke, Schiller's.
More stories by this author here.
Email: tracywang@thebeijinger.com
Twitter: @flyingfigure
Instagram: @flyingfigure
Photos: Tracy Wang, courtesy of Groovy Schiller's
Comments